I/ITSEC NEWS: CAE Unveils New Virtual Reality Pilot Trainer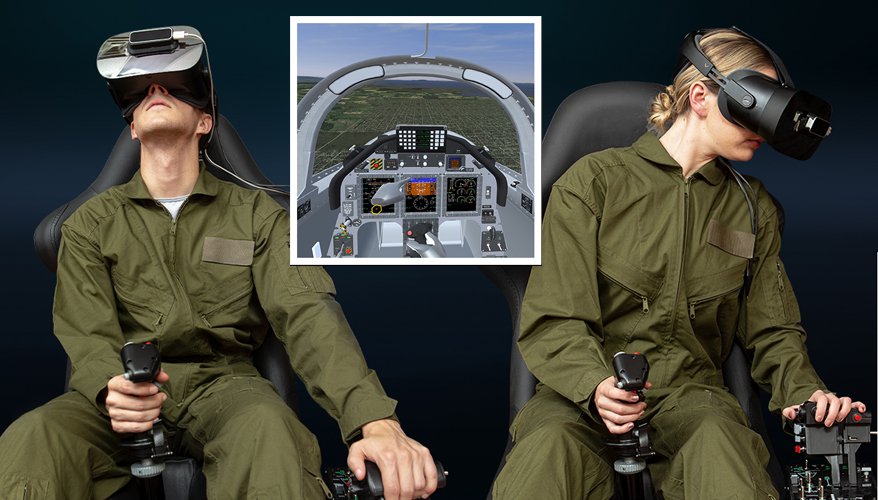 Photo: CAE
ORLANDO, Fla.
— Digital training company CAE introduced a new virtual reality system this week that it hopes will streamline the process of educating pilots.
CAE introduced the CAE TRAX Academy and CAE Sprint Virtual Reality trainer during the annual Interservice/Industry Training, Simulation and Education Conference in Orlando, Florida.
The CAE TRAX Academy is a digitally connected training system that uses virtual reality and data gathering to train pilots. The Sprint Virtual Reality trainer is a system within the TRAX Academy.
The academy is broken up into three segments — learn, practice and perform, Phillipe Perey, the head of technology for CAE's defense business said in an interview.
In the initial phase, students use cross-platform coursewear, a virtual reality headset and the CAE TRAX Academy mobile application to learn basic training procedures.
"It is giving them an environment where the students come in, they can load up a computer-based training program or an app on their iPhone, go through, learn the systems on the aircraft … then move on to some of the more advanced capabilities of the aircraft," Perey said.
The "practice" phase features CAE's new Sprint Virtual Reality trainer. The system includes physical controls, a virtual coach and an evaluation assessment process. Students use VR headsets and controls such as a joystick, throttle and rudder pedals. The trainer is also fitted with seat vibrations.
"Now that student takes that knowledge they've acquired and the understanding of what needs to be done in the aircraft and actually flies the self-paced trainer," he said. "It's got a lot of immersive cuing … you can reach out and touch the screen and select modes inside the virtual cockpit."
The second phase is monitored through a baseline of data analytics, he added
"It is really about gathering all the information of how many times [a student] has tried to maneuver — where are they having weaknesses," he said.
The third phase is conceptual and allows instructors to pull data from the system to continue the training process.
Perey said the system is a good fit for the Air Force. The company has been using its internal test pilots so far to garner feedback on the trainer.
"They have thousands of hours of experience on [aircraft], so they can provide us that insight and feedback," he said.
Topics: Air Power