I/ITSEC NEWS: Lockheed Martin to Expand F-35 Virtual, Networked Training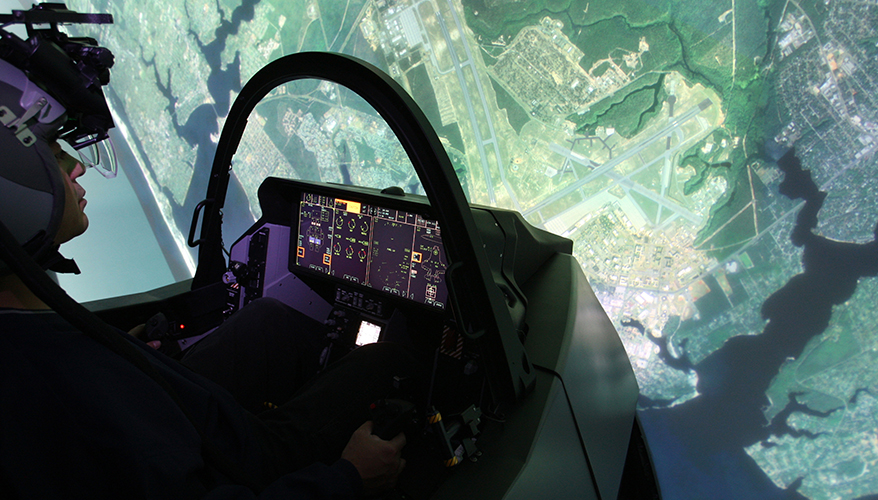 Photo: Lockheed Martin
ORLANDO, Fla. —
Lockheed Martin plans on delivering a capability that will allow multiple F-35 pilots to virtually fly together next year, a company executive said Dec. 3.
"When the F-35 goes to the fight we know it does not go by itself," Chauncey McIntosh, vice president of F-35 training and logistics, said at the annual Interservice/Industry Training, Simulation and Education Conference in Orlando, Florida.
Distributed mission training will allow F-35 Full Mission Simulators to connect to multiple military training networks. This will allow pilots in different geographical regions to practice operations together, McIntosh said to reporters.
Because many customers are looking for more integrated and networked capabilities, the company has been investing "quite a bit of money" into examining training effectiveness and cyber protection, Amy Gowder, vice president and general manager for training and logistics solutions, said.
The distributed mission training capability is expected to be able to connect other platforms beyond just the F-35 as well, McIntosh said, a concept that the company has been testing at Nellis Air Force Base, Nevada.
"As long as we can join the network, whatever that asset is, it can be connected and go and fight a virtual flight exercise," McIntosh said. "It's anything that we can bring in a virtual reality environment to the network."
Meanwhile, the company is also pushing to drive down sustainability costs for the F-35, he noted.
"One of the ways ... we can do this is through a performance- based logistics contract," he said, which would contrast with its current annual sustainment deals.
In September, a company executive claimed the move could save the Pentagon $1 billion over five years.
"I know that as we embark upon that endeavor we'll be able to hit this goal of achieving $25,000 per flight hour at the same cost as a fourth-gen legacy platform by the year 2025."
Additionally, training will be a "critical role" as the Air Force pushes the F-35 to be 80 percent mission-capable, McIntosh noted.
"We're able to make sure that our maintainers are able to not only get the latest advancements of how to maintain our aircraft, but how to [ensure] that we achieve this goal of 80 percent," he said.
Last year, former Defense Secretary Jim Mattis mandated the Air Force and Navy reach the 80 percent goal for the F-35, F-22, F-16 and F-18 by this September.
Topics: Training and Simulation, Air Power, Simulation Modeling Wargaming and Training