I/ITSEC NEWS: Air Force Highlights Future Training, Simulation Needs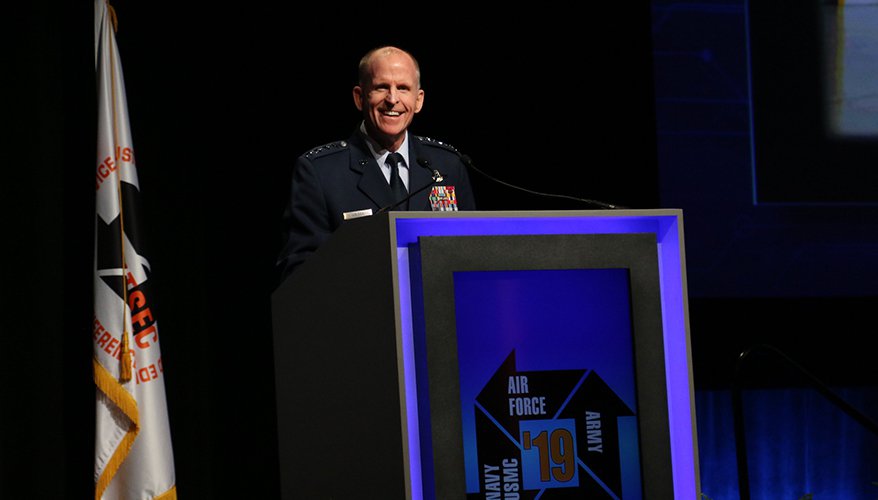 Gen. Stephen 'Seve' Wilson
Photo: Melanie Yu / NDIA
ORLANDO, Fla. — The Air Force is looking to invest more money in modeling and simulation for several key mission areas in order to train its forces to take on peer competitors, a top service official said Dec 3.

To meet the national defense strategy — which emphasizes great power competition with China and Russia — the Air Force must do four things, Gen. Stephen 'Seve' Wilson, vice chief of staff for the Air Force said during the annual Interservice/Industry Training, Simulation and Education Conference in Orlando, Florida. These include: connecting the joint force, generating combat power, dominating space, and ensuring logistics and force sustainment.
"First, we must connect in the joint force. The future for us must be seamlessly connected — machine to machine — to allow us to operate at speeds of relevance that we're going to need in the 21st-century peer fight," he said at the confab, which is hosted by the National Training and Simulation Association, an affiliate of the National Defense Industrial Association.
The service will include "a lot of money" in the next five-year defense plan to increase connectivity, Wilson noted.

One aspect of this will be integrating and connecting simulators to various weapon systems.

"I can't overstate how important that is," he said. "Individual weapons system simulators can help our men and women ... become proficient technicians, but it is through [the] ability to integrate and connect that will differentiate us against a peer threat."

The U.S. military aims to dominate in space — which the Pentagon has identified as a warfighting domain on par with land, air, sea and cyberspace — Wilson noted.

"Space is essential to everything that we do across the joint force. If we lose in space, we lose. Period," he said. As companies "develop simulators of the future, we need to take a hard look at how we replicate operations in denied and contested environments — and that needs to include space," he added.

The Air Force must be capable of generating the combat power necessary to win a conflict against advanced adversaries, Wilson said. To train airmen for these types of scenarios, the service will need the ability to replicate the complexities of combined arms warfare in contested environments.
Additionally, to ensure the ability to deliver supplies and equipment while under attack, the Air Force is looking at industry's additive manufacturing and 3D printing capabilities to help reduce vulnerabilities of its logistics tail, he noted.

China remains a top threat as it continues to make strides in artificial intelligence, machine learning, hypersonics and space capabilities, Wilson said. The nation is producing eight times more STEM — science, technology, engineering and math — graduates than the United States, and that number is projected to nearly double in five years, he noted.

Modernization will be critical for the Air Force to maintain its competitive edge, he said.

"If we were to go to war today, we would win," Wilson said. "But the force we have today is not the force we will need to continue to deter conflict against a peer like China."
Topics: Training and Simulation