Marine Corps Training Shifts to Great Power Competition (UPDATED)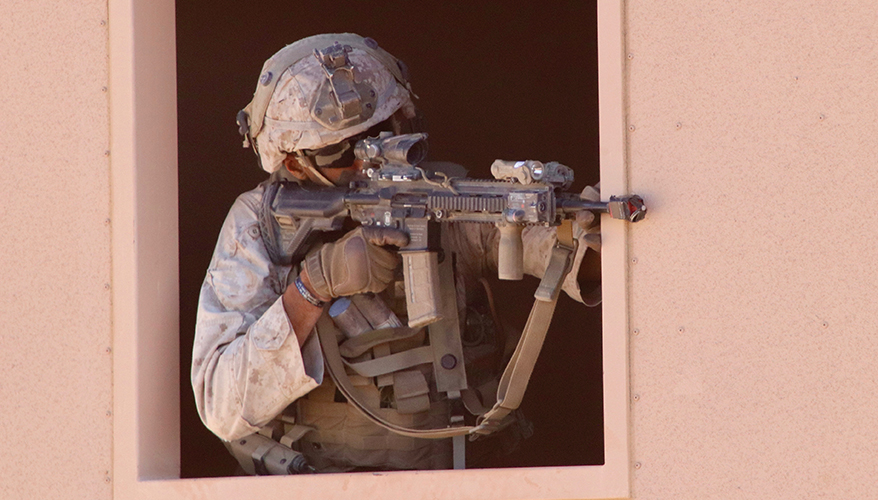 Photo: Stew Magnuson
TWENTYNINE PALMS, Calif. — It was high noon in a mock city the size of downtown San Diego located in the California desert. Automatic rifle fire could be heard in the distance and the sound of a drone — heard but not seen — buzzed in the blue skies above.
A Marine Corps lieutenant stuck his rifle out a window and used its scope to reconnoiter a block of nearby buildings. Six of his men had just been declared dead by an officer who was adjudicating the exercise. There was a sniper nearby. It was only a mock battle, but emotions were running high.
"Hey Animal. On that uniform 10 alpha and charlie. The round went through the roof and exploded on the second floor. That's all I know…"
"No KIA?"
"Don't know. We can't observe from inside the building."
Several minutes later, a report came back negative. The sniper had escaped.
Range 220 at Twentynine Palms, California, consists of some 1,200 buildings and resembles the urban battle zones of the Middle East. But the seven-day Marine Air-Ground Task Force War­fighting Exercise, also known as MWX, in mid-November was not intended to replicate the counterinsurgency battles of the past 20 years, explained Col. Matt Reid, deputy exercise director. That will always be an element of the Marine Corps mission, but this service-level training exercise has been retooled to teach Marines to fight peer or near-peer competitors such as the ones named in the National Defense Strategy: Russia, China, Iran and North Korea.
"We want to get good at that again," Reid said. "It's not just about training the tactics. It's about systems. It's about thought processes. It's about — when you're facing somebody that has equal or better equipment than you, that is as dedicated to the fight as you — can you make rapid decisions by taking in information and then implement those decisions across kind of a domain challenged environment to take action?"
MWX was organized by the Marine Corps' plans, policies and operations office. It pitted the 2nd Marine Division and the 7th Marine Regiment against each other. Troops were drawn from Twentynine Palms, Camp Lejeune, North Carolina and nearby Camp Pendleton, California, along with some units from the United Kingdom and other allies.
Both sides had armored vehicles, the use of unmanned aerial vehicles, the ability to call in close-air support and electronic and cyber warfare tools at their disposal, just as a near-peer military would.
"What's exciting about this force on force is that these Marines want to win. They are keyed up. You can feel the tension between them. … Some of these guys know each other so they can talk smack afterwards," Reid said.
The exercise was spread out over 237 square miles of the base, but the focus that day was on Range 220, a warren of buildings, streets, alleyways and tunnels renamed "Hidalgo City" for the purposes of the exercise. The mock city was originally built for the Iraq conflict and can absorb 10,000 troops. While there might be a shift to fighting "great powers," the Marine Corps believes urban warfare is here to stay, Reid said. Clearing the city was one of the organizers' objectives.
"Whatever the nature of war is going forward, people live in buildings and cities and towns. We're going to have to figure out the urban fight. … This is a sustainable technique, tactic and procedure that we have to constantly improve upon," he said.
To that end, there were about 100 civilians roleplaying the parts of the city's residents. There was a "white cell" that could put out fake newscasts reporting how that day's fighting was going. Like any civilian population, the residents have a hierarchy, which includes the mayor. The 7th Marine Division — playing the red team called the Dakotans — could employ partisan or irregular fighters, meaning counterinsurgency tactics were still in play.
"We have to keep that in our training. That part of warfare is never going to change," Reid said.
The newscasts can change in tenor depending on how well the blue team is fighting. The mayor could go on TV and declare the Marines are a bunch of murderers slaughtering civilians, Reid said.
"We're trying to teach this generation [of Marines] that people live where you're going to fight. And they may not be able to evacuate. There may be refugee problems. … How are you going to deal with that?" he said.
Because this is not a live-fire exercise, the battle unfolds over the course of the week unscripted. A live-fire exercise, for safety purposes, is highly controlled. In this case, Marines wear harnesses with electronics that indicate when they have been hit. The referees — called "coyotes" — wear orange backpacks to distinguish them from the participants. They can declare a Marine dead, or "wounded," necessitating the need to execute a medical evacuation. The one action that could not be simulated was artillery fire.
The coyotes told the Marines when they were under indirect fire.
As for junior and senior leaders, the mock casualties presented real problems. "It's warfare. It's going to happen. You're going to face attrition. You have to adjust," Reid said.
Along with medevac, all elements are being trained, said Reid. Explosive ordnance disposal teams were on hand because the Marine Corps expects roadside bombs to be employed by near-peer competitors or their proxies. EW teams were trying to jam their opponents' communications. Someone was operating the UAV that buzzed overhead throughout the day to provide surveillance. Reid had no idea which side was using it.
Marines used colored smoke grenades to send signals to each other, indicating that they were operating in a degraded communications environment.
"Each unit will assign a variable meaning to the colors. It could mean move forward, clear a building, clear a floor. Bring up the armor. Bring up the squad. … In an urban environment, communicating between buildings is really hard," Reid said.
Maj. Hank Nesbitt, who coordinated the urban exercise portion of MWX, said: "In the context of fighting a peer competitor on the battlefield, we are employing EW on both sides. The Marines are experiencing the challenge of that."
And like any force, the troops had to be resupplied.
Lt. Col. Catalina Kesler, executive officer for combat logistics, regiment 2, 2nd Marine Division, said she had a dual role. One was to take care of the Marines who were on the base traveling from Camp Lejeune, but she also had to participate in the exercise itself by figuring out how to transport food, water and ammo to the force. It hadn't happened yet, but attacking her supply lines was fair game.
"This is really challenging for us because we have a living, thinking enemy trying to win the fight," she said.
Meanwhile, depending on weather and availability, air wings from nearby Marine Corps Air Station Miramar and Naval Air Facility El Centro could participate as well, providing close-air support, resupply or troop transport. Harriers, F/A-18s, Ospreys, Super Cobras and Super Hueys took part during the course of the week-long exercise.
Because much of the Twentynine Palms base was being used in the exercise and was fair game, spotters have been sent to landing zones to provide reconnaissance. If six V-22 Ospreys are seen taking off, they can radio ahead the possibility that an air-assault is coming.
"I can't control that. We set this scenario. And yeah, that's what they did," Reid said. One side would eventually gain air superiority over the other, he said.
The exercise was also an opportunity to test new equipment. Some of the technology is new to the force and will be incorporated into Marine Air-Ground Task Forces. Others are still under development and being evaluated.
"It's different equipment across different capabilities," Reid said. Since most of it was geared toward the "near-peer" fight, he didn't want to provide any details and tip the Marines' hand.
"We are absolutely evaluating ways to be more effective in the conventional fight across all domains," including cyber and electronic warfare, Reid said.
Brig. Gen. Roger Turner, commanding general of the Marine Air-Ground Task Force Training Command and the Marine Corps Air-Ground Combat Center at Twentynine Palms, said the Marines at MWX are training for the "gray zone," and hybrid warfare where there is a lot of ambiguity. The adversary is leveraging unconventional capabilities with both uniformed and non-uniformed special operators. And there are civilians who might have other motivations that lead them to participate with the adversary.
Marines "have to fight at the high-end conventional, but also at the low end in that sort of dynamic environment," he said.
At the MWX's conclusion, there will be an after-action report to provide feedback for the participants.
"The overall end state is to present both the adversary force that we use and the exercise force with that situation, see their ability to compete and operate in that environment, learn lessons from that, develop leaders, and develop new tactics, techniques and procedures," Turner said.
Correction: A previous version of this story misidentified the 7th Marine Regiment.
Topics: Training and Simulation, Marine Corps News