Army Spending Big on Training, Modeling, Simulation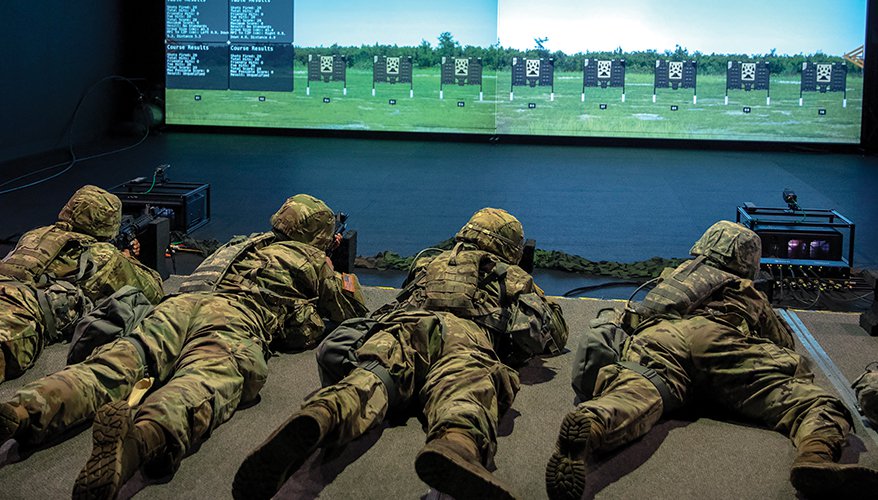 Photo: Army
The market for Army training, modeling and simulation capabilities has seen significant growth in recent years, and major opportunities lie ahead for contractors, analysts say.
Unclassified contract obligations for these initiatives totaled $1.6 billion in fiscal year 2015, according to a Bloomberg Government report, "Army Market: Budget and Opportunities." That number rose to $1.8 billion in 2016, $2.3 billion in 2017 and $2.4 billion in 2018. Contract obligations are estimated to further increase to $2.7 billion in 2019 and $3 billion in 2020.
"The Army is moving rapidly to enhance training because of the renewed focus on potential near-peer adversaries," said the report. "The training, modeling and simulation market is strong and growing."
To better prepare for high-end threats, the service is creating a synthetic training environment that would utilize a combination of live training, virtual and augmented reality, and gaming technology to enable individual soldiers and units to conduct realistic, repetitive training anywhere in the world.
The Army is also gung-ho on conducting exercises and experimentation to test new technology and multi-domain operating concepts, Cameron Leuthy, a senior budget analyst with Bloomberg Government, said during a recent industry briefing.
"There has also been recapitalization going on with Army training equipment," he added.
Recapitalization initiatives with requests for proposals expected by the end of this year include the Soldier/Squad Virtual Trainer, the National Cyber Range Complex, and Training and Doctrine Command's G-2 Operational Environment and Core Function Support for intelligence training. Upcoming major exercises include Cyber Quest 2020, Army Expeditionary Warrior Experiments 2020 and the April-May 2020 Joint Warfighting Assessment, according to his presentation slides.
The Army's plans to upgrade its command, control, communications and computer networks will create new training needs and opportunities, Leuthy noted. The network is one of the service's top modernization priorities.
"The network issue is a huge problem," he said. "The cyber and the training related to that is … where they're going to invest."
Additionally, the Army is planning to move away from its Warfighter Focus, or WFF, training services contract vehicle, which includes maintenance, operations and sustainment of training systems, Leuthy noted. The contract vehicle has been worth billions of dollars in recent years.
"In the training arena, this is a very big deal," he said.
Looking ahead, the Training and Readiness Accelerator, or TReX, could see an increase in other transaction authority agreement contract dollars flowing through it as the Army pursues its synthetic training environment, Leuthy noted.
The TReX consortium, which is managed by the National Security Technology Accelerator, is a public-private partnership intended to bring together industry, academia, laboratories and government agencies such as the Defense Department to promote innovation.
The organization "expedites development, demonstration and delivery of prototypes to increase warfighter readiness," according to the TReX website. "With a focus on modeling, simulation and training, TReX provides the United States government with an agile mechanism to iterate and refine critical technologies to keep pace with ongoing and emerging challenges. By actively incorporating structured operational user feedback, TReX will identify and develop innovative solutions to inform materiel procurement requirements and acquisition."
OTA agreements are a contracting tool granted by Congress to help cut through bureaucratic red tape associated with traditional Pentagon procurement processes. The authority enables the Defense Department to put companies on contract more quickly for prototyping and follow-on production.
About $3.3 billion has already been obligated by the Army for OTA agreements this year based on the latest data, but that number is expected to rise when additional contracting data is available, according to Robert Levinson, a senior defense analyst with Bloomberg Government.
Leuthy added that "synthetic training is likely to see an increase … through that OTA mechanism."
The vast majority of OTA funding has been awarded through consortia, Levinson noted. Bloomberg Government tracks funding for 26 different consortia.
The fee to join a consortium is often inexpensive, Levinson said, and the investment could be well worth it for contractors. "You can't bid on the work, you can't submit proposals unless you're a member," he noted.




Topics: Budget, Training and Simulation, Army News