Marine Corps Taking Training Out of the Industrial Age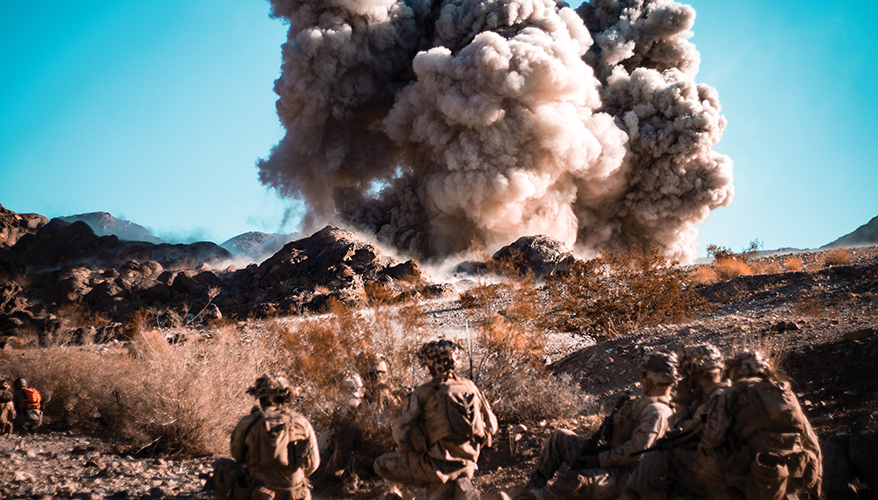 Marines training at Twentynine Palms, California.
Photo: Marine Corps
When Gen. David Berger, commandant of the Marine Corps, took the helm of the service earlier this year, he laid out a number of priorities that he would focus on during his tenure. These included force design; warfighting; core values; command and leadership; and education and training.
For officials at Training and Education Command, a renewed focus on training is a welcomed message, said Maj. Gen. William F. Mullen, commanding general of TECOM.
"For a lot of good reasons, previous commandants have made Training and Education Command a bill payer for ... what they deemed to be more important areas," he told National Defense. While that was understandable due to tight budgets, it led to the command being "kind of like second fiddle."
There is now anticipation that the tide is turning, Mullen said. TECOM officials have had discussions with Berger and have presented him with information needed to recover from the past decade of "being the bill payer in both personnel and resources," he said.
However, it will take billions of dollars to make up for past budget cuts, he noted.
"More importantly, it's the personnel we've lost — both civilian personnel and Marine personnel over the years due to people being pulled ... [and] put on other efforts," he said. "That's really caused some challenges throughout the training and education continuum."
This renewed focus comes as the Marine Corps is seeking to take training into the 21st century, and particularly as it faces new threats in the future, Mullen said.
"When we look at our training and education system, … we had a very industrial age process of producing Marines," he said. "It's efficient for pushing through a lot of people at big numbers — which is what we need — but we also know it's the least effective way to teach adults and help them to understand and retain."
As the service looks to present day challenges, which include gray zone operations — or conflict below the threshold of conventional armed warfare — it cannot afford to have Marines "sit there and wait to be told what to do," Mullen said. "We need to have folks that can think on their feet, understand intent [and] take intelligent action without waiting to be told what to do in a very complex environment."
Future warfighting environments will be different than what most Marines have experienced during operations in Iraq and Afghanistan, he noted.
"It was fairly sedentary," he said. "The threat was fairly predictable, not a whole lot of indirect fire, no real air threat until recently with drones. … [However], all of those things would make us very, very vulnerable to the current threats that we're seeing out there from ... the Chinese or the Russians or the Iranians."
The Marine Corps is taking a comprehensive look at its ranges and simulators as it looks to revamp its training, Mullen noted. In Berger's planning guidance document, he noted that "our training facilities and ranges are antiquated, and the force lacks the necessary modern simulators to sustain training readiness."
Currently, the service is gathering a "state of play" of its simulator inventory and training ranges and working to understand what kind of capability is available, Mullen said.
"We know what's out there, but what we don't know is … how specifically does that help us prepare or not? How old is it? How effective is it?" he said.
Once it has that information, the service will prioritize which systems can stay and which need to be replaced, he added.
"I've seen '70s era technology that we're using to train Marines and I'm like, 'OK, that's embarrassing. That's ridiculous,'" he said. "We can't do that anymore."
The service intends to compile a ground training strategy for both systems and ranges that will outline where the service is going, what the ideal simulator would be and what ranges of the future will need to look like, he said. It plans to build toward that over the next 10 to 15 years, he added. A more defined timeline on the strategies is still in the works.
Mullen said he was particularly impressed by the F-35 joint strike fighter's training system which includes courseware, electronic classrooms and simulators. The Marine Corps is purchasing the F-35B short takeoff/vertical landing variant built by Lockheed Martin.
"The perfect setup I've seen so far is what we're doing for the F-35 — the way we went about it with regards to planning everything from, 'OK, how are we bringing this in?
How are we training not just pilots, but crew chiefs and everybody … doing maintenance on this aircraft?'"
The service is considering how it can apply a similar approach to other weapon system simulators, and particularly for land-based platforms which don't receive as much attention, he said.
"The imperative obviously with aircraft is they tend to fall out of the sky if you don't do things properly with them, and … that's what's enabled us to drive the spending on that," he said. "On the ground side, there's less of an imperative, so when money starts getting cut, one of the first things they start cutting is [ground platform] simulators."
That dynamic has to change, he said.
The service also plans to employ artificial intelligence to glean actionable data from various simulators and live training exercises which could help improve performance, Mullen said.
The Marine Corps was slated to test that technology during a proof of concept at an exercise held at Twentynine Palms, California, in November. The event will feature more than 10,000 personnel, Mullen said prior to the commencement of the exercise.
"We're instrumenting everything to gather data … [that] can be compared against actual standards, how Marine units should be able to perform," he said.
TECOM will use that information to identify trends that will inform where it should make future training investments. Mullen called that a lesson learned loop.
"Right now, I don't believe we … have a full loop," he said. "We've been really good at observing lessons, putting them in reporting, pushing them out to people, and then we rely on their own intellectual curiosity to read those reports. In some cases what we're finding is that doesn't happen."
There needs to be a mechanism that identifies where there is a problem and then relays that information to the appropriate individual to fix it, he said.
One of the biggest issues the Marine Corps faces is consolidating all the information it already has, Mullen noted.
"We've got a lot of data out there, but it's all unstructured, unlabeled," he said. "We can't really use it for machine learning. So we have to build in the process of, 'OK, how do we label this appropriately? How do we make it usable to be able to feed it into the machine that will give us the answers we need to have?'"
The other services may be further along with the adoption of artificial intelligence, but Mullen said he hopes the Marine Corps can piggyback off their work. It is looking closely at various efforts throughout the Defense Department, including the Defense Innovation Unit and the Air Force's Kessel Run effort in Boston, he added. Kessel Run is "a Star Wars related analogy where they're doing a lot of really innovative stuff with regards to artificial intelligence," he said.
While the other services are well ahead of the Marine Corps, it wants to at the very least catch up, if not surpass them, he added.
Wargaming is another area of interest for the service. It is building a new center at the Marine Corps University campus in Quantico, Virginia.
In Berger's planning guidance, he noted that the most important aspect of the center will be hiring the right people to operate it.
"While the facility must be able to handle all levels of classification and be responsive to changing technologies, our biggest investment will be maintaining the right technical and non-technical personnel," he said. "We will need experts in wargaming, [modeling and simulation], facilitation, threats and opportunities."
Construction is expected to begin within the next year, Mullen said.
While the center is not under TECOM's purview, wargaming is an important part of the command, he noted. It takes place within all of its professional education schools. It also has wargaming clubs at bases in Hawaii and at Camp Lejeune, North Carolina. There are plans to bring similar clubs to Camp Pendleton, California, and Okinawa, Japan.
"The whole idea behind it is crowdsourcing, bringing people in, [saying] 'Here's a problem — what do you think? How could we go about fixing it?'" he said. "You can take risks in the wargaming realm that you can't take anywhere else."
The challenge with wargaming — as with modeling and simulation — is that the normal wear and tear of operating on the ground with troops isn't there, Mullen added.
"That's always much more challenging, which is why we're doing the force-on-force [live training] piece out of Twentynine Palms," he said. There "you've got people on the ground. They actually have to maneuver. They're subject to the effects of weather, ... [they're] getting tired, all the other things, all the friction that normally happens. You have to have that impacting you to truly understand whether this will work or not."
Dakota Wood, a senior research fellow for defense programs at the Heritage Foundation, a Washington, D.C.-based think tank, said one of the shortfalls the Marine Corps has is sufficient time to train for new tactics, techniques and procedures.
"The Marine Corps is effectively 100 percent committed rotating forces in and out of the theater," he said. "When do you have uncommitted capacity in your force or on your training schedule to do the sorts of things that the commandant is saying that they need to do?"
The service needs to reorient itself to open up resources for additional training, he noted. For example, the Marine Corps has been quick to accept requests from allies to engage in international exercises but that takes time and effort.
"The biggest challenge is this cultural reorientation and learning how to say no, so that it frees up attention, the resources, the people, the units [so] that you can start walking through and figuring out these new sorts of tactics, techniques and procedures that are more likely to be needed in a distributed maritime operational environment," Wood said.
Topics: Marine Corps News, Training and Simulation