ROBOTICS AND AUTONOMOUS SYSTEMS
Company Unveils New Hybrid Autonomous Vehicle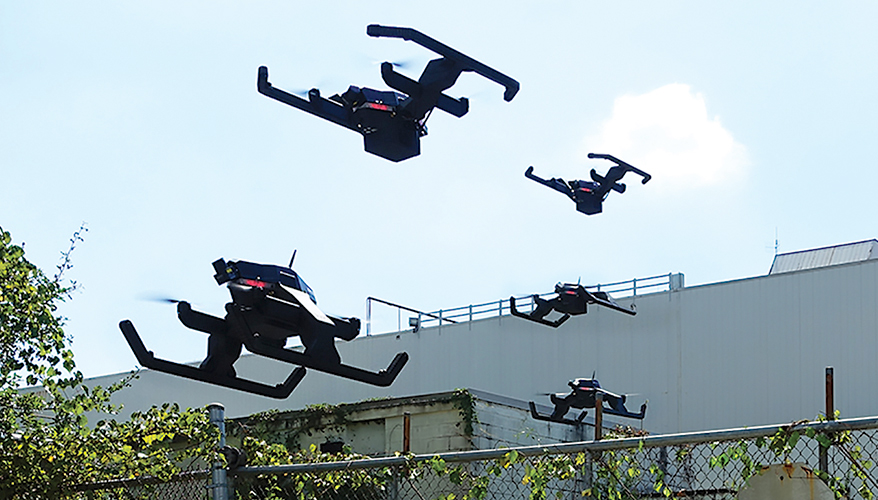 Photo: Robotic Research
Robotic Research, a Maryland-based company, debuted a new small autonomous vehicle that can drive or fly.
The transformable system — known as Pegasus — has obstacle avoidance capabilities and a payload of two pounds, said Alberto Lacaze, the firm's president.
"It allows you to do things that other robotic systems cannot do," he noted at the Association for Unmanned Vehicle Systems International's Defense-Protection-Security Conference in Washington, D.C. "You can fly over a wall … or you can fly through a window and then drive inside of a room."
Robotic Research is participating or competing in major Army efforts such as the expedient leader-follower program, robotic combat vehicle initiative and the squad multipurpose equipment transport program.
Pegasus was developed with funding from the Army Armament Research, Development and Engineering Center and the Defense Threat Reduction Agency. It was originally intended to be used by Special Forces operating in underground facilities, but its capabilities may also appeal to a wider range of customers, Lacaze said.
The system can be used for intelligence, surveillance and reconnaissance missions and chemical, biological, radiological, nuclear and explosive material detection.
The ability to both drive and fly helps the platform detect chemicals and radiation faster, Lacaze said. On traditional unmanned aerial vehicles, the airflow created by the propellers may move the chemicals around, making it difficult to detect hazardous materials.
The chemical and radiation sensors are more effective with a hybrid capability, he said. "You might land it and then slowly move it in one direction, and that would allow you to know the location of the source a lot faster than just a UAV."
Pegasus' ability to travel through tight spaces enables it to physically test items for chemicals rather than rely on remote sensing, he noted.
"A lot of our sensors work a lot better when you're touching something," Lacaze said.
Pegasus has the ability to drive between four to six hours and fly for about 20 minutes.
The system is not currently under a program of record with the military services. It does not fall under the government's "standard swim lanes," meaning it cannot be solely classified as a ground vehicle or aerial vehicle because of its hybrid capabilities, Lacaze said.
"It's a different class, and the capability that it gives you is also different," he noted. "The sequential use of the flying and driving lets you go to places" that wouldn't otherwise be accessible.
Topics: Robotics, Robotics and Autonomous Systems