EDITOR'S NOTES DEFENSE DEPARTMENT
A Magazine Looks to the Past and Future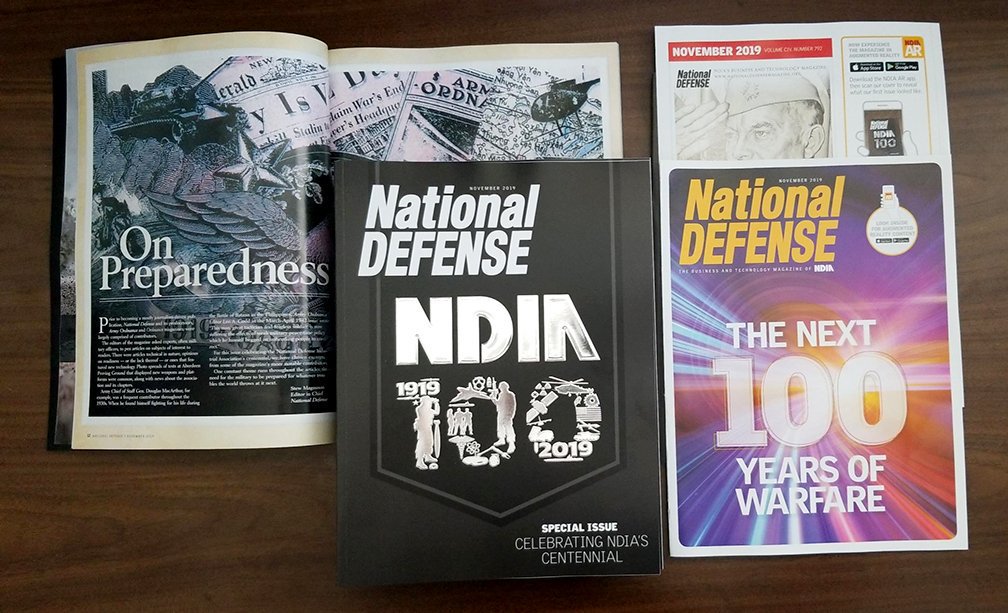 Welcome to the National Defense Industrial Association's big centennial issue.
I hope readers enjoy it as much as we have enjoyed putting it together. Technically, this publication celebrates NDIA's centennial, not the magazine's. The Army Ordnance Association was founded in July 1919 and Army Ordnance magazine came along one year later in July 1920.
For some 15 years, I have shared my office with the back issues — all 103 volumes. And during most of my tenure here, I paid them almost no attention. The daily grind of publishing a monthly magazine and website left me little time to casually flip through their pages. But that changed as the 100th anniversary approached. I had to start thinking about this momentous issue so it was time to crack open those bound volumes.
Inside, I could trace the evolution of the magazine from a mostly technical journal for its first 50 years to the journalism-driven publication we see today. Army Ordnance — and later just Ordnance — mostly comprised articles contributed by military ordnance officers, sometimes scientists and civilians, predictably about bullets and bombs, the means to deliver them, along with some military history articles. Commentaries on military readiness were also a staple. Division and chapter news usually took up several pages.
And then there were ads, oftentimes the most fun part of flipping through the old issues. There aren't many, but a few of those advertisers are still around. Caterpillar, for example, bought the front-page ads for the magazine's first few years. Smith & Wesson, Colt, U.S. Steel, Dow Chemical and Day & Zimmermann are a few others whose names live on despite the changes in technology and industry consolidation.
The other enjoyable discovery was finding the names of past contributors who went on to become legends of military history. Army Chief of Staff Gen. Douglas MacArthur was a semi-regular contributor to the magazine and a big supporter of the association's goal of preparedness. Gen. Hap Arnold, Adm. Hyman Rickover and Gen. Curtis LeMay are among the other contributors in the section "On Preparedness."
Along with these luminaries, there were some surprises such as journalist Ernie Pyle, comic book creator Will Eisner and astronaut Neil Armstrong.
And because National Defense today remains focused on the future, this special issue includes a section, "The Future of Warfare," where we have asked notable thinkers to cast their eyes 20, 50 and 100 years ahead to predict where military technology is going.
I would be remiss not to thank those editors who came before me and kept this magazine relevant for some 10 decades.
First and foremost is retired Army Col. Leo A. Codd, who edited the magazine for four decades as the association's secretary except when he was called back to active duty for four years during World War II. As secretary, he did much more than run the publication. He was involved in the day-to-day operations of the association and when in the 1930s the organization needed someone to engage in a series of debates with the isolationalist Sen. Gerald Nye, it was Codd who went toe to toe with him to spread a message of preparedness.
In the 1980s, when the association wanted to transform the magazine into something more journalism focused, it called on Robert H. Williams. When he retired, his protégé Sandra I. Erwin took the magazine to an even higher level. National Defense would not be what it is today without their contributions.
Perusing the back issues has gotten me wondering if some future editor — perhaps for the 150th anniversary or bicentennial issue — will be reading my words to gain insight on what it was like back when the association turned 100. I would like to think there will still be a National Defense, a real glossy magazine readers can hold in their hands. Just a few years before I wrote this, many were predicting the demise of magazines, newspapers and printed books. They were all supposed to go digital. So far, that has not happened.
As I write this, support for the magazine from NDIA leadership, advertisers and readers remains strong.
But we must always be ready for change. This centennial issue marks the first use of augmented reality. Inside, there are videos recalling the association's history.
This is the beginning of something new for the magazine as we plan on incorporating augmented reality in future editions. We plan on making good use of it in the December training-and-simulation issue, so don't delete that app.
Those who receive the magazine regularly will notice right away that we have skipped the usual format to create something special. For the usual defense industry news, commentary and analysis in the month of November, stop by NationalDefenseMagazine.org, which is updated daily.
To get a copy of our special issue contact mmayfield@ndia.org
Topics: Defense Department