HALIFAX SECURITY FORUM NEWS: Q&A with Coast Guard Commandant Adm. Schultz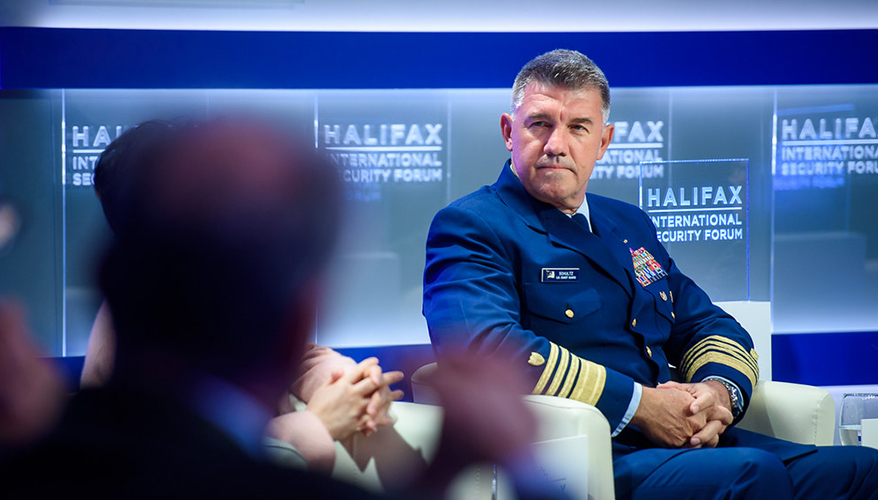 Photo: Halifax International Security Forum
HALIFAX, Nova Scotia — Adm. Karl Schultz, the commandant of the Coast Guard, sat down Nov. 23 with National Defense Senior Editor Yasmin Tadjdeh during the Halifax International Security Forum. Schultz discussed the impacts of a continuing resolution on the Coast Guard, shipbuilding plans and the service's role in the Pacific. The interview has been edited for brevity and clarity.

How is the continuing resolution for fiscal year 2020 affecting the Coast Guard right now?
The CR allows us to continue doing what we do — front line services to the nation. That's a good thing. CR writ large, when I pull it up a level though, CRs for a ... military service are challenging. We did a little analysis. I think we've been under a CR about 40 percent of the time over the last nine years. That's like more than 15,000/1,600 days. And there are some limits [such as] no new-starts during CRs.
When you go to a shipyard for maintenance on a large capital asset, like a cutter — the shipyards are making decisions about where they see opportunities. They've got to maintain payroll and employees and things like that. So we're getting a little less interest in some of the [private] shipyard work. I hope we get a normal budget. At the end of the day, right, wrong or indifferent, I guess we've gotten sort of conditioned to live in this CR environment, but I think we're a better Coast Guard when we have stable, predictable and ... on-time funding.

Are there any new-start programs that are being affected by the CR?
Right now at this point in the new fiscal year, no. ... There's some things in the '20 budget that are for additional cyber personnel for the Coast Guard, to a tune of about 70 bodies. We're doing some things with our enterprise mission platform. ... There's about a $14 million line item there. Our first real foray into the capital side of the budget to get after some of our information systems, technology capabilities. So we got to kind of work the parts of that.
In terms of shipbuilding, ... there's nothing immediate on a new-start on any of our shipbuilding programs that are delayed at this point in the CR. But we went from 1 October to 21 November and now we're bouncing from 20 November to ... 20 December [with the current CR]. We .... are just about a quarter into the fiscal year. So the complexity compounds a little bit as we go deeper into the year.

How is the offshore patrol cutter program going?
We had a speed bump or a hiccup with the offshore patrol cutter in terms of Hurricane Michael hitting Eastern Shipbuilding Group. We awarded the contract ... back in late September 2018 a few months after I took over as commandant. Within … less than 10 days, Hurricane Michael smacked the [Florida] panhandle and Eastern Shipbuilding was a direct hit.
In the original terms of contract, we were going to build nine offshore patrol cutters with an option for a 10th and 11th. Given the regional impacts, the availability of employees and other things, the new contractual relief — and we're back and forth on working the details with Eastern Shipbuilding Group — allows them to build up the four ships. It stretches out the timeline. Delivery on the first ship slips about a year. So you're going to add about 12 months to the previously advertised timeline. But it gives them a chance to reconstitute. You know, one of the competing things that's challenging Eastern a bit is Tyndall Air Force Base, which is within a 15-mile radius of where Eastern's operating. There's $3 billion, $4 billion to recapitalize Tyndall from the damages there. So a lot of the same kind of skilled employees are getting drawn to other government work stuff. So Eastern is continuing to build the first offshore patrol cutter. We're optimistic ... they're going to continue to keep employees and keep building ships.
What we did though is ... there's a parallel track. So we went out with requests for information here in recent weeks ... and we're looking at other vendors, other shipbuilders that might want to come in and potentially compete. Eastern has a chance to re-compete for additional hulls beyond the fourth hull. And this gives us a chance to talk to other vendors. If the Eastern Shipbuilding Group struggles to find employees and stay on track with those four ships ... we don't lose two, three years to start up another production line.
So I hope we've struck sort of an artful place on this where it recognizes this God act that Eastern Shipbuilding couldn't control, that gives Eastern the chance to be successful and it gives us a chance to have other vendors take a look at the offshore patrol cutter again and see if they want to be in that [program]. And this could go many different ways at the end of the day. The OPC is a fleet of 25 so there's potentially 21 additional hulls that can be built here. So there's a lot of shipbuilding ahead of us here. Eastern has the corner on the market on the first four. They can re-compete [for future ships] and potentially get a second vendor involved. What happens is to go ... from cold-start to a procurement, it's about a three-year process. Well, what we didn't want to do is if Eastern struggles to find employees ... we don't lose three years. I'm replacing ships that are 52 years old today from the 210 foot [Reliance]-class that'll be 60 years old before they come out of service. And the 270 foot [Famous]-class ships ... are 33, 35 years old. There'll be 45, 50 years old [when they come out of service]. So we don't have time. The national imperative here is to get going on these OPCs, these offshore patrol cutters. That's why we have this parallel track established.

To switch to the polar security cutter: I know the Coast Guard awarded a contract to VT Halter in April. Is that program on track for first delivery in 2023?
We're in the detailed design and construction award [phase]. We're still involved with detailed design … [for the remainder] of this calendar year and '20. Steel starts getting cut around '21. We anticipate receiving the ship in '24. There are some incentives to the shipbuilder if they can pull that left into '23 but we took a pretty aggressive approach on this polar security cutter because ... [we] have this 43 year old Polar Star [which] gets older every year.
But there are incentives. If VT Halter gets after it, initiates the design work early, it's a possibility we get [it in] '23. But ... '24 is probably where my expectations are focused on. You have got to finish design and you don't want to cheat the design work because we're going to build multiple polar security cutters. You want to get the design work right and then you want to build a good quality ship. And then you hope there's ... opportunities to build more. The contract that was awarded in the spring is first production on [the first] ship and up to two more. And then we're having a broader conversation about how many icebreakers a nation needs. I've talked about a 6-3-1 strategy — a minimum of six ... big breakers, and then the conversation about three more. You know, you got a hot production line. If you've got a great polar security cutter, ... what would be the difference in terms of a less capable medium ship? What's the cost break? ... There's some place for conversations in there. Maybe you build more polar security cutters and that's your medium. … Maybe you really don't need more big ships. You know, we've got to figure that out a little bit.

China has been dominating the conversation here in Halifax. How important is competing with China and acquiring these polar security cutters?
I talk about China, the non-Arctic state [but] self-declared "near Arctic state." There really is no such lexicon, but they've coined this term for themselves. You know, they're an observer on the Arctic Council. And if you look over the last six to nine years off the Alaskan Arctic [coast] ... China's been up there six or seven of the last nine, 10 years. So they are encroaching on an area that we have a lot of sovereign interests in. We are interested in energy opportunities. ... A third of the globe's untapped natural gas lies below the Arctic floor, somewhere between 15 to 20 percent of the untapped petroleum. You've got a lot of rich minerals. China claims to be up there doing science work [but] they're also interested in the underwater cables and things like that and mapping. So I think the fact that China launched a second icebreaker last year — the Snow Dragon No. 2; the fact that China is building a heavy icebreaker; the fact that China ... will outpace us in terms of icebreaking capacity by 2025 here and they are a non-Arctic nation — that's a little troubling to me.

What is the Coast Guard doing in the Pacific?

We had two national security cutters, about five-month deployments each — the Bertholf and the Stratton. Stratton just returned yesterday to her home port in Alameda, California, after a five-month deployment. So they were there a good part of the calendar year for 2019 working for the Seventh Fleet, which is a subordinate command to Pacific Fleet and Indo-Pacific [Command]. ... They did a lot of wide-ranging work. They were doing sanctions enforcement, UN Security Council sanction enforcement against the Democratic People's Republic of North Korea. … The Bertholf did a Taiwan Strait transit with a Navy ship. They've done exercises with the Philippines, Philippine coast guard. They've done stuff with the Vietnamese, with the Indonesians and Malaysians, port calls in the region, capacity building. ... They've worked across a wide spectrum of activities.

A Coast Guard cutter denotes a certain degree of branding across the globe. You see that white hull, the iconic orange-and-blue racing stripe. It sort of projects model maritime governance, rules-based international norms. I think we bring that to the region. And I think I would say as I look at the China coast guard in comparison, the China coast guard has grown immensely. The China coast guard in July of '18 moved from civilian control to what they call the People's Military Police, which is a direct report to the central communist party. The [Chinese] coast guard I'd say operates a little bit in that gray zone there. They don't operate like the United States Coast Guard. Yet, they sort of propose and profess themselves as a global coast guard. They are a regional coast guard and their behavior is very different than us. I think by us being there, we sort of offer, 'No, this is how the world's best Coast Guard operates in terms of authorities, in terms of humanitarian focus, in terms of law enforcement behaviors.' That's what we're offering.
Topics: Maritime Security