JUST IN: Boeing Says F-15EX Initiative Progressing Despite Budget Impasse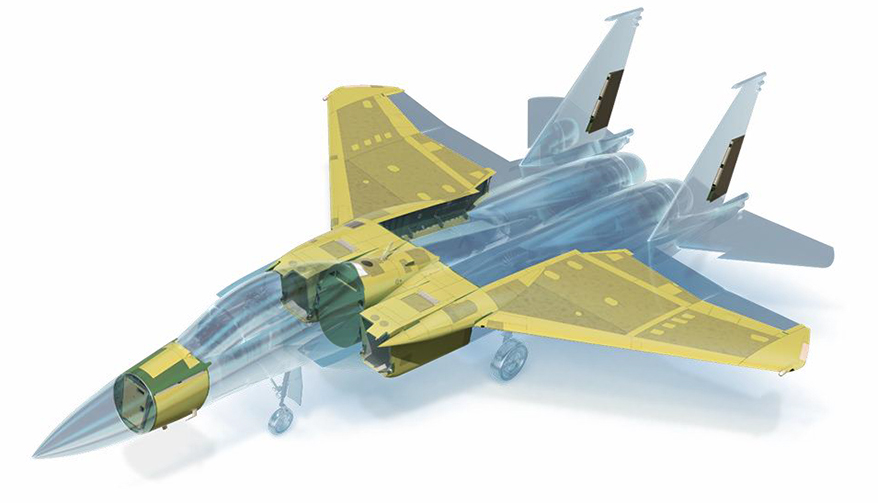 Image: Boeing rendering of a digital model of an F-15
ST. LOUIS — Boeing's plans to deliver the first two test aircraft for the F-15EX fighter program by the end of next year are still on track, despite the budget gridlock on Capitol Hill, according to a company executive.
Congress has yet to pass a defense appropriations bill for fiscal year 2020, and the Pentagon and other federal agencies have been operating under a continuing resolution since Oct. 1. CRs are problematic for the Defense Department because they inhibit new-start programs such as the F-15EX.
The Air Force plans to buy 80 of the jets over the next five years, and eventually procure a total of 144 aircraft.
"We'd love to get them on contract and that can't happen unless the [appropriations] bill is authorized by the Congress," Prat Kumar, vice president for F-15 programs at Boeing Defense, Space and Security, said Nov. 18 during a briefing with a small group of reporters at the company's St. Louis facilities. "For now, we are leaning in and it's safe to say that right now we are progressing because the company has stepped forward and made some investment into this program ahead of the CR … and us getting on the contract."
Kumar's comments came just days before Congress, as expected, passed another continuing resolution to keep the government funded at fiscal year 2019 levels through Dec. 20.
"If that extends for too much longer then it starts putting a lot of pressure on us" to be able to meet the test jet delivery goal, he said.
The company hopes to sign a contract in the March timeframe. Kumar said it could deliver two test jets to the Air Force within nine months of getting on contract.
Boeing is leveraging billions of dollars in investment that has already been made by the Pentagon and foreign customers in many of the technologies that will be integrated into the F-15EX platform.
The EX will be a significantly upgraded variant of Boeing's F-15. It will include: an advanced cockpit system with a large area display; enhanced aerodynamics via fly-by-wire controls and 9g performance; increased survivability with a fully integrated electronic warfare suite and an active electronically scanned array radar; increased lethality and multi-role flexibility with 12 air-to-air and 15 air-to-ground weapon stations; and advanced mission systems such as the advanced display core processor II and operational flight program suite 9.1X, according to a presentation by Lori Schneider, Boeing's F-15EX program manager.
"EX is really a true integration program where we're leveraging a hot production line from [previous F-15E orders by] Qatar and then bringing in all the modernization elements that the Air Force has been investing in" for its aircraft fleet, she said.
Schneider noted that the platform will have open mission systems that will enable new technology to be integrated as it evolves.
"The first jet that rolls off the line will be as fully capable as the last jet" when system upgrades are made, she said.
The Air Force is developing new air-launched hypersonic weapons that will be able to fly at speeds of Mach 5 or faster and be highly maneuverable against enemy air defenses.
"F-15EX will be a great tool to deliver those weapons in the future," Kumar said. "The payload [capacity] is just enormous, so you can hang a lot of heavy load weapons like future hypersonics with this jet."
Boeing is also leveraging digital modeling and advanced manufacturing techniques to improve the way its aircraft are constructed. For the F-15, the company is pursuing what it calls a digital airframe.
"It's leveraging the [digital] model-based engineering capability and applying that incrementally throughout the platform," Schneider explained.
The technology is already being employed in the construction of new F-15 wings, nose barrels and forward-center fuselages. It has led to a dramatic reduction in both the footprint required to build the parts as well as the number of people involved, while also improving quality, Kumar said. For the wings, it has enabled a 50 percent footprint reduction and a 70 percent reduction in manpower, he said.
Plans call for using the technology to also build the forward fuselage and later the aft-center fuselage and aft fuselage.
"By the time we are done through this journey, we'll have a completely digital airframe [that is] much more manufacturable, affordable, higher quality — and it enables us to insert technology much more rapidly in this jet because you don't have to re-engineer any of the bays as much as you needed to do before," Kumar said.
Meanwhile, Boeing is positioning itself to get on contract for the F-15EX as soon as possible once Congress passes a budget for fiscal year 2020. After the budget is passed, the Air Force is expected to issue a request for proposal that Boeing will respond to before the funds will be released. That will entail a lot of paperwork.
"We've been working very closely and collaboratively with the Air Force throughout really the spring, summer and fall … so when the final RFP releases we're pretty much ready to go," Schneider said. The company has been communicating with acquisition officials regarding requirements, statements of work, tasking and other issues, she added.
Key congressional committees and subcommittees that oversee defense spending have included funding for the F-15EX in their fiscal year 2020 appropriations and authorization bills, which have yet to be passed. But nothing is guaranteed at this point, Kumar noted.
"We feel very optimistic they'll stay in the budget," he said. "But until [the bill and contract are] signed, you know there's always risk."
Topics: Air Power