DSEI JAPAN NEWS: Japanese Companies Use First-of-its-Kind Trade Show to Display Weapon Systems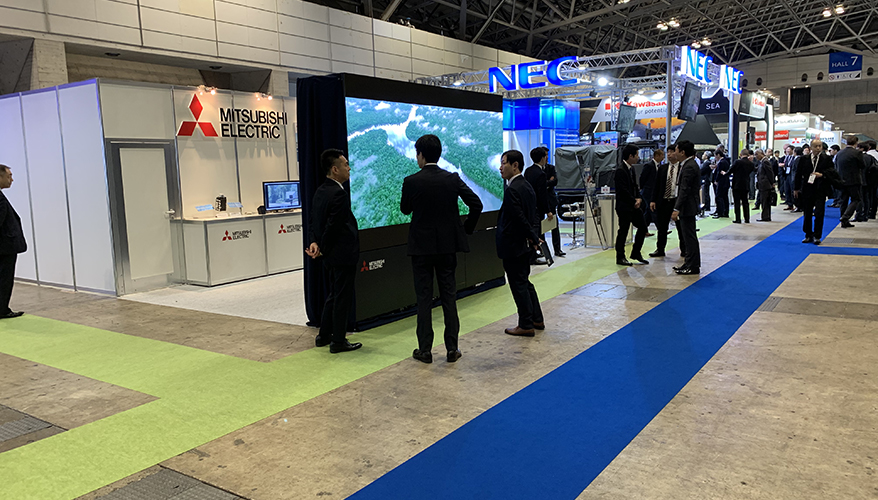 Photo: Stew Magnuson
MAKUHARI, Japan — Billed as Japan's first "fully integrated" defense trade show, the DSEI Japan conference being held in a small portion of the nation's largest convention center brought out local defense contractors, big and small, to display their wares to potential international customers.

It was more than five years ago when the Japanese government lifted a long-standing ban on arms exports, allowing companies that had previously only done business with the nation's Ministry of Defense and its Self-Defense Forces, to look outward to expand their sales.

While overseas weapon system sales since the ban was lifted have been meager, the overarching conference theme was how Japan — its industries, academia and government — can better partner with nations such as the United States, United Kingdom and Australia, to counter China's massive investments in research and development, and create systems that can fill technology gaps.

Japan has a lot to offer, said Llyr Jones, executive director for strategy at the U.K. Defence Solutions Centre. It is a world-class leader in a host of technologies with dual-use applications such as robotics, batteries, communications-on-the move, exoskeletons, additive manufacturing and artificial intelligence.

"Japan is a country that would excel and make a tremendous contribution to any partnership," Jones said. Holding the conference was an important step toward more international cooperation, he added.

James Bodner, co-president of the Cohen Group and former U.S. principal deputy undersecretary of defense for policy, said for the United States and Japan there are "mutual benefits for our countries to collaborate." Japan, for example, has advanced composites that could benefit U.S. hypersonics programs. And Washington can help Tokyo with its electromagnetic warfare gaps, he said.

A walk through the exhibition hall found many defense products being offered by companies that are well known to consumers. Car manufacturer Subaru, for example, displayed models of its Subaru Bell 412EPX helicopter, which it is developing as a multipurpose aircraft for the Japan Ground Self-Defense Force.

Other technologies on display included:

• Mitsubishi Electric's Helicopter Satellite Communications System, which features a burst modem capable of transmitting through blade rotations and a newly developed lightweight parabolic antenna that can transmit high-definition, high-speed video transmissions.

• Kawasaki Heavy Industries' MCH-101 airborne mine countermeasures helicopter, which comes equipped with three different mine detection/sweeping systems. The three-engine helicopter can be quickly converted to a multi-role aircraft.

• JMU Defense Systems Co. Ltd.'s new multipurpose amphibious vehicle is being targeted for overseas customers. The 16-ton vehicle can carry 6 tons of cargo or 30 personnel. It uses four-wheeled drive on land and twin water jets in the water.

• Mitsubishi Heavy Industries' OZZ-5 autonomous underwater vehicle is designed for mine countermeasures. It has nine hours of endurance and can cruise at 4 knots. It launches and operates in an autonomous mode without diver assistance. The company touts its high stability in turbulent flows and strong current resistance.

• NEC carried out live demonstrations of its High Mobility Powered Exoskeleton. The system is designed to be rapidly donned and allows its user to carry heavy loads with less physical exertion.

In addition, the Ministry of Defense's Acquisition, Technology and Logistics Agency displayed several dozen technologies in its booth that it had funded, including: the Type-13 Airborne Parachute, with improved safety and increased reliability for opening; the Type-10 Snow Vehicle for transporting personnel and goods in snow; a portable helipad composed of mats made from recycled polyethylene; and the Outside Bathing Facility Set, a system contained on a 3.5 ton truck that can deploy a temporary bathing tent capable of producing hot water and servicing 1,200 people per day.

One issue that will be a problem as Japan seeks to build its weapon exports and build international industry partnerships is its representatives' poor level of English language skills. Over the course of the conference, National Defense encountered almost no salespeople at the booths who could explain their products in the industry's lingua franca. Most, however, came prepared with brochures and signage in English.

One small company displaying a scuba re-breather had no literature to share about its new system and a salesman manning the booth who couldn't speak English.
Topics: Global Defense Market, International