ROBOTICS AND AUTONOMOUS SYSTEMS
DUBAI AIRSHOW NEWS: United Arab Emirates Buying F-35s Not Currently Under Discussion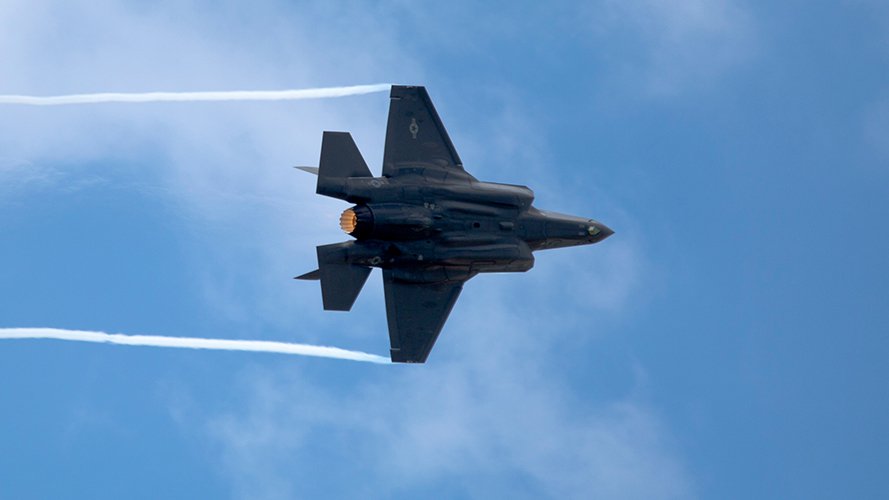 Photo: Lockheed Martin
DUBAI, United Arab Emirates —
The United States is not in talks with the United Arab Emirates on a potential sale of the F-35 joint strike fighter, according to a Pentagon official.
Speaking to reporters Nov. 16 prior to the Dubai Air Show, Under Secretary of Defense for Acquisition and Sustainment Ellen Lord said the Emirates are instead focused on modernizing its F-16 fleet.
"The Emirates right now are pursuing F-16s, so we're talking about modernizing the F-16 fleet," she said. Both aircraft are manufactured by Lockheed Martin.
Lord said potential F-35 sales to the UAE have not been discussed during any classified briefings and that it will not be a topic of discussion during the air show.
"We are, within the U.S., discussing how we might end up in those," she said.
Earlier this year, the U.S. removed Turkey from the program because of Ankara's decision to purchase the Russian-made S-400 air defense system. Lord re-emphasized that the two platforms will not work alongside each other.
"The S-400 and the F-35 are incompatible," she said. "We remain very steadfast in terms of the F-35 will not be in the same location as an S-400."
Additionally, Lord said she met with U.S. industrial partners to discuss opportunities and challenges of doing business in the region. As the Gulf nations change their procurement strategies, the United States is working on ways to adjust and support them, she noted.
"What came across to me is that in Saudi Arabia the real focus is on jobs, so localization in terms of actual production, manufacturing," she said. "In the UAE I think the focus is really on technology transfer."
Earlier this month, the UAE launched "Edge," a new company aimed at developing advanced technologies that combines over 25 state-owned and independent companies. Lord said the U.S. is working to better understand the conglomerate's role.
"We just do not have enough information yet," she said. "What we were told by the embassy is that Edge is not ready to take meetings yet, so we can't get a lot of clarification. But we're trying to understand it and obviously U.S. industry wants to understand how to do business in the UAE."
The United States is also looking at ways to bring more counter-unmanned aerial vehicles capabilities to the region, she noted. In May, the Trump administration declared an emergency that would allow it to bypass Congress and push ahead arms sales to countries including Saudi Arabia and the United Arab Emirates.
On Sept. 14, Saudi Arabia suffered an attack on its Abqaiq-Khurais oil refinery, which was reportedly carried out by Iranian-manufactured drones and cruise missiles. The incident highlighted the need for more robust air defenses in the Middle East to protect critical facilities.
"We continue to talk about counter-UAS capability and what we can do to work here in the region to bring more actual materiel solutions," Lord said. "We have some, but we want to do more and we want to have that scalable and tailorable to all different sized UAS."
Topics: Global Defense Market, International