DSEI JAPAN NEWS: Trade Show Kicks Off as U.S., China Military Leaders Exchange Provocations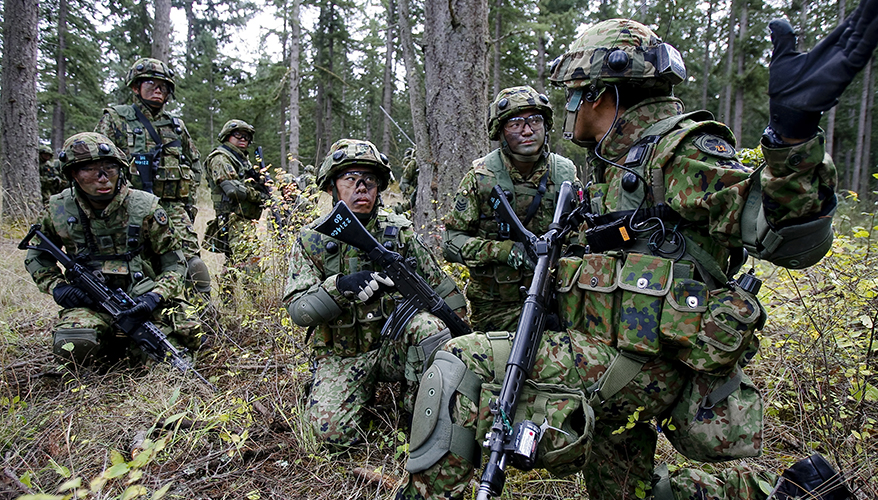 Japan Ground Self-Defense Force soldiers
Photo: Defense Dept.
MAKUHARI, Japan — A bevy of retired and active duty military leaders from Japan and its Western Allies gathered at the inaugural DSEI Japan conference Nov. 18 to discuss ways to counter so-called bad actors in the region.

Underscoring the regional tensions currently plaguing the Indo-Pacific, Chinese and U.S. officials at a gathering of defense officials in Bangkok, Thailand, traded barbs the same day, according to news reports. China's Defense Minister Wei Fenghe told the United States to "to stop flexing muscles in the South China Sea." His remarks came a day after U.S. Defense Secretary Mark Esper accused China of "increasingly resorting to intimidation and coercion to reach its strategic objectives," according to Reuters.

"Our region is becoming more competitive and contested," Australia's Ambassador to Japan Richard Court said at the DSEI Japan conference in Makuhari, Japan. The Asia-Pacific region is becoming the global center of gravity and it is "shaping much of the destiny of the world," he added.

Participants at the gathering — which is being billed as Japan's first multi-domain defense conference — called for better cooperation in military technology development between nations such as the United States, Japan, South Korea and Australia to counter regional rivals like North Korea, China and Russia.

"The stark fact is that we are living in the most significant period of geo-strategic transition in our region since the second World War," Court said.

Japan, the United States and Australia need better interoperability between its forces, he said. Australia will be sending a defense industry trade delegation to Tokyo later in the week. Court called for Japan and Australia to re-energize its technology partnerships.

All three nations have recently published strategies that have identified space, cyberspace and the electromagnetic spectrum as emerging threats.

Retired U.S. Air Force Lt. Gen. Jerry Martinez, former commander of U.S. Forces Japan, said of the four nations the National Security Strategy identified as potential foes — Russia, China, Iran and North Korea — three of them are Japan's immediate neighbors.

And it's more than just geography. All three nations have undergone rapid change over the past decade. North Korea's change in leadership resulted in a more aggressive nation with rapidly advancing technology. China's island building in the South China Sea has resulted in them placing the equivalent of "eight Guams" in the Pacific and "that should scare us," Martinez said.

And "Russia is doing a tremendous amount in the Pacific and we can't take our eyes off them," Martinez said.

Gen Nakatani, a member of Japan's House of Representatives and the former minister of defense, said, "Russia will be happy to take advantage of any fissures in the alliance" between the United States, South Korea and Japan.

Martinez said, "We cannot for one minute lapse or take a break in worrying about the defense of [Japan]." Interoperability between all the forces that support Japan is crucial, and that is accomplished by exercising and training together, he added.

"We also need equipment that speaks to each other. It does us no good that we have five different types of weapon systems and none of those systems can talk to each other," he said.

Meanwhile, China's defense expenditures and rapid modernization of its forces is alarming, Nakatani said. Japan and its allies need to expand its efforts to cope with a rising China by further cooperation between its defense industries.

However, Japan and South Korea are currently undergoing a diplomatic feud. Cooperation isn't in the cards as tensions between the two nations rise.

Martinez said "there clearly is a history" between the two nations which has caused issues in the past. "The United States wants to do everything it can to bridge the gap between those differences," he added.

Nevertheless, the Indo-Pacific allies must keep up with the rapid change in technology. That's expensive, he conceded. "We have to buy the right technology that will match the technology of our counterparts that we are worrying about in this region," he added.
Topics: Global Defense Market, International