DUBAI AIR SHOW NEWS: T-7A Red Hawk May Move Beyond Training Purposes for International Customers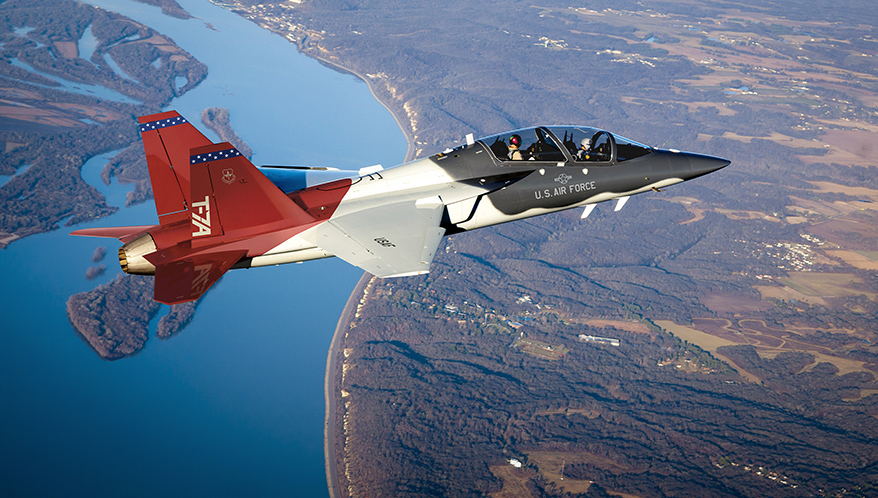 T-7A Red Hawk
Image: Boeing
DUBAI, United Arab Emirates
— Boeing has been talking to overseas customers about using its T-7 Red Hawk training aircraft for different purposes, a company official said Nov. 18.
"I don't have a hard percentage … but there is a lot of interest, obviously, in kind of moving beyond the trainer as well as the trainer itself," Thom Breckenridge, vice president of international sales for strike, surveillance and mobility at Boeing's defense, space and security business, said at a press conference at the Dubai Air Show.
Formerly known as the T-X, Boeing recently renamed the aircraft to the T-7 Red Hawk trainer to pay tribute to the Tuskegee Airmen, African-American pilots that fought in World War II. Partnering with Saab, the trainer won a competition to replace the Air Force's T-38 jet trainers in 2018 with a clean-sheet design.
The company has previously floated the idea of pitching the trainer for light attack and aggressor sales. Breckenridge said Boeing plans to use the Dubai Air Show to talk to foreign customers about their needs.
"Some customers [are] interested only in the trainers, sometimes with some customers only interested in something beyond the trainer and some customers interested in both," he said. "We do expect that there will be a mix."
The T-7A was already initially designed to move beyond a training aircraft, he noted.
"We're in the process of thinking through what will that next configuration look like, who will be the eventual customers, how all that will come together," he said.
The aircraft has received interest "across all continents except for, maybe, Antarctica," he said.
"There's been some interest or varying levels of interest," he noted. "Can't go into the specifics of the conversations that we're having with individual customers, but we have had interests across all the continents."
The system would be especially useful in areas that have pilot shortages because of its efficiency, Breckenridge said. Students are able to move through training more quickly and at an affordable rate, he noted.
"I'm also doing that in a way that's more affordable, both because of the ability to utilize those ground-based training systems ... in addition to the affordability benefits that the aircraft brings from a maintenance perspective as well as just from a performance perspective," he said.
For instance, the aircraft has a canopy opening to the side, which can cut down ejector seat change times from hours and days to only minutes.
ACES 5 ejection seats
will be provided by Collins Aerospace.
The system also has "easy access, fold-down doors" and high wings so maintainers can quickly and efficiently reach the parts they need, he noted.
Topics: Air Power, Aviation, Training and Simulation, International, Global Defense Market