WEB EXCLUSIVE: GM Defense Expanding Portfolio Beyond Vehicles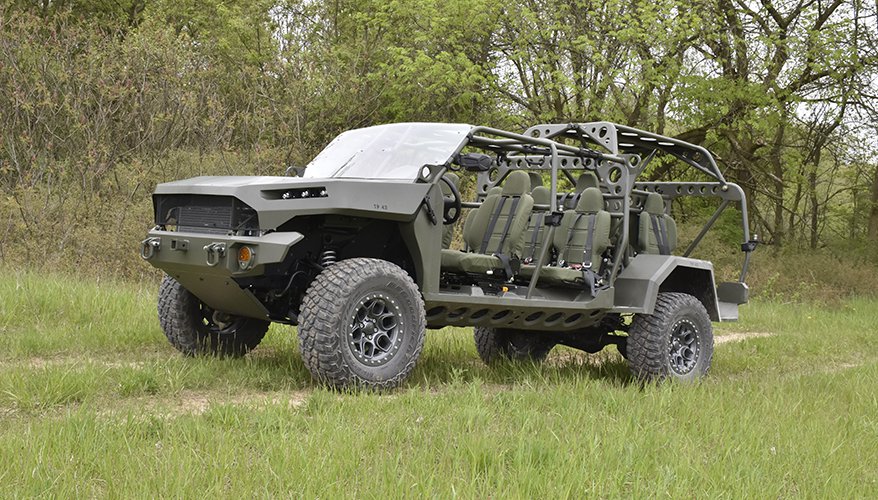 GM Defense Infantry Squad Vehicle concept
Photo: GM Defense
General Motors' defense business — which was resurrected two years ago after the auto giant sold its defense division to General Dynamics in 2003 — is positioning itself as a technology company rather than just a vehicle manufacturer as it diversifies its product line.
GM Defense wants to "be viewed as a technology company that's bringing in disparate technologies and capabilities across domains," said David Albritton, who took the helm as company president last November.
Since being stood up in the fall of 2017, GM Defense has been trying to tap into the research-and-development work being done on the commercial side of General Motors and apply it to the aerospace and defense sectors, he told National Defense during an interview in October.
"Every year GM invests upwards of $7 billion to $9 billion in R&D," he said. "That's a huge wealth of resources that we can leverage."
That includes technologies such as lithium-ion batteries, electric motors, hydrogen fuel cell systems and cybersecurity systems, he added.
Since it has returned to the defense business, GM has been working to reconnect with industry and customers to discuss its capabilities, Albritton said. It is considering a variety of opportunities including partnering with other firms or serving as the main supplier for certain capabilities.
"We're also thinking about this across domains, not just with ground vehicles, but … air [and] sea applications," he said. "Some of the things that we're doing are focusing on capability trends that the services have talked about as it relates to network systems, autonomy and AI, directed energy … [and] increased energy demands."
The company is currently working with the Naval Research Laboratory and Office of Naval Research on a hydrogen fuel cell system for unmanned underwater vehicles, he noted.
"That's a compelling opportunity going forward," he said.
While GM Defense is diversifying its offerings, it is continuing to work in the vehicle market, Albritton said.
Compared to the massive buildup during the height of the Iraq War, there are currently fewer new-start military vehicle programs in the United States.
However, "we think there's some good opportunity for us going forward to … leverage the strengths that we have in commercial investments that we've made as a company," he said.
GM Defense is participating in the Army's infantry squad vehicle program, Albritton noted.
Following field tests at Fort Bragg, North Carolina, the service recently selected the company's offering for further assessment and awarded it a $1 million contract to build two additional prototypes for test and evaluation. GM's vehicle is based on the company's Chevrolet Colorado midsize truck architecture and its ZR2 and ZR2 Bison variants.
"We're excited about our performance thus far from getting downselected from five to three" companies, he said. "We're in the prototype phase and producing two vehicles that will deliver here in the November timeframe to the Army for continued testing."
Testing is expected to last for three months, with a contract award slated for the March 2020 timeframe, he added.
The company is also interested in the service's plans for a family of robotic combat vehicles — which is part of the Army's next-generation combat vehicle modernization portfolio — including light, medium and heavy variants. GM Defense is particularly interested in the lighter platform, Albritton said.
"If you think about how the Army is trying to do that competition, it's different than how traditional programs have been run where the service will establish a set of very stringent requirements … [and ask] industry to meet those requirements," he said. "In this case they asked industry to step forward with [their] best ideas."
The company is also looking toward the international military vehicle market, Albritton said.
"If you look into the global marketplace — being a global company like we are — we think there's tremendous opportunity for us to evaluate that and try to find solutions to meet the needs of those customers," he said.
Topics: