ROBOTICS AND AUTONOMOUS SYSTEMS
U.S. Military Testing Wooden Resupply Glider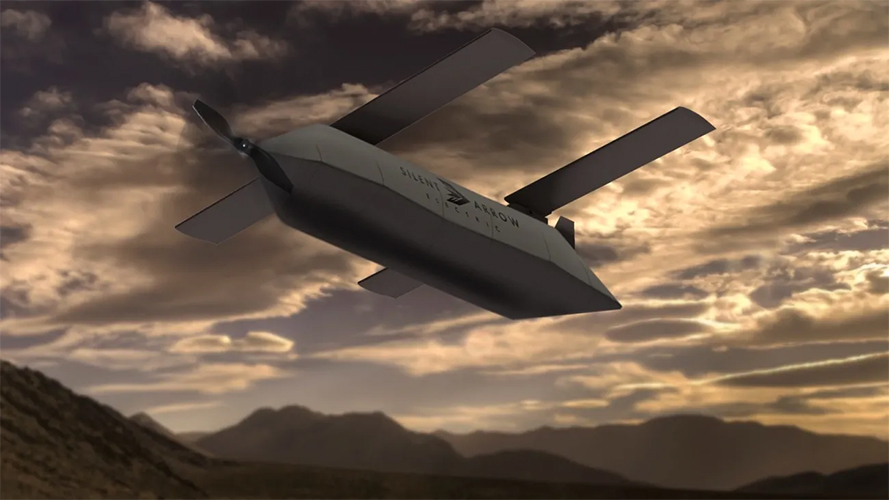 Image: Yates Electrospace Corp.
LONDON —
A wooden glider designed to be launched from an aircraft to autonomously resupply troops on the ground has grabbed the attention of the Marine Corps, Army and Air Force Special Operations Command.
AFSOC last summer inked a contract with Yates Electrospace Corp., of Laguna Hills, California, to further test the Silent Arrow GD-2000, Chip Yates, the company's CEO said in an interview on the sidelines of the recent DSEI Conference in London, where the product made its public debut. In 2018, the company signed its first production contract for 2,000 of the gliders with a foreign government, which he could not name.
The idea to build the glider originated when the Marine Corps Warfighting Laboratory published a set of requirements for autonomous resupply. It wanted something more accurate and less expensive than the joint precision air drop parachutes, which use GPS to guide loads autonomously to the ground.
"They didn't know what that [solution] would look like. They just published a set of requirements," Yates said. After submitting a white paper with Yates' idea for a wooden, disposable glider, the lab issued two development contracts.
The result is the GD-2000, which is shipped as a two-foot-by-two-foot-by-eight-foot box. It was designed to save space so the set of four tandem wings fold inside like a pocketknife. Eighty units can be shipped in a standard CONEX container, Yates said.
The Air Force is providing C-130 aircraft and crews to test the glider in restricted airspace and in Federal Aviation Administration controlled national airspace. Logisticians can load the box with a little more than 1,600 pounds of supplies. They then place a two-by-four underneath the center to make sure it is balanced. Then they enter wind and landing zone data into the glider's computer.
The fuselage is launched out of the back of the aircraft, where its wings spring open in less than a second. It can be launched from 25,000 feet and glide for 40 miles. That gives the user the advantage of stealth, Yates said.
"No one would see the C-130. No one would hear it. … It's a very nice gliding airplane for how boxy it looks," he said.
Customers so far want full autonomy without any communications links that can be hacked, tracked, jammed or hijacked. Once on the ground, the box can be repurposed by filling it with dirt or sand to make buildings or bunkers, he said.
The autopilot is adapted from open source, off-the-shelf software that does not fall under the strict International Traffic in Arms Regulations and all export licenses are in place, he said. It could potentially be reused if the landing was smooth enough, but "it is designed so when the soldiers get their stuff, they can walk away from it," Yates said.
It met the Marine Corps' initial requirement for affordability by coming in at $15,000 per unit, roughly half the price of the autonomous resupply parachutes, Yates said. The order for 2,000 units allowed the company to go into production. The MEL Group in the United Kingdom was chosen for manufacturing.
Yates envisions a product line of about five aircraft. After having talks with U.S. military officials, the Air Force is looking for a larger version with a wider body, and the Army wants a smaller version with a gross weight of 800 pounds. He is also looking at an electronically powered variant that could autonomously take off and land.
Yates said in an email Nov. 6 that a foreign customer had signed a development contract for a new widebody version, with the intention of eventually purchasing 1,000 units.
Wooden gliders are not a new concept, Yates conceded. Both Allied and Axis forces used them extensively in World War II for a variety of missions, including delivering soldiers and commandos behind enemy lines, along with heavy equipment such as jeeps and anti-aircraft guns.
"There are no new ideas under the sun, are there?" Yates said.
Topics: Robotics and Autonomous Systems, Robotics, Air Power