JUST IN: KC-46 Cargo Lock Retrofit on the Way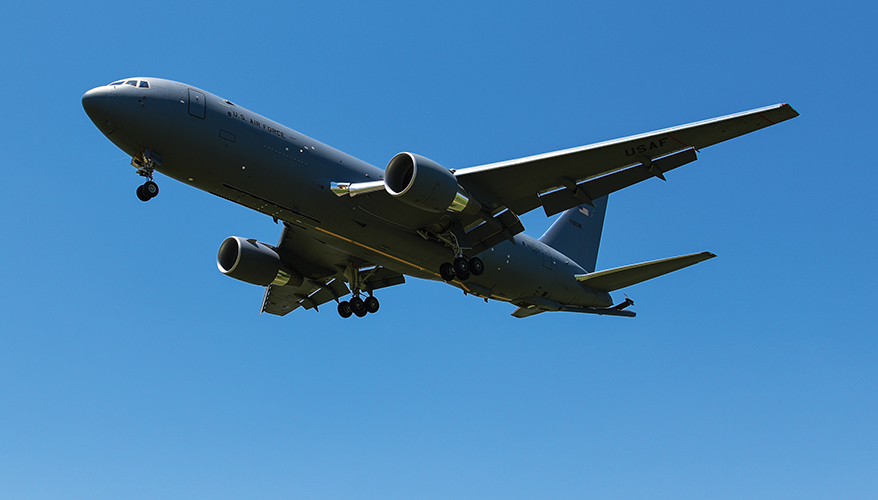 KC-46
Photo: Air Force
The Air Force has approved a retrofit to prevent cargo locks from coming undone in the KC-46 Pegasus aerial refueling tanker, according to a Boeing spokesperson.

"The Boeing/Air Force team have successfully tested a cargo lock retrofit that prevents the lock from beginning to disengage," Lawrence Chambers said Nov. 12 in a statement. "The retrofit has already flown on the tanker during testing and meets all requirements. Boeing and the Air Force plan to install the new locks on all KC-46 aircraft in the coming weeks."
Boeing is the prime contractor for the program.
The Air Force is completing internal procedures prior to installing the retrofit on the tanker fleet, Chambers noted.

"Boeing is prepared to support the cargo lock retrofit as soon as the Air Force is ready to proceed," he said.

The retrofit is intended to prevent the tanker's cargo locks from coming undone while the plane is in-flight, a problem that caused the Air Force to issue a category one deficiency, which was first reported in September. The tanker has also faced issues with foreign object debris and its remote vision system, which have contributed to late deliveries over the past year.

Will Roper, assistant secretary of the Air Force for acquisition, technology and logistics, told reporters at a Nov. 12 media roundtable in Washington, D.C., that the service plans to fix the issue within "months." The problems with the locks were "normal deficiencies" that are discovered during operational testing, he said.

"That goes in the bucket of why we do operational testing," he said. "You would not find something like that if you weren't actually flying cargo."
Other technologies such as the remote vision system are "the areas that I keep the most focus and concern," he added.

The Government Accountability Office reported in June that the remote vision system had problems with glare when the sun was at certain angles. This made it difficult for the aerial refueling operator to see the receptacle of the receiver aircraft when refueling, according to the GAO.

"We continue to work closely with the Air Force and have a good path forward on the remote visual system upgrade," Chambers said. "The team has an agreed-upon set of requirements and we are in the process of finalizing the details of the system improvements."

The company was awarded a $4.9 billion fixed-price incentive contract in 2011 for development of the KC-46 following a protest against a previous award to Airbus. So far, Boeing has delivered 16 tankers to McConnell Air Force Base, Kansas; two tankers to Pease Air National Guard Base, New Hampshire; and five to Altus Air Force Base, Oklahoma. The Air Force plans to buy a total of 179 aircraft.
Topics: Air Power, Air Force News