Army Assessment Showcases Tech for Multi-Domain Ops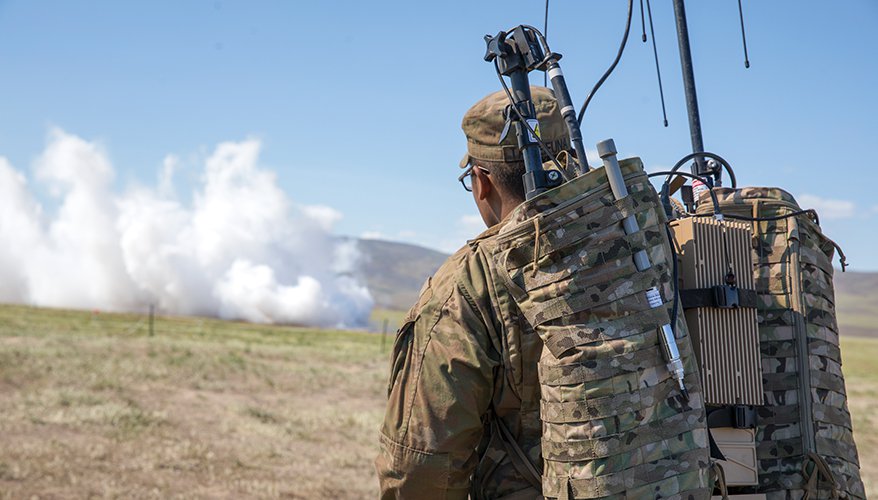 A soldier showcases a portable electronic warfare system during JWA 19.
Photo: Army
JOINT BASE LEWIS-MCCHORD, Wash. — Many of today's Army modernization efforts are built on a foundation first established in the waning days of the Future Combat Systems program. Along the way, the Army Evaluation Task Force began conducting evaluations at Fort Bliss, Texas, and White Sands Missile Range, New Mexico, with those activities eventually evolving into semi-annual Network Integration Evaluations.
The NIEs, which supported the fielding of network capability sets, further transitioned into Joint Warfighting Assessments, field experiments designed to meet the need for operationally realistic events to assess new concepts and capabilities in support of Army modernization priorities.
The assessments are planned and executed by the Army Joint Modernization Command, based at Fort Bliss, which has the lead for live field experiments within Army Futures Command. The most recent field experiment, "JWA 19," was conducted in April and May at Yakima Training Center and Joint Base Lewis-McChord, Washington, with the joint command partnering with the other services and multinational partners to assess multi-domain operations, concepts and capabilities in a projected 2025-2028 operational environment aligned to the U.S. Indo-Pacific Command area of responsibility. The previous assessment was designated "JWA 18.1" and was conducted in April–May 2018 at the Grafenwoehr and Hohenfels training areas in Germany.
"There's a lot going on in terms of modernization of the force," said Brig. Gen. Johnny Davis, commander of the Joint Modernization Command. "And there's a lot of wind in the sails in terms of where the Army is moving in the future."
Davis outlined the JWA 19 operational environment, pointing to the use of simulation to create many of the challenges anticipated in the 2025-2028 timeframe.
"We believe that some of the systems that we are investing in right now in the Army with the cross-functional teams will mature and be in the hands of our men and women in uniform," he said. "So we've placed some of those capabilities in the simulation here, where our soldiers are fighting in a near-peer environment."
"That's pretty cool," he added. "And it's an eye opener, because we're asking our leaders to fight in the futuristic environment in all domains."
Davis' comment about all domains reflects the Army's expectation that future operations will be contested in land, maritime, cyberspace, air and space domains across an increasingly lethal and expanded battlefield. Consequently, JWA 19 explored related challenges in areas like cross-domain maneuver, intelligence, surveillance and reconnaissance, multi-domain mission command, sustainment and cross-domain fires. Specific learning objectives were assigned to each of the areas.
Task organization for JWA 19 featured a combined joint task force under I Corps, with joint service and multinational partners from Australia, Canada, the United Kingdom and New Zealand. Elements from France and Singapore also participated in the event. The live exercise environment included approximately 12,200 deployed personnel.
One of the participating units was "Lancer Brigade," the 2nd Brigade, 2nd Infantry Division Stryker Brigade Combat Team.
"Being out here in the field at JWA 19 really allows us to focus on three things," explained Col. Jonathan Chung, the team's commander. "No. 1 is building readiness, which is our first priority. Two, it gives us an opportunity to focus on modernization and future force opportunities for development. And three, it's an opportunity to work through interoperability issues with our multinational partners."
In addition to JWA 19 participation, he noted that the brigade combat team was able to maximize the field experience through a culminating "Bayonet Focus" training exercise, which he said included experimentation and evaluation of "about seven capabilities and concepts that we have a chance to test and integrate throughout the entire formation."
Specific examples of new capabilities and concepts designed to enhance the lethality of the Army's cavalry scouts included the MR-2300 illuminator, InstantEye small unmanned aerial system, and the ENFIRE data collection set.
The MR-2300 is a high-intensity infrared and short-wave infrared illuminator that can be mounted on the Stryker vehicle to enable existing optical sensors to positively identify targets at long range in low/no-light and subterranean conditions.
The InstantEye family of hand-launched, aerial robotic systems provides Stryker elements with immediate tactical intelligence, surveillance and reconnaissance in urban and rural environments.
The introduction of ENFIRE, which is currently employed by Army engineers, provides a toolset to facilitate a range of Stryker reconnaissance operations.
"The equipment that we're looking at right now is part of the sensor-enabled scout platoon concept," said Maj. Dave Sherck, executive officer for 8th Squadron, 1st U.S. Cavalry — the cavalry squadron for the Lancer Brigade. "It's taking the cavalry scouts from their individual binoculars and what they can see and report, and giving them new tools to do their jobs more effectively and much faster."
Noting that part of the unit's reconnaissance mission during JWA 19 was to perform a route reconnaissance for the brigade, he said, "The way that we've done this for a long time is that our scouts will get out on the ground with things like rulers and measuring tapes, measuring the angles of turns, velocities of streams and angles of slopes. All of that is very time consuming. And, from a security perspective, it exposes a lot of scouts to battlefield threats."
He offered the example of the ENFIRE evaluation, adding, "The elements in that toolkit connect to some sensors that are on the Stryker, giving the soldier some tools that they can use to do things much faster. And the especially cool thing about it is that it takes all that information, aggregates it into a computer, and creates what we call a route overlay.
That overlay is what we send back to the brigade to tell them that all of those big trucks and other equipment can get down those routes."
Some of the other concepts and capabilities examined during the evaluation included: the tactical power management concept; prolonged medical patient care; the V-BAT vertical takeoff and landing "tail sitting" UAS; electronic warfare; air-launched effects; and the robotic complex-breaching concept.
The breaching concept was explored at Yakima Training Center by elements from the 2nd Battalion, 3rd Infantry Regiment. Battalion Commander Lt. Col. John Fursman said, in addition to providing the opposing force for 2-2 SBCT, his unit was also performing its traditional infantry and maneuver tasks during the evaluation.
"The equipment we've received here will help to validate some concepts that the Army is looking at for vehicles and equipment that formations like mine can use in future offensive and defensive operations," he said.
Much of the equipment was focused on the task of "breaching" a complex network of defensive obstacles that would likely be established by future adversaries, he noted.
"One of the most challenging and deadly operations a ground force does is what we call the combined arms breach," he said. "It's required to open up that obstacle so that you can put forces through. It's a very challenging task, with the enemy on the far side of that obstacle ready to destroy you with all of the weapon systems they have."
Building on earlier experimentation, the breaching concept equipment sought to reduce the risk to soldiers through the introduction of robotic technologies to a range of breaching vehicle platforms.
Capt. Nichole Rotte, company commander for the engineer company supporting Fursman's battalion, outlined her unit's responsibilities to get to the breach and open the obstacle.
"The challenge that I have is that my planning factor for moving through a breach is 50 percent loss," she said. "These concepts to take unmanned vehicles to save soldiers from being lost in the breach mitigate significant risk."
Emphasizing the "surrogate" nature of the platforms involved, Fursman began his equipment briefing with a modified Puma drone, offering that current efforts include development of a new reconnaissance advanced sensor and exploitation payload with longwave infrared capabilities that could help to detect and map mines and minefields. The demonstration also included conceptual chemical, biological and radiological sensor suites mounted on platforms controlled by soldiers from the Alabama National Guard.
"A lot of the forces out there that we might potentially engage with may use those types of weapons," Fursman said. "We want to be able to identify where those have been employed as far back as possible, so that we can find a way around them or make sure we don't run into them."
Smoke generation capabilities were demonstrated by other surrogate platforms, including the MRZRX and the M58 Wolf smoke generation variant of the M113 armored personnel carrier. Participants noted that the M58 has been removed from Army inventories, in part because of the danger of that mission to crews, but quickly asserted that the introduction of robotics opens new possibilities for the task.
Other participating vehicle platforms ranged from a robotic gun system on a next-generation combat vehicle unmanned surrogate to two remotely-controlled assault breacher vehicles with Marine Corps crews from both Camp Pendleton, California and Quantico, Virginia.
JWA 19 planners said results from the breaching evaluation will be used to inform the Army's robotic and autonomous systems strategy priorities for the mid-term — 2021-2030.
"The final concept, when it's adopted, will look different from what you saw today," said Col. Charles Roede, deputy commander of the Joint Mission Command. "But this is the foundation of validating the concepts."
"We'll also put together a report that says, 'Here's what went well. Here are things we have identified that are potential avenues for future investigation,'" he added. "We will brief that out to senior leaders, including the Army vice chief of staff. Then the Army vice chief will give us directions from there, saying, 'Here are the places we need to push our efforts.'"
In addition to identifying a few of the early JWA 19 insights surrounding multi-domain operations — ranging from a need for a robust joint concept to the need to increase joint, interagency and multinational participation in the assessments — command planners have recently highlighted significant progress in the planning and coordination for next year's event.
Slated for mid-April to late-May, JWA 20 will serve as the Army's live multi-echelon joint and multinational capstone exercise aligned to the European Command area of responsibility, informed by an existing EUCOM/NATO operational plan, and set in the 2028 operational environment to demonstrate and assess multi-domain concepts, capabilities and formations from brigade combat teams to a combined joint task force.
Significantly, JWA 20 will be linked to Defender 20, a Department of the Army-directed regional exercise integrated into the European Command Northern Exercise Campaign and consisting of both a command post exercise and live training exercises. That linkage will allow expanded assessment of the multi-domain concept and over 49 related enhancing capabilities.





Topics: Army News