Army's Future Attack Recon Aircraft Gains Momentum (UPDATED)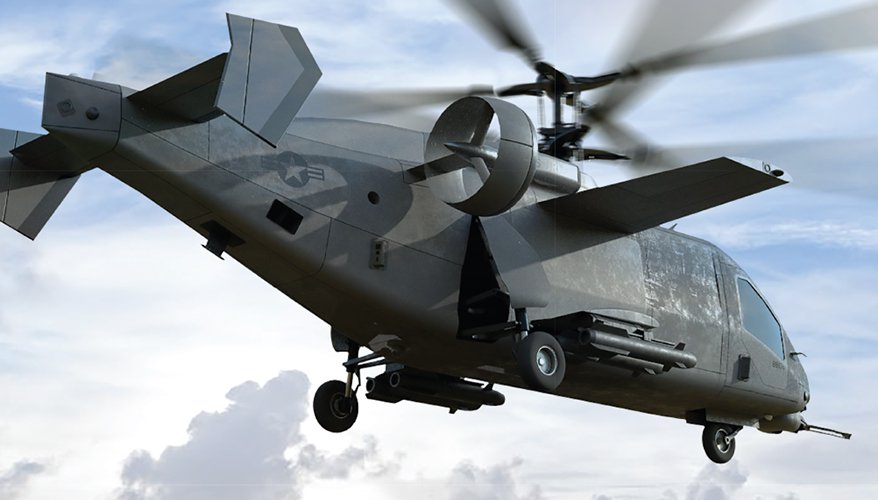 AVX's FARA concept art
Concept: AVX
The Army is accelerating efforts to develop and field a new scout helicopter as part of its future vertical lift modernization priority.
The initiative, which the Army calls the future attack reconnaissance aircraft, or FARA, is gaining steam as companies work to design new aircraft.
In the spring, the Army awarded other transaction authority agreements for prototypes to five companies for design work: Boeing, Bell, Sikorsky, Karem Aircraft and an AVX Aircraft Co.-L3Harris Technologies team. Since the award, Karem announced that Northrop Grumman and Raytheon Corp. had joined its venture. Bell also revealed it is working alongside Collins Aerospace Systems. The contracts were awarded two months ahead of schedule.
The service is utilizing the Aviation Missile Technology Consortium for the effort, said Brig. Gen. Wally Rugen, director of the Army's future vertical lift cross-functional team.
Submissions from industry are due in early 2020, after which the service will downselect to two vendors by March 2020. Those chosen will build prototypes for a flyoff that will take place in fiscal year 2023.
Additionally, first unit equipped could happen as early as 2028, he said in July during an Army Futures Command media day at Joint Base Myer-Henderson Hall in Arlington, Virginia.
The aircraft will fill an important need for a scout platform after the divestment of the OH-58D Kiowa Warrior, said Gen. John M. Murray, commander of Futures Command, which is leading the FARA effort.
That "is a critical gap we're seeing in a future fight," he said during a House Armed Services subcommittee on tactical air and land forces hearing in May.
The service has used other approaches — such as pairing an Apache helicopter with a drone to fulfill scout missions — but has yet to field a dedicated replacement platform.
FARA is part of the Army's FVL effort, which is envisioned as a family of new helicopters that will replace the service's aging platforms. It will include aircraft ranging in sizes.
FARA is meant to fill what the service calls its capability set one, which is the smallest platform.
The aircraft is the Army's No. 1 priority within its future vertical lift modernization effort, Rugen noted.
"We really looked back to how we sub-optimized when we got rid of the [OH]-58D — our recon, surveillance and target acquisition capability within Army aviation," he said.
"Because lethality is so important to us … we want it back. We're getting that back."
The second future vertical lift priority is a medium-sized platform known as the future long-range assault aircraft, or FLRAA. Requirements for FLRAA are being informed by the service's years-long joint multi-role tech demonstrator effort, which includes the Bell V-280 Valor and a Sikorsky-Boeing team's SB-1 Defiant.
However, despite some contractors having experience working with the Army on the demonstrator effort, Rugen said it was unlikely to give them a leg up in the FARA competition.
"Depending on the designs that are picked, … some things are going to be more competitive than not," he said. "Time will tell, but I think all the FARA OTA awardees have a very viable shot and it's going to be great to see who ultimately gets picked because they all have great designs."
Rugen noted that the Army is excited about the level of effort from industry within the program.
"Everybody's working on their submissions. Everybody's trying to understand fully what the Army wants and we've closed that configuration, locked it down," he said.
The service wants FARA to have a marked improvement in speed, range and endurance over legacy helicopters, Rugen said.
"We want leap-ahead lethality and we want leap-ahead survivability and we haven't seen that with ... the stuff we brought out of the '70s," such as Chinooks, Black Hawks and Apaches, he said. With FARA, "we want to see that clean-sheet design fully leverage where technology has taken us" since then.
The Army is still mulling over the approved acquisition objective, he noted. It will have a better idea of that number once it picks a vendor, he added.
The service is working to accelerate the program's timeline, and did so earlier this year by awarding design contracts two months ahead of schedule. But going forward, it may not be able to move as quickly, said Andrew Hunter, director of the defense-industrial initiatives group at the Center for Strategic and International Studies, a Washington, D.C.-based think tank.
"They awarded early because they could," he said. "They were easily able to distinguish the … [proposals] they were interested in, that met requirements from those that didn't.
"They were able to move out even ahead of schedule, which is quite rare," he added.
But the situation will become more challenging once the service downselects to two vendors and eventually moves toward production, he added.
For all of the competitors, "there's probably going to be some element of development," he said. "How carefully they're able to plan and risk manage that transition is going to be a bigger challenge than just looking over" proposals.
Hunter noted that he did not expect the Army to beat its schedule by a large margin.
Affordability will be key as the service works to field FARA, he said.
The aircraft is the Army's fourth attempt to replace the scout helicopter and managing cost has been a major challenge for each of the past efforts, Hunter said. The RAH-66 Comanche, ARH-70 Arapaho and the armed aerial scout are all previous, failed programs.
"Post-Comanche, affordability has really been the key for this effort, and I think that's likely to continue with FARA," he said.
Hunter noted that the last replacement program — the armed aerial scout — was done in by sequestration.
"It's possible that effort might've been successful in a different budget environment than the one where it happened to be trying to move forward into … building and buying aircraft right at the time that sequestration went into full effect," he said. "That was pretty catastrophic timing for Army aviation."
Ray Jaworowski, an analyst at Forecast International, a Newtown, Connecticut-based market consulting firm, said FARA — and the rest of the Army's future vertical lift efforts — are particularly welcome in the U.S. helicopter industry.
"If you look at the type of helicopters, the type of rotorcraft the Pentagon has been buying for decades now, it's really been the latest version of helicopters that were already in their fleet," such as the Black Hawk and Apache, he noted. "Industry, justifiably so, was simply following ... the types of helicopters that the Pentagon was asking for."
The last new system was Bell-Boeing's V-22 Osprey tiltrotor aircraft, which was first fielded in 2007, he noted.
However, future vertical lift opens the aperture up significantly and will "inject some much-needed innovation into the U.S. helicopter industry," he said.
Companies are also pleased by the Army's efforts to accelerate the FARA program, Jaworowski said. Industry was initially concerned about rotorcraft not being fielded until the early 2030s, but with the FARA platform slated for first fielding in 2028, "that was the cause of considerable relief in industry circles," he said.
The five companies participating in the FARA competition are largely keeping details of their offerings close to the vest.
AVX Aircraft Co. is teaming up with L3Harris Technologies to offer a compound coaxial helicopter for the future attack reconnaissance aircraft program, said Troy Gaffey, CEO of AVX.
The key to the team's offering is its coaxial rotor which offers power efficiency, he noted. Another important component is two ducted fans for propulsion, which also adds to efficiency. Additionally, the fuselage of the aircraft offers low drag and has the ability to carry a substantial amount of equipment and payloads.
Gaffey expected AVX-L3Harris' platform to be one of the lightest aircraft submitted for FARA, noting that is smaller than the OH-58D.
Gaffey called AVX and L3Harris' partnership "a marriage of two companies that are complementary," noting that AVX has a history in air vehicle design and L3Harris has a strong background in mission equipment packages.
Karem Aircraft recently made a major announcement that it was teaming up with Northrop Grumman and Raytheon for its offering.
It is "somewhat unique in that we are pulling from three different companies to put together a team that leverages the best ability of each one," said Thomas Berger, FARA program manager at Karem.
Karem — which has a small contract with the Army's joint multi-role technology demonstrator effort — will bring rapid aircraft design to the venture which will help with schedule, Berger noted.
Northrop adds value due to its production capability which can reduce the overall cost of the aircraft, he said. Raytheon brings the experience and capability of making the aircraft a full-mission system.
It's "good for the Army to have ... three different parts of the industry all playing together to really showcase the ability to work hand-in-hand to bring the best" system forward, he noted.
While Karem has done work in tiltrotor systems, that is not what it plans to offer for FARA, Berger said.
The future attack reconnaissance aircraft, though it leverages work gleaned from the joint multi-role tech demonstrator, "is different than our other offerings for the FVL family," he said. Based on the requirements, "a winged compound, single rotor system is the best solution for that set of requirements and that's what Karem is offering."
Sikorsky plans to submit a system that will be closely related to its S-97 Raider aircraft, which is based on the company's X2 technology, said Tim Malia, director of future vertical lift-light at the firm.
"It's not exactly Raider, but similarities are very, very high," he said.
Raider — which has been flying for years — was initially developed to support the Army's now canceled armed aerial scout program, he noted.
"Raider was designed for the attack reconnaissance mission as it was perceived at that timeframe," he said. "So when we talk about Raider flying and the data that we're getting off of Raider, it's directly relevant because it was designed to operate in that environment and we're operating it in such a way that we're getting data that's very relevant to that environment."
Since the armed aerial scout was canceled, the Army's needs have changed and it is now asking for a platform that is slightly larger, Malia noted.
Sikorsky's system is currently flying once or twice per week, he noted. Each time the company is able to pull out relevant data that can help inform its offering.
The Bell-Collins Aerospace team plans to submit an aircraft which leverages key technologies taken from the Bell 525 Relentless program, said Keith Flail, vice president of advanced vertical lift systems at Bell.

The aircraft — known as the Bell 360 Invictus — has a single main rotor and a low-drag tandem cockpit fuselage. The system is powered by a single improved turbine engine built by General Electric and is also equipped with a supplemental power unit.

That technology "gives us that extra power and speed that we need," Flail said.

Additionally, the platform features an active horizontal stabilizer that keeps the aircraft at the lowest possible drag position, which is advantageous for ratcheting up to high speeds, he noted. It also includes a ducted, canted tail rotor, which aids high speed flight and improves lift. The aircraft's top speed will exceed 180 knots, which is an Army requirement, he added.

The system has a combat radius of 125 nautical miles and can carry a payload of 1,400 pounds. It is also transportable via C-17 aircraft.

The helicopter includes a fly-by-wire flight control system which reduces pilot workload and helps lay the groundwork for autonomous flight, according to Bell.

From a lethality standpoint, the Invictus is equipped with a 20 mm gun and has the ability to carry Hellfire missiles, rockets as well as "air-launched effects" that can be deployed from the body of the aircraft.

Boeing declined an interview but in a statement said it was proud to be selected as one of several companies to design a prototype.
"Our extensive expertise in rotorcraft design, development and technology integration paired with robust simulation of systems, platform and operational effects will help define next-generation vertical lift capabilities for the U.S. Army," it said.
Correction: This article has been updated to reflect that Sikorsky is building an aircraft that is larger than its Raider platform.