ROBOTICS AND AUTONOMOUS SYSTEMS
JUST IN: Pentagon Contemplating Role of AI in Missile Defense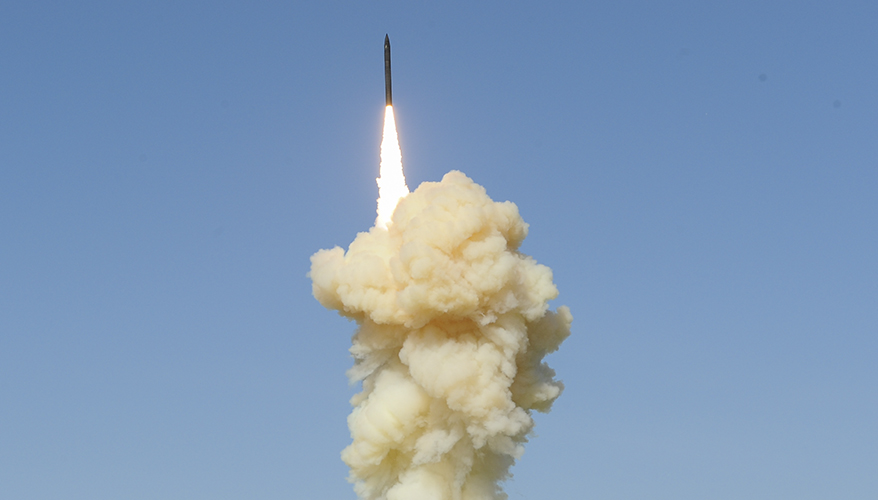 Ground-based Interceptor
Photo: Missile Defense Agency
Artificial intelligence is expected to play a critical role in helping the United States counter emerging missile threats, according to experts.
Traditional types of ballistic missiles are being superseded by more advanced systems. They include more maneuverable and precision-guided ballistic missiles, low-flying cruise missiles and hypersonic weapons that can travel at speeds of Mach 5 or faster, Missile Defense Agency Director Vice Adm. Jon Hill noted Oct. 7 during remarks at the Center for Strategic and International Studies in Washington, D.C.
"The unpredictability … is very challenging," he said. "It challenges your sensor architecture, it challenges your fire control and it challenges the methods by which you engage. So I do believe that we are at an inflection point in how we're going to defend not only the homeland, but our forward-deployed forces and our friends and allies. And we have to think differently."
AI can help the Defense Department as it tries to tackle the problem, he said.
"It's an important part of the future," Hill said. "With the kind of speeds that we're dealing with today, that kind of reaction time that we have to have today, there's no other answer other than to leverage artificial intelligence."
AI could enable the U.S. military to accelerate response times and reduce the probability of human error, he said.
"You've just got to figure out where's the right place for artificial intelligence," he said. "If you look at a lot of systems today that run in automatic or in semiautomatic or manual [mode], that's sort of the early view of artificial intelligence."
As faster and more maneuverable threats emerge, the missile defense mission becomes harder.
"The problem we're trying to solve really is … reaction time," Hill added. "But the balance there is how often do you, and must you, have an operator in the loop just given the rules of engagement?"
Regardless of how much AI is incorporated into a system, the military must ensure that the fire control loop is properly engineered, he noted.
The Pentagon is pursuing new technologies — such as a next-generation interceptor and space sensors — and upgrading existing capabilities to deal with the growing threats. It wants a networked, layered defense architecture that can engage enemy missiles in the boost phase, midcourse and terminal phases of flight.
Being able to conduct robust multi-domain operations — where space-, sea-, air- and land-based sensors can more effectively pass data to other sensor systems, command-and-control nodes and missile interceptors globally — is a key aim, Hill said.
"It really does provide a problem set and changes the calculus for the adversary," he said. "We're moving down that road very aggressively and I think that is part of our future."
As the threat environment becomes more complex with enemies fielding more maneuverable systems and elaborate countermeasures, a rudimentary battle management system will not be sufficient, said retired Air Force Brig. Gen. Kenneth Todorov, vice president of missile defense solutions at Northrop Grumman.
As adversaries "start interjecting all these things that dart around, fly around and hide themselves in plain view, not to mention the sheer volume of information that's out there, … it's a real problem that we've got to collectively tackle in the next decade," he said during an industry panel discussion.
Great power competitors China and Russia are developing hypersonic missiles, and countering them is a top research-and-engineering priority for the Pentagon.
Sarah Reeves, vice president of missile defense systems at Lockheed Martin's space division, said there needs to be a better integration and multi-domain fusion of data. Leveraging machine learning and machine-to-machine interfaces to buy more time for warfighters to make decisions is one way to get after the problem posed by hypersonic weapons, she noted.
Todorov said AI and machine learning capabilities don't have to completely supplant human operators, but they could assist them.
"The man or the woman in the loop will never be replaced. But how can we use those decision aids to make the battlespace more understandable?" he asked. "Those kinds of technologies have to be in the forefront of our thinking of where we go" with missile defense capabilities, he added.
Topics: Missile Defense, Robotics, Robotics and Autonomous Systems