Experiments, Industry Input to Shape Next-Gen Combat Vehicles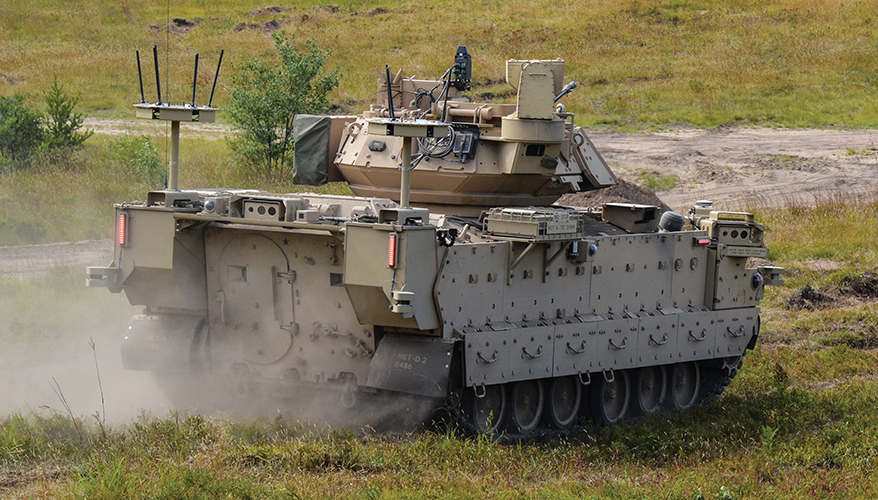 Photo: Army
The Army's current effort to replace its legacy fleet of aging combat vehicles is beginning to take shape. With its next-generation combat vehicle cross-functional team, the service has set to work this year releasing solicitations and information to industry in hopes of garnering viable replacement options.
Part of the service's strategy is to integrate robotic combat vehicles that will take most of the brunt of near-peer fights. It is pursuing three variants, which include light, medium and heavy platforms. Requests for white papers were sent out this year on FedBizOpps for the light and medium variants.
The Army plans to make a decision on how to proceed with robotic combat vehicles in 2023, Brig. Gen. Ross Coffman, director of the next-generation combat vehicle cross-functional team, said in an interview.
"That decision in '23 will be what type of vehicles we want to procure," he said. "Maybe it's all three variants. Or it's, 'Hey, the technology is not there yet and we need to continue to experiment.'"
The service is holding a series of tests to inform this decision, he said. In August, a demonstration was conducted at Camp Grayling, Michigan, using two control vehicles and four robotic surrogates made with M113 and Bradley infantry fighting vehicles. Coffman said the service learned "that it's absolutely doable to conduct a tactical mission with robots bearing 99 percent of the risk." The systems were used to demonstrate call-for-fires and direct-fires capabilities.
"We needed to shake out the technology and make sure that it worked," Coffman said. "Once that was complete, we shipped the vehicles to Aberdeen Proving Ground to our test community." Army Test and Evaluation Command will put them through their paces to ensure the systems can operate safely, he noted.
The service will continue to perform experiments to flesh out robotic combat vehicle ideas in the coming years. In 2020, it will examine concepts at the platoon level using four robots and two control vehicles. The vehicles will conduct calvary missions such as zone reconnaissance and screening.
"We think that that will really demonstrate the benefits of the robots and then the capabilities of the payload that we put on top of the robots," he said.
Another experiment will be held in 2021 at the company level.
"You can draw a direct correlation between lessons learned at the company level and how to fight at a brigade [level] because brigade commanders fight companies two levels down," he said.
In 2023, the service will hold a more complex experiment at the company level. This will include a combined arms breach, assault and "hasty" attack on an enemy, Coffman said.
For the robotic combat vehicle, the Army is looking for modified commercial-off-the-shelf systems. Requests for white papers were sent out in June for the light and medium variants through the National Advanced Mobility Consortium.
"We've given them very broad guidelines of what to deliver," Coffman said. "We've asked industry to write a white paper and say, 'Look, this is how we would meet those requirements and this is what we're looking at.'"
The RCV-light is anticipated to be five to seven tons and the RCV-medium may be between 10 to 12 tons. The medium platform will be expected to carry heavier weapons and sensors, he noted.
According to notices on FedBizOpps, the service is planning on using other transaction authority to award prototype agreements. The service can award up to two agreements for each variant.
Draft requirements state that the service wants RCV-light to be a reconnaissance vehicle that can travel up to 25 miles per hour while carrying at least 1,200 pounds and be transportable via CH-47 sling load and C-130 aircraft. The RCV-medium should be transportable via a C-130, have a direct fire capability and be able to carry a payload of at least 5,400 pounds.
From the Camp Grayling demonstrations, the Army has learned to prioritize communications between the robot and soldiers, which is currently limited to line of sight, Coffman said.
"We've confirmed that the tether — the radio between the robot and the control vehicle — is paramount to success," he said. "We want to give commanders on the battlefield as much time to make decisions with ground and aerial unmanned vehicles that we can."
The Army is also looking to industry for the Bradley replacement, which is known as the optionally manned fighting vehicle. The service is on track to replace the Bradley in 2026, Coffman said. Ryan McCarthy, now acting Secretary of the Army, has said the service plans to free up funding for the replacement effort by halting procurement of Bradley A4 vehicles after purchasing five more sets.
It wants the next fighting vehicle to be about 41 tons and have the ability to go into combat soon after coming off a C-17 transport aircraft.
"That's upload their ammunition, their weapon system, get a little splash of fuel, get the crew on board and then be ready to fight," Coffman said.
The service capped the weight limit of the vehicle to about 41 and a half tons to ensure that it will be transportable. But it also built some margin into the system to make room for future upgrades.
"Not only will this vehicle in increment one be exactly what is needed on the modern day battlefield, but it will allow us to upgrade it [with] increment two, three, four and still have enough power, space and electrical power to really take us into 2035 and beyond," he said.
A request for proposals was released on FedBizOpps in March. According to the solicitation, the service is seeking a platform with a 30 mm cannon with an option to integrate a 50 mm cannon. The Army also wants a forward-looking infrared system that is "equal or better than" the second generation FLIR. Proposals are due in October.
General Dynamics Land Systems and a Raytheon-Rheinmetall-Pratt & Miller team have announced their decision to bid for the program. BAE Systems, the primary contractor for the Bradley, has decided to opt out.
"Following careful evaluation, BAE Systems has decided the requirements and acquisition schedule for the U.S. Army's optionally manned combat vehicle program do not align with our current focus or developmental priorities," the company said in a statement. "Therefore, we will not compete for the program."
However, BAE plans to invest in the extended-range cannon artillery, robotic combat vehicle, "and other advanced technology that provides leap-ahead capabilities and can be incorporated into current and future vehicle platforms," the statement added.
Coffman said he is not concerned about BAE's position.
"We're very confident in our requirements and we're confident that people can achieve those based on what they've told us," he said.
Past efforts to replace the Bradley, such as the future combat systems program and the ground combat vehicle, were canceled partly because the service became too ambitious with its requirements. Coffman said the Army plans to avoid these mistakes by setting requirements upfront based on industry feedback and maintaining communication with industry, academia and the science-and-technology community. This has "allowed us to really go into every problem with our eyes wide open," he said.
"By scoping the requirements correctly upfront and in record time," the service has reduced its requirements development time by about two and a half years, he noted.
Additionally, the Army is still examining how it wants to replace its legacy Abrams tank. In March Coffman told reporters at the Association of the United States Army Global Force Symposium that two studies are underway to examine options for its successor, which could be optionally manned.
The Army Science Board is almost done examining possibilities for a future tank from a tactical and operational standpoint, Coffman told National Defense. In October, the
Army Combat Capabilities Development Command Ground Vehicle Systems Center will begin a technical study.
"What technologies do we want? What weight class are we looking at? What do we want it to defeat on the battlefield?" Coffman asked. "There's one thing that I've been consistent on. I don't care what it looks like. I don't care how it's powered. ... I just want it to be survivable and decisively lethal against our potential enemies' main battle tank."
The service wants to ensure that the next vehicle is able to provide enough soldier protection without being too heavy, he noted. This is a problem that plagues the Abrams, which weighs in at around 72 tons with upgrades.
"Material science moves slow," Coffman said, and the materials needed for strong protection can weigh down a platform. "What we're trying to do is come up with the best design to lighten that load."
Coffman said he doesn't know if the service will use Section 804 rapid prototyping authorities for the new tank.
"The rapid prototyping is an amazing thing for us to execute," he said. "It makes us, I think, more nimble." However, the service needs to make decisions about Section 804 and acquisition category one programs "very consciously," he noted.
Topics: Land Forces