JUST IN: Great Power Competition Heating Up in Latin America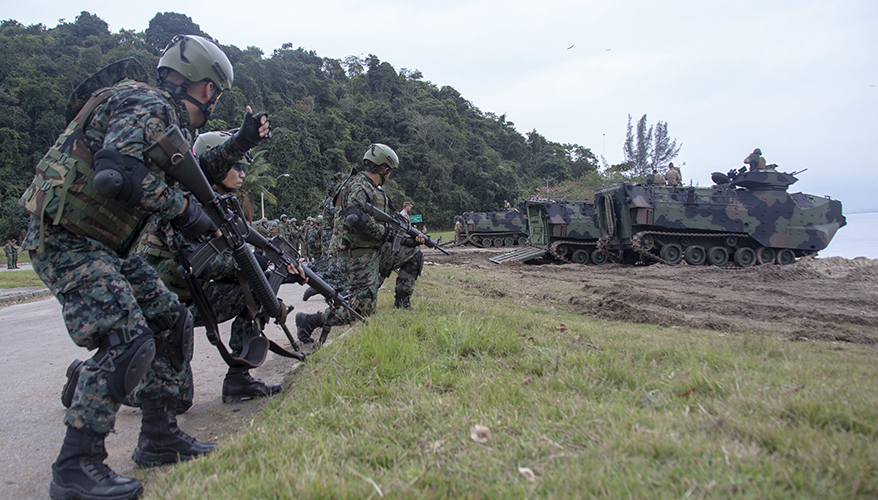 U.S. Marines, along with Chilean, Brazilian, and Peruvian Marines, conduct ship-to-shore training in Brazil.
Photo: Marine Corps
Russia and China are boosting their presence in Latin America to exert greater influence in the United States' geostrategic neighborhood, the commander of U.S. Southern Command said Oct. 4.
The 2018 national defense strategy identified those advanced adversaries as the top threats facing the military in a new era of great power competition.

"They're working there [in Latin America] … in ways that are 100 percent counter to long-term stability in the region," Adm. Craig Faller said during a breakfast with reporters in Washington, D.C.
Arms sales are on the rise with Moscow providing billions of dollars' worth of weapons to its partners. Capabilities being transferred include fighter jets and a large number of air defense systems, Faller said. "That list goes on," he added.
Beijing's supply of arms is increasing and the government is gifting a lot of military hardware to countries in the Southcom area of responsibility, he said.
"The extent to which it undermines partnerships with the U.S. [and] contributes to instability… is a concern for the security" of the United States, he added. "We monitor that closely."
Russia has hundreds of troops and contractors in Venezuela assisting the anti-American Nicolas Maduro government. It also runs a counterterrorism training center in Nicaragua that has "dubious dual purposes," Faller said.

Within the last year, Moscow has also deployed nuclear-capable bombers and an advanced warship capable of firing nuclear cruise missiles throughout the region, he noted.

Additionally, it has a robust Spanish-language information operations effort in Latin America, he said.

"In one particular case, as I was coming out of … Sen. [Marco] Rubio's office [in Washington] a Russian official state news agency reported that I was on the border of Venezuela in Colombia planning an invasion," Faller said. "They had a B-roll footage of … some U.S. Marine amphibious vehicles. And this was put out in Spanish language to try to incite the region and create a false narrative."
China is pursuing legitimate economic interests in Latin America, Faller said, but it is also locking up access agreements that have raised red flags.

Beijing is working on 56 port deals including on both sides of the Panama Canal, he noted, and setting up long-term leasing agreements in key areas.

"They've essentially created a situation where there's limited host nation access and little host nation involvement. So we've been watching that very closely and it has our attention and has contributed to a sense of urgency I feel about the overall security" of the region, Faller said.

Additionally, China's deployment of military assets has increased consistently in the last couple of years, and it is boosting its military engagement with Spanish language schools and training centers, he added.

"Across the board, what I see is a significant uptick of those powers' involvement in all aspects" of activity in the region, Faller said, referring to Russia and China.

Southcom needs more intelligence, surveillance and reconnaissance assets, including long-range aircraft and unmanned systems, he said.

"Everything is intelligence driven," Faller said. "We have some capability gaps there."

Meanwhile, a special purpose Marine air-ground task force has been deployed to the Southcom area of responsibility with hundreds of Marines and helicopter assets for disaster relief or other missions.

"Our vision is to have this naval force being able and being mobile and expeditionary at sea. And so as we get available platforms, we'll move [troops and equipment] on and off those platforms so that they can move and maneuver by the sea working with the [international] partners," he said.

The U.S. military conducted amphibious exercises this summer with a number of Latin American countries, he noted.

"The vision long term would be a more maneuverable presence on the water for whatever focused period of the year or whatever [time frame] … was most appropriate" for exercises or other operations, Faller said.

"That would be part of a mobile task force structure," he added. "We're working through the concept. I would love to have it happen soon [but] there's a lot of demands on our forces worldwide."
Topics: International, Global Defense Market