NDIA PERSPECTIVE AIR POWER
Recapitalizing America's Air Force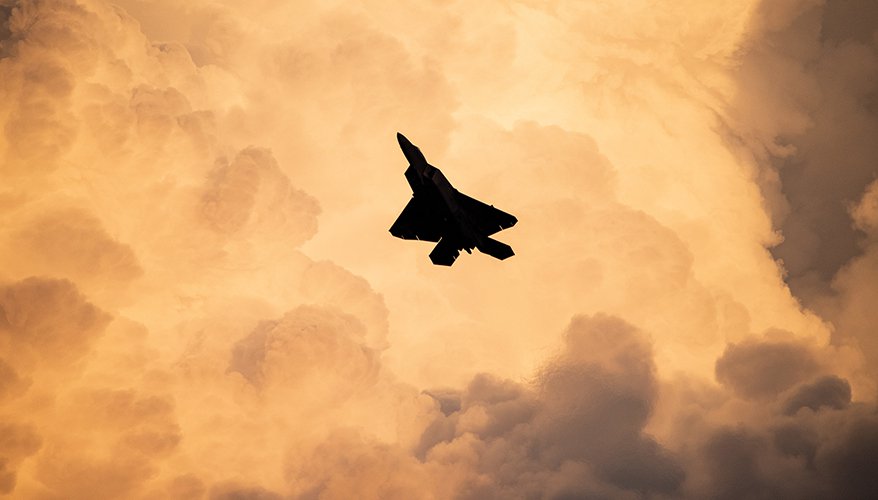 Photo: Air Force
Holidays are great. We take time off from our worries and relax. Unfortunately, holidays end, and often a built-up work backlog greets us back in the real world.
The U.S. Air Force's extended post-Cold War "procurement holiday" has many of these characteristics. During the late 1970s through the 1980s, the service averaged buying more than 200 combat aircraft per year. Post-Cold War, for more than 25 years, it averaged less than 20 leading to the smallest, oldest Air Force in history. When the Air Force deployed for Operation Desert Shield/Desert Storm, it had 134 fighter squadrons across all components. Today it has 55 with an average aircraft age approaching 30.
Decision-makers had their reasons for this extended procurement holiday. The Cold War ended. Leaders self-assessed our technologies as decades ahead of any competitor, and, coupled with global capacity, multiples greater than any potential adversary nation — providing a cushion to strategically rest on. We had dominated the world's skies for generations, and our supremacy looked endless.
Many sounded alarms at the Air Force's shrinking capability and capacity advantages. Funding priorities, though, remained on counterinsurgency after 9/11. While high-end airpower may not be a "must have" to defeat insurgents, some political leaders accused the Air Force of "next-war-itis" for requesting an infusion of modernization and recapitalization.
America's strategic air and space advantages steadily eroded, highlighted in the 2018 National Defense Strategy which calls for ending the holiday with its recognition of a return to an era of great power competition. It also recognizes we have peer competitors, and during our holiday they invested in countering American strength, to include our long-held asymmetric advantage: airpower.
Unfortunately, the backlog facing our Air Force looks more like a bow wave as nearly all combat aircraft fleets near the end of their service life. And recapitalization becomes more complex when matched with existing missions and demands. The Air Force must equip itself with the capabilities to fight and win a high-end conflict against any peer competitor. Yet, it still must have the capacity to protect national interests around the globe and perform a variety of tasks.
As the constant, immediate global demand for airpower persists, Air Force leaders and their industry partners need to metaphorically fly the plane while building it. To do this, the Air Force must transform acquisition practices, ending a sclerotic system that produces an F-22 or F-35 on a 20-plus-year cycle and enabling capabilities to come online at the speed of relevance. In short, it needs to realize the stated vision of the Defense Department's undersecretary for acquisition and sustainment that, going forward, weapons system capabilities are hardware enabled and software defined.
Consider a smartphone. That hardware contains apps, software-defined capabilities running on an operating system backbone. Developers constantly update those apps and that backbone. Along the way, we may replace a broken screen, upgrade the protective case, or change out the sim card. But at some point, the hardware can no longer support the next upgrade or iteration of the operating system and we must jump to the next model.
To realize the potential of this system and recapitalize, Air Force acquisition leaders must break down their processes into three simultaneous cycles — continuous software development, mid-tier upgrades and platform replacement.
First, they should release software development from a non-applicable hardware development process. Software engineers refine, update, upgrade and adjust their code daily.
Acquisition milestones don't, and shouldn't, apply. Congress considered changing how it appropriates dollars for software acquisition and sustainment and will likely take it up again next year, but the bottom line is the dollars must look less like milestone-driven hardware development and procurement dollars and more like the yearly loop of operations and maintenance dollars.
Then there is the mid-tier of acquisitions, the technology refreshes and upgrades occurring on a three- to five-year cycle. These upgrades may include advanced sensors, displays, data links, or computer processing units enhancing overall capabilities as the platform replacement cycle executes.
As described by Will Roper, assistant secretary of the Air Force for acquisition, technology and logistics, the last five- to 10-year cycle features America's air and spacecraft designers and builders churning out platforms that enable the next set of software-defined capabilities on a compressed, not generational, timeline. This all depends on open architecture systems and a process allowing for risk, failing smartly and moving rapidly.
The Air Force needs a continuously evolving set of high-end capabilities to deter and defeat peer adversaries matched with required capacity to handle the range of ongoing combatant commander requirements. The United States can and must transform acquisitions, but it takes contributions throughout government and industry to make this imperative reality.
The holiday is over, the backlog immense, and the challenge great, but our Air Force's leaders and our incredible industry rose to equal challenges in the past and must build and leverage a partnership to do so again to ensure America retains its airpower advantage.

Retired Air Force Gen. Hawk Carlisle is president and CEO of NDIA and the former commander of Air Combat Command.

Topics: Air Power, Air Force News