NEWS FROM EWC: Navy Improving Mine Warfare Capabilities to Counter Russia, China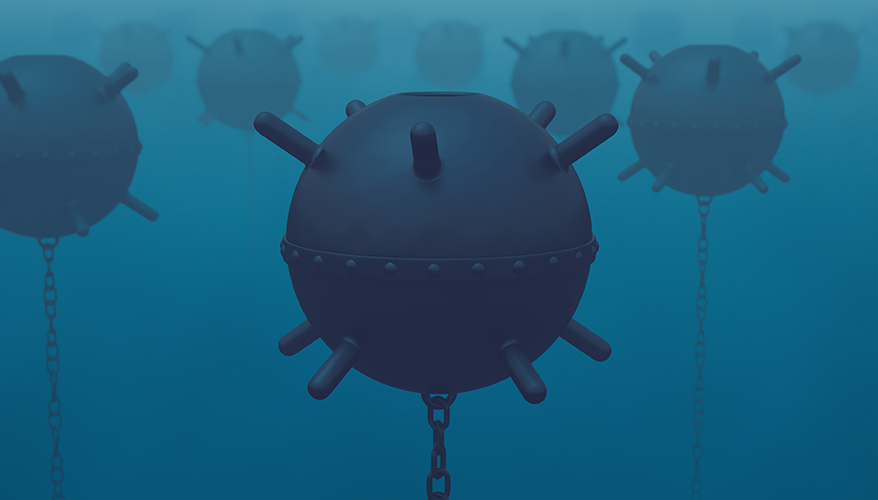 Photo: iStock
ANNAPOLIS, Md. — The Navy must improve its mine warfare capabilities as it faces an era of great power competition, said one top Navy mine official Oct. 22.
China and Russia are the "world's most advanced and prolific miners," with Iran and North Korea not far behind, said Sam Taylor, mine warfare senior leader at the Navy's program executive office for unmanned and small combatants.
These adversaries have large quantities of advanced mines that "absolutely have the ability to impact what we want to do," he said at the National Defense Industrial Association's annual Expeditionary Warfare Conference in Annapolis, Maryland. "It's critical that we get after it and stay after it."
To do so, Taylor's office has resurrected the mine warfare readiness effectiveness measurement program, or MIREM. That will be used to test new tactics, techniques and procedures as well as kits to develop mine warfare doctrine, he noted.
For example, this year the Navy tested kits and systems such as the airborne laser mine detection system and airborne mine neutralization system with partners in the Baltics. The service employed 15 unmanned underwater vehicles and 70 divers, which found 16 World War II remnant mines in German territorial waters while prepping for amphibious assault.
"It just goes to show you the threat is real, it's out there," he said.
Additionally, the Navy has a stock of aging legacy systems that include mine countermeasure ships and MH-53 helicopters, he noted. To replace them, the service wants to turn its attention to integrating new unmanned mine-clearing systems into its fleet, he noted.
"These things are beyond their service life, beyond what the Navy has paid for them to do," Taylor said. "They are all on a path to sundown, no later than '25 all of these legacy assets … will be gone."
One upcoming effort includes the mine countermeasure mission package for the littoral combat ship. The service plans to have 15 vessels dedicated to mine countermeasure missions, with nine on the West Coast and six on the East Coast, he said. All will have a mine countermeasure mission package.
"It is modular. It is something that could be removed and put on another vessel," he said. "But the Navy has made the decision to dedicate those to an LCS hull."
The service has a total of 24 mine countermeasure mission package purchases accounted for in the future years defense program and is in the process of deciding where the additional packages will go, he noted. The Navy has tested out the MCMs on ships such as the USNS Hershel "Woody" Williams.
It can "fit on any vessel that had the size to take it on and the ability to ... power it," Taylor said. "The Navy is in the middle of testing these other vessels of opportunity and [determining] what are the things we need to learn, the [tactics, techniques and procedures] we need to develop, the things we need to have ready before we were to embark it on another ship."
Moving forward, Taylor said he wants industry to focus on technologies such as over-the-horizon communications systems and automated target recognition.
Ultimately, the service wants a UUV that can prowl under the water searching for mines, determine if it has found one through the employment of an onboard artificial intelligence system, verify it on spot and then neutralize it, he said.
"That's the coin of the realm," he said. "That's ultimately where we're going."
Topics: Navy News, Undersea Warfare