NEWS FROM EWC: Navy, Marine Corps Turn to Unmanned Systems for Logistics Support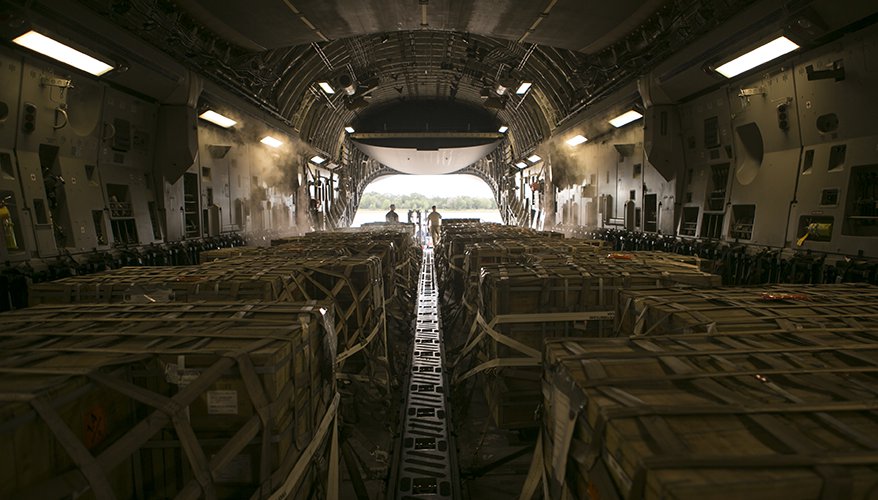 Photo: Marine Corps
ANNAPOLIS, Md. — Unmanned systems will take on a larger role in the future of the Navy and Marine Corps' logistics operations, service officials said Oct. 23.

"We need to identify ways to reduce manpower-intensive logistics requirements — reducing and removing manned transportation assets is critical," said Lt. Gen. Charles Chiarotti, the Marine Corps' deputy commandant for installations and logistics.
Unmanned air, ground, surface and subsurface "technologies are the way of the future and will … improve the sustainment of our forces," he said at the National Defense Industrial Association's Expeditionary Warfare Conference in Annapolis, Maryland.
Robotic systems can help reduce warfighters' presence on the ground in dangerous areas. For instance, unmanned platforms were employed following the Fukushima Daiichi nuclear disaster in Japan in 2011, he noted.

"Robots going into these areas ... have the dexterity and the capabilities to clear rubble," he said. These technologies have features that can be directly applied to robotic systems on the battlefield, he noted.

Unmanned platforms could be used to complement Marines working at forward arming and refueling points in remote locations, Chiarotti said.

Such technology is already present in industry, he said, noting that there are exoskeletons that provide support to manufacturing lines.

"That's the small, lethal footprint that I need to get after [for] this logistics concept that we seek," he said. "It's not something [in] Star Wars. This is here today."

The Navy is also examining how it can integrate unmanned vessels into its logistics fleet. Howard Berkof, deputy program manager for unmanned maritime systems, said his office is in the "beginning stages of those conversations."

Specifically, the Navy and Marine Corps are looking at how they can leverage medium and large-size vessels for logistics operations, he noted during a panel discussion. That is expected to be reflected in future budget plans.

"We don't have specific requirements or specific plans as of this moment, but believe me, those conversations are alive and well at this time," Berkof said. "I feel that's going to be a big growth area for the Navy and Marine Corps over the next couple years."

Additionally, the Navy is working to ensure that its logistics enterprise is able to support all warfighting functions "with increased speed, agility and survivability," Chiarotti said. The service is employing multiple lines of effort to do so, which include diversifying distribution, improving sustainment, enabling logistics awareness, optimizing installations and supporting sustained operations.

Future fighting environments will push sea bases further from fleet Marine forces ashore, he noted. That means there will be a need for long-range connector capabilities that can operate from sea bases hundreds of miles off the coast. The services will also need to make its equipment lighter and more economical to use, Chiarotti said.

To help the Navy meet these needs, industry should focus on finding better ways to design and deliver highly efficient distribution technology, he said.
Topics: Logistics, Logistics and Maintenance, Navy News, Marine Corps News