Defense Department's 'Fourth Estate' Under Scrutiny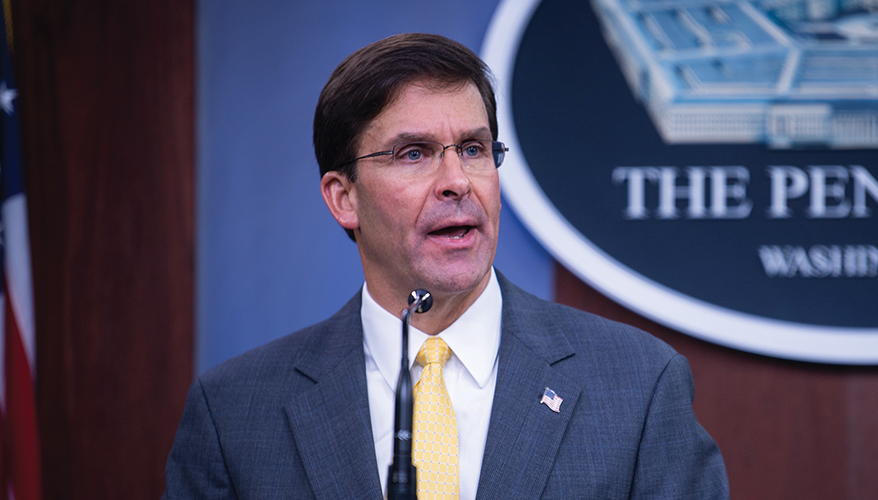 Esper
Photo: Defense Dept.
Secretary of Defense Mark Esper has ordered a sweeping review of the Pentagon's "Fourth Estate" to look for ways to free up money to invest in the department's top modernization priorities. But it could be difficult to make large cuts, one analyst said.
The organizations under the microscope will include agencies that report directly to the office of the secretary of defense and not the military services. For fiscal year 2020, President Donald Trump requested $116.6 billion for defense-wide programs.
The "comprehensive zero-based review" will try to identify "resources that can be reallocated to our highest priorities in support of the National Defense Strategy through the FY 2021-2025 program and budget review, as well as adjustment to FY 2020 where feasible," Deputy Secretary of Defense David Norquist said in an August memo.
When he was secretary of the Army, Esper ordered a "night court" process that led to the realignment of more than $30 billion toward the service's top modernization priorities.
However, it may be difficult to find a large amount of savings in the defense-wide accounts, said Roman Schweizer, managing director for aerospace and defense at the Cowen Washington Research Group.
"We're optimistic this [new review] can generate results but it will be a hard slog," he wrote in a note to investors. "There are big chunks of spending that are hard to cut (military health care, Missile Defense Agency and Special Operations Command) and even smaller agencies/activities have political constituencies. It's doubtful that many of these changes will show up in time for the FY '21 budget, and the FY '22 budget could be the last Trump administration-influenced budget."
However, the fact that Norquist is leading the initiative means officials will have "high-level horsepower" to make changes in resourcing plans, Schweizer said. Significant reductions in defense-wide accounts could negatively affect government services companies, he noted.
Esper has said the fiscal examination will eventually address other parts of the Defense Department enterprise.
In the coming years, Schweizer said he expects bipartisan support for investing in next-generation capabilities to give the military an edge over peer competitors China and Russia.
"There is the potential for the most significant change in defense [research and development] and modernization in the last three [or] four decades," he wrote. "We think the perpetual upgrade cycle to old systems will give way to R&D and field of new platforms/capabilities. This could cause significant shifts in market segments for defense primes and specific equipment manufacturers."
Topics: Defense Department