JUST IN: Bell, Collins Aerospace Unveil New Scout Helicopter Design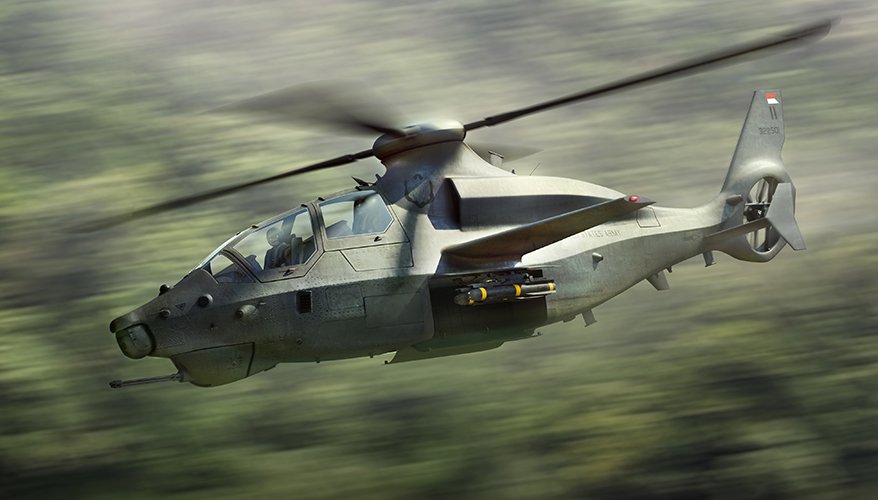 Bell 360 Invictus
A Bell-Collins Aerospace Systems industry team unveiled the design for its Bell 360 Invictus aircraft, which it plans to submit for the Pentagon's future attack reconnaissance aircraft program.
"Bell is absolutely committed to providing the U.S. Army with the most affordable, most sustainable, lowest risk, least complex solution for FARA while meeting all the requirements," said Keith Flail, vice president of advanced vertical lift systems at Bell.
The program aims to fill an important need for a scout platform following the divestment of the OH-58D Kiowa Warrior. The Bell-Collins Aerospace team is one of five industry players vying to build the Army's new helicopter. The others are: Boeing, Sikorsky, an AVX Aircraft Co.-L3Harris Technologies team, and a Karem Aircraft-Raytheon-Northrop Grumman partnership.
The Invictus will leverage key technologies taken from the Bell 525 Relentless program, Flail said Oct. 1 during a briefing with reporters at Bell's Arlington, Virginia, office. Information from the briefing was under press embargo until Oct. 2.
The Invictus helicopter has a single main rotor and a low-drag tandem cockpit fuselage. The system is powered by a single improved turbine engine built by General Electric and is also equipped with a supplemental power unit.
That technology "gives us that extra power and speed that we need," Flail said.
The platform features an active horizontal stabilizer that keeps the aircraft at the lowest possible drag position, which is advantageous for ratcheting up to high speeds, he noted. It also includes a ducted, canted tail rotor, which aids high speed flight and improves lift. The aircraft's top speed will exceed 180 knots, which is an Army requirement, he added.
The system has a combat radius of 125 nautical miles and can carry a payload of 1,400 pounds. It is also transportable via C-17 aircraft.
The helicopter includes a fly-by-wire flight control system which reduces pilot workload and helps lay the groundwork for autonomous flight, according to Bell.
From a lethality standpoint, the Invictus is equipped with a 20 mm gun and has the ability to carry Hellfire missiles, rockets as well as "air-launched effects" that can be deployed from the body of the aircraft.
Bell recently announced that it was teaming up with Collins Aerospace — a unit of United Technologies Corp. — for the FARA competition. Bell will build the aircraft and Collins Aerospace will serve as the mission systems integrator, according to the companies.
The Army has been working to accelerate the FARA program. In the spring, it awarded five other transaction authority prototype agreements to industry for design work. Submissions are due in early 2020. The service plans to downselect to two vendors by March 2020. Those chosen will build prototypes for an eventual flyoff.
The future attack reconnaissance aircraft program is part of the Army's future vertical lift effort, which is envisioned as a family of new helicopters that will replace the service's aging platforms. It will include aircraft of various sizes. FARA is meant to fill what the service calls its capability set one, which will be the smallest platform in the family. The aircraft is the Army's top priority for the future vertical lift initiative.
Jeffrey Schloesser, executive vice president of strategic pursuits at Bell, said FARA is meant to be a "knife-fighter" that's able to operate in urban canyons and mixed terrain such as mountains, jungles and plains.
In order to achieve success in large-scale combat operations, the Army must be able to penetrate farther and degrade the enemy's ability to engage aircraft or ground forces. The FARA platform is expected to meet that need, he said.
"We're fully on board supporting the Army and trying to do this," he said. "We believe that we have a solution that can accomplish those missions. But it's also the lowest risk, and therefore will probably be the lowest-cost aircraft to be able to accomplish these missions," he added.