AUSA NEWS: Army Launches Network Integration Pilot for Synthetic Training Environment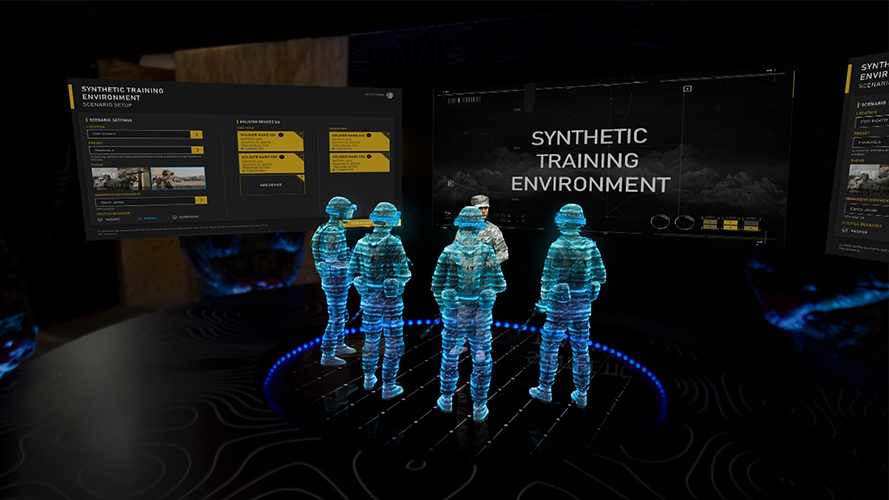 Image: Army
As the Army works to deliver new synthetic training technology, it recently set up a new network to more effectively integrate software into the program, according to the leader of the initiative.
The network integration pilot "stood up and became operational two weeks ago," Maj. Gen. Maria Gervais, director of the synthetic training environment cross-functional team, said Oct. 15 during a presentation at the Association of the United States Army's annual convention in Washington, D.C.
In 2017, then-Army Chief of Staff Gen. Mark Milley called for a rapid expansion of the service's synthetic training capabilities.
Since then, the Army has established a new Futures Command in Austin, Texas, focused on its top six modernization priorities: long-range precision fires; next-generation combat vehicles; future vertical lift; the network; air-and-missile defense; and soldier lethality. A cross-functional team, led by Gervais, was established to help advance these efforts. It is most closely aligned with the soldier lethality portfolio, but is also geared toward the other modernization priorities, Gervais told reporters at last year's AUSA conference.
The team just launched a new, standalone network as part of its network integration pilot to help the service test software products to ensure the reliability of simulations.
The synthetic training environment, or STE, is a 3D training and mission rehearsal tool that brings together live, virtual, constructive and gaming environments to improve soldier and unit readiness.
Soldiers have tested the new training technology at Fort Riley, Kansas, Fort Carson, Colorado and in Orlando, Florida, Gervais said. Their feedback will help shape the STE moving forward.
The new training environment is network dependent, Gervais said. It will interface with operational networks and network-enabled platforms, according to the service.
The cross-functional team is also working with the Army's chief information officer to upgrade the infrastructure, Gervais noted. A 5G wireless network connection is also being considered, she added.
The service has set an aggressive timeline for the program with plans to reach initial operating capability by September 2021 and full operating capability by September 2023, Gervais said.
However, the project could face delays as defense legislation is fleshed out on Capitol Hill, said Brig Gen. Michael Sloane, program executive officer for simulation, training and instrumentation.
"Everything is funding dependent," Sloane said. "It's public knowledge that we are facing some [bill] marks right now. So given those marks, it depends what comes out in the next few weeks and months that will determine how fast we can in fact get here," Sloane said referring to the service's IOC goal for the synthetic training environment.
For now, the cross-function team is working to ensure it can stay on a glide path to reach initial operating capability in line with the current schedule, Gervais told reporters during a roundtable.
"The [legislative] marks will impact our ability" to achieve the IOC goal, Gervais said. "Once we see the final [budget] number, we'll understand the impact."
- Additional reporting by Jon Harper
Topics: Army News