AUSA NEWS: Army to Field Squad Designated Marksman Rifle in May 2020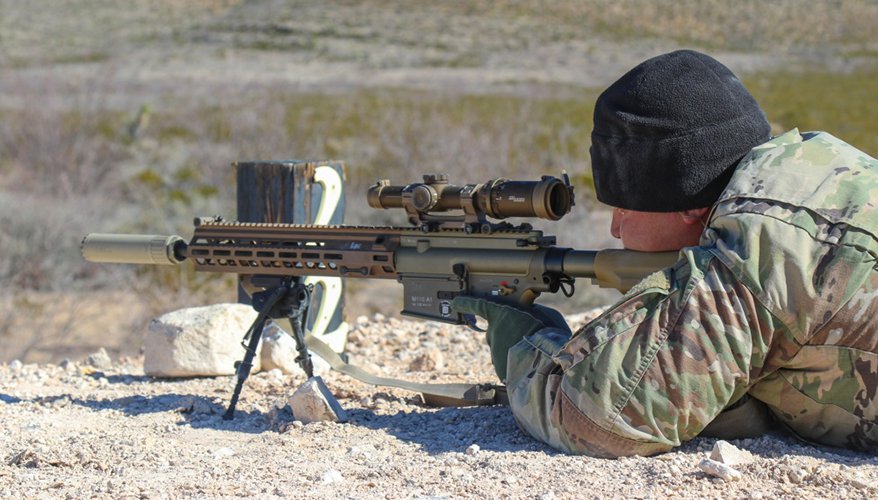 A soldier tests the squad designated marksman rifle.
Photo: Army
The Army intends to begin fielding the majority of its squad designated marksman rifles in May 2020, according to service officials.
The rifle, also known as the SDMR, is a 7.62 mm gun that will serve as an interim solution before the service switches over to the next-generation squad weapon, Col. Elliott Caggins, soldier lethality project manager at program executive office soldier, told reporters Oct. 15 at the Association of the United States Army's annual meeting in Washington, D.C.
"It is a bridge to next-generation capability," Caggins said.
The weapon is already fielded to a unit in the 1st Armored Division at Fort Bliss, Texas, according to Lt. Col. Peter Stambersky, product manager for individual weapons.
Heckler & Koch Defense Inc. is the prime contractor for the rifle, which was born out of a directed requirement. The company is on track to deliver 350 per month, Stambersky said.
"These are examples of how we can use our own acquisition acumen and our own lessons learned and our own tools to produce capability pretty rapidly for the Army," Caggins said.
According to a July news release, the company is slated to deliver between 5,000 and 6,000 squad designated marksman rifles in total. The weapon is a variant of H&K's G28/HK417, which has a maximum effective range and a high first-round hit probability up to 600 meters.
The rifle is being manufactured in Oberndorf, Germany, and is scheduled to arrive at H&K's U.S. facility in Columbus, Georgia, early next year, according to the release. After their arrival, the company will install scopes and mounts bought by the Army under a separate agreement.
As a result of soldier feedback, the Army decided to put Sig Sauer Tango6 optics on the rifle and change its buttstock, Stambersky said.
"That's what the soldiers wanted," he said. "It was all about soldier touchpoint, what they felt was the best and what performed the best during our selection."
Army Special Operations Command has also shown interest in the SDMR, Stambersky noted.
Right now, the service does not have a timeline for switching from the squad designated marksman rifle to the next-generation squad weapon, Caggins said. First unit equipped for the next-gen system is slated for the fourth quarter of fiscal year 2022.
"It depends on the next-generation squad weapon timeline," he said. "The Army might keep SDMR in the formation. I don't know."
Textron Systems, General Dynamics Ordnance and Tactical Systems and SIG Sauer were picked to build next-generation squad weapon prototypes through other transaction authority agreements in September. To increase soldier lethality, the weapon will use a 6.8 mm round rather than the current 5.56 NATO round.