AUSA NEWS: Army Plowing Ahead with Robotic Combat Vehicle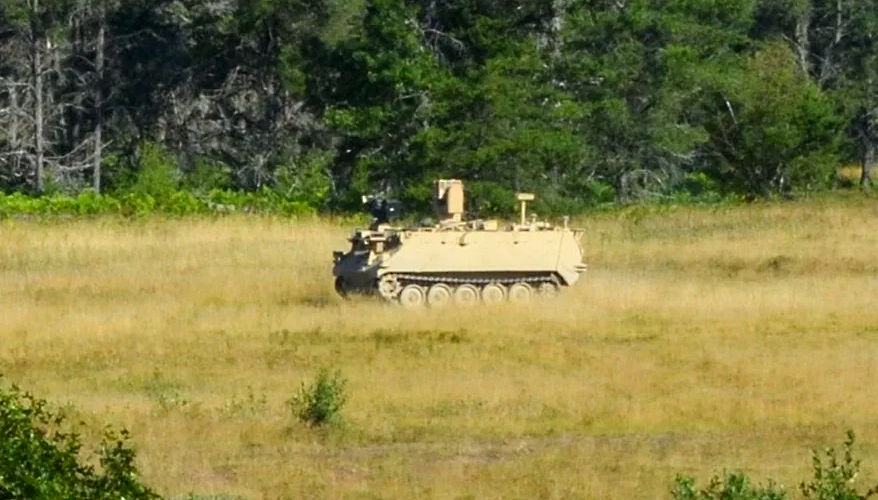 A robotic combat vehicle participates in an Army demonstration.
Photo: Army
The Army is betting big on robotic platforms as it works to replace its aging combat vehicles.
"Something that I think is going to revolutionize the way we fight in the future … [is] robotic combat vehicles," said Brig. Gen. Ross Coffman, director of the next-generation combat vehicle cross-functional team under Army Futures Command. "I truly believe that as we fight, … that robots will be in involved."
The command — which was stood up last year — has identified the NGCV as one of its top modernization priorities. It is envisioned as a family of manned and unmanned platforms that will replace the Army's legacy combat vehicles.
It is currently experimenting with robots and has identified a need for platforms in three different weight classes including light, medium and heavy. The systems — which are payload agnostic — are equipped with a variety of sensors and weapons, Coffman said during a media roundtable with reporters Oct. 14 at the Association of the United States Army's annual conference in Washington, D.C.
"These experiments are going to allow us to know how to best use them or how to employ the weapons," he said. "Then in 2023, we're going to make a decision of how to proceed with the robots."
Jeffrey Langhout, director of the ground vehicle systems center, said the service is right in the middle of a series of experiments with robotic vehicles.
"We built four robots that are refurbished M113s track vehicles and we've taken two Bradleys and gutted them and turned them into two control vehicles," he said. "We put all kinds of sensors on them — some of the sensors we've lifted from our automotive industry. And we have got some new technology sensors that we've put on these vehicles."
There have been some initial tests with those systems, he noted. The vehicles are now at Army Test and Evaluation Command and are being prepped for a safety release before they are delivered next spring to an activity duty component to experiment with, he added.
Coffman noted that next March there will be a press day at Fort Carson, Colorado, where reporters can see some of the experiments going on with the service's robotic vehicles.
There will be another experiment in 2021, which will commence phase two of the Army's approach, he said.
"We'll move from the platoon operations to company-level operations," he said. "As a guy that's been around combat vehicles for his whole life, I can take the lessons learned from a company-level operation and apply it directly to brigade because a brigade commander fights two levels down at the company level."
In 2023, the service will have another experiment at the company-level but will introduce heavy systems into that exercise, he added.
The service plans to release a solicitation for light and medium vehicles in November, Coffman said.
That will get downselected in the spring to one vendor that will build four light systems and one bidder that will build four mediums, he noted. They will then have one year to deliver four of the platforms.
The Army also recently participated in a "robot rodeo" in Texas, Langhout noted.
"We asked industry to bring … whatever you have, bring it to us," he said. "They went out onto a course down in Texas and they spent a week there and drove around in the mud and we saw all kinds of different things and some of them worked great. Some of them didn't work."
Langhout called the event a great success but noted that while industry submitted many light vehicles, there were no medium systems present.
"It was exactly, in my opinion, what the Army needs to do," he said. "Give us what you got. Show up, let's play for a week and let's see what it can do. ... It was very unambiguous. We got to see exactly what it was and what we could and couldn't do. And it helped inform the ultimate activity that's going on today."
Coffman added that the event is one way the Army is trying to increase communication with industry and get technology into the hands of soldiers to test.
Topics: Army News