AUSA NEWS: AeroVironment Unveils New Version of Puma Drone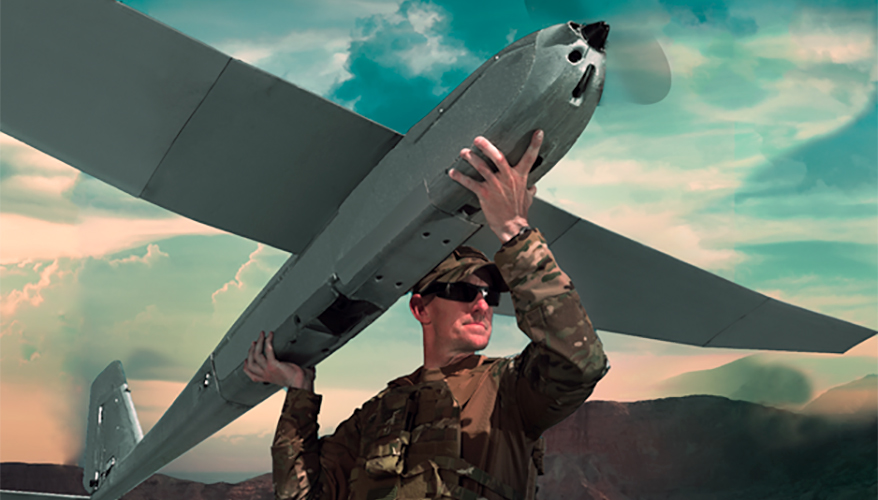 Puma LE
Image: AeroVironment
A new iteration of AeroVironment's Puma unmanned aerial vehicle will give the system increased range and an expanded payload capacity, company executives said Oct. 14.
"What's really exciting about this solution is that essentially you get a Group 2 capability in a Group 1 footprint and price point," said Wahid Nawabi, the company's president and CEO said during a briefing at the Association of the United States Army's annual conference in Washington, D.C. Group 1 drones are classified as platforms that weigh under 20 pounds and can fly around 100 knots. Group 2 systems typically weigh between 21 and 55 pounds and can fly more than 250 knots.

"We're really excited about this product because … [it's] based on direct feedback from our customers," Nawabi said.
The new aircraft — known as the Puma Long Endurance, or LE — includes an integrated Mantis i45 gimbaled electro-optical/infrared sensor which is ideal for intelligence, surveillance and reconnaissance missions, said Mike Jorgens, product line manager for the system.
The Puma LE weighs 22.5 pounds and can be launched by hand or bungee, he noted. It has a flight endurance of 5.5 hours and a range of 60 kilometers when used alongside the company's long-range tracking antenna system.

"That more than doubles the typical Group 1 time on station," he said. "This translates into expanded ISR, enhanced target coordinates transfer, an ability to gather true pattern of life [intelligence data] and other actionable intelligence like never before."

The platform can carry a payload weighing up to 5.5 pounds, he noted. It features a ruggedized secondary payload bay that enables the integration of third party payloads. The system provides 18 to 24 volts of power at up to 5 amps, as well as an ethernet connection port for payload communications.
"This makes Puma LE the ideal multi-mission capable platform for third party payloads such as electronic warfare, communications relay, … geolocation and others," Jorgens said.

Additionally, the system can be operated manually or autonomously.

AeroVironment spent a lot of time thinking of ways to optimize the Puma LE's "mission pack-out," he noted.

"With the Puma LE, you can fit everything you need to complete two full missions into a two-case pack-out," he said, including a Pelican case. "That's everything including a full aircraft and a full [ground control system] and all the support hardware required to complete two missions and two cases."

It also features "plug-and-play" interoperability and was designed to be compatible with other elements of AeroVironment's product line, Jorgens added.

The company displayed the platform at its booth during the conference.

"This UAV that you see here was actually flown last week — so these are not marketing mockups," Nawabi said. "These are real life prototypes and products … that flew in the field."

AeroVironment is now accepting orders for the Puma LE, with deliveries expected in the spring of 2020.
Topics: Army News, Robotics, Robotics and Autonomous Systems