JUST IN: Sikorsky's Black Hawk on Track for Autonomous Flight Next Year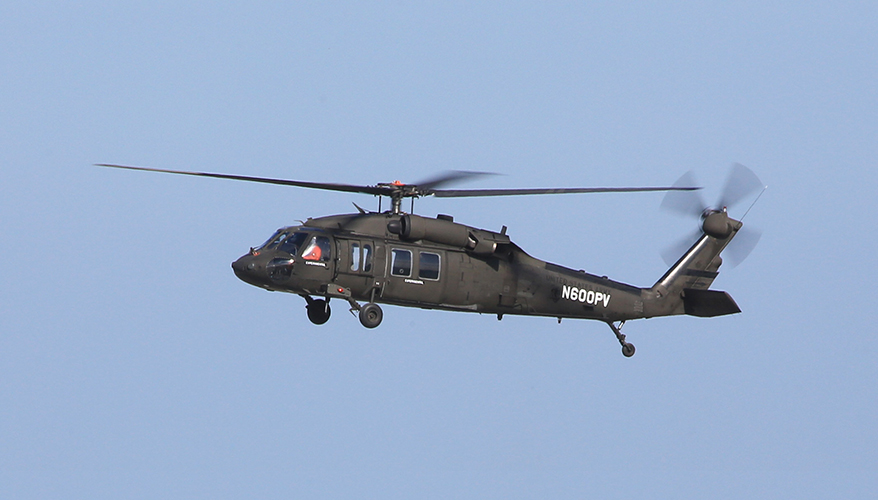 A Black Hawk equipped with Sikorsky's optionally-piloted vehicle technology flies at the company's West Palm Beach, Florida, facility.
Photo: Sikorsky
After months of testing, Sikorsky is on course for full autonomous flight of its S-70 Black Hawk optionally piloted vehicle next year, according to company officials.
In late May the aircraft manufacturer began testing an autonomy technology kit that could operate its helicopters with full-authority, fly-by-wire flight control. Fly-by-wire systems replace manual flight controls with electronic interfaces and computer-regulated flight controls.
"We are marching our way through our test program to get [to] the full autonomy," said Igor Cherepinsky, director of autonomy at Sikorsky. "Our vision is obviously not to [completely] replace the pilots but to augment the pilots. And that's why we developed … numerous modes of augmentation."
With the company's autonomy package, pilots would be able to shift from low levels of operational assistance all the way to full tablet, machine-operated flight controls from the cockpit, rear cabin or ground, he said during a teleconference with reporters Oct. 7. Information from the call was under press embargo until Oct. 10.
Mark Ward, Sikorsky's chief pilot, noted that testing — which is taking place at the company's West Palm Beach, Florida, facility — has been going well. To date, the company has conducted 54 flight hours on the platform's flight control system in addition to approximately 30 hours of ground testing.
"The S-70 OPV is full baseline fly-by-wire," Ward said. "What we've been doing the last four or five months or so is flying and proving out [and] shaking out ... the fly-by-wire system that will have the autonomy laid over top of it."
Those efforts are a perquisite to achieving full autonomous flight, he noted.
So far, the company has tested numerous control systems and pushed the helicopter's flight envelope to 150 knots-indicated airspeed, Ward added.
Sikorsky engineers are taking time to "fine tune" some of the pilot modes so that operators will have a mature technology package, he added.
Cherepinsky noted that first autonomous flight is slated for sometime in 2020 but did not provide a more specific timeframe.
Sikorsky chose to demonstrate its autonomy package on the S-70, which is an older platform, to show that it could work with any current or future company aircraft, he added.
"Not only are we looking forward towards future vertical lift [and] our potential next-gen commercial offerings when they come, but we also care deeply about our current fleet and want to make sure that this technology is retrofittable to our entire product line, both civil and military," he said. Future vertical lift is one of the Army's top three modernization priorities, as the service seeks to acquire a new family of helicopters that could be optionally manned.
Sikorksy is developing the autonomy technology as part of the Defense Advanced Research Projects Agency's aircrew labor in-cockpit automation system program, according to a company press release.
Topics: Robotics, Robotics and Autonomous Systems, Emerging Technologies