VIEWPOINT DEFENSE DEPARTMENT
Industry Consolidation: What Will it Mean for DoD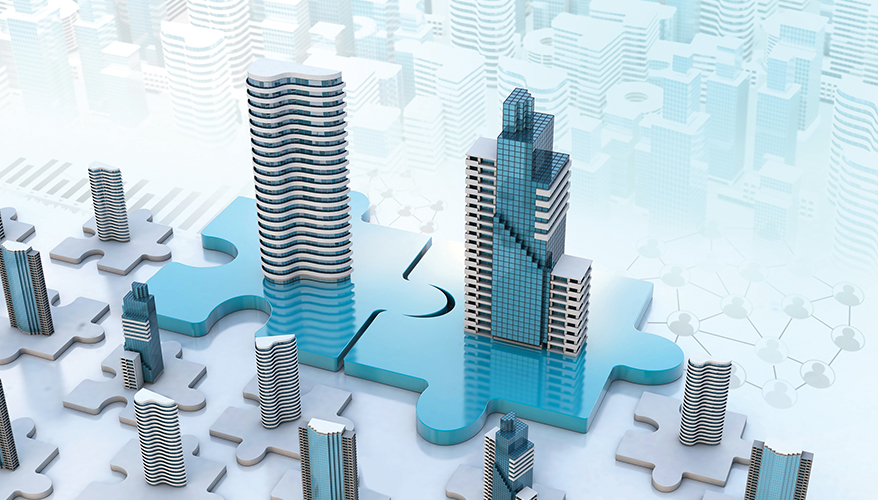 Photo: iStock
There has been an uptick in industry consolidation and mergers and acquisitions activity in recent years. The recent announcement that Harris Corp. and L3 Technologies were coming together in a "merger of equals" is a notable example.
While mergers such as this are eventful for industry and financial markets, what does the trend mean for the Defense Department?
At best it may help it a little, but much more profound change across the entire industry is required to help speed technology and innovation to the warfighters — better, faster and cheaper. The department is hungry for real innovation. In the past, large mergers and acquisitions generally hurt innovation, agility and speed as large firms focused on protecting established business areas and large programs.
But is this time different? Firms of all sizes recognize the department's demands, and have been experimenting — some more than others — with more creative, higher-risk agile business models.
They realize that if they don't deliver innovation the Pentagon is getting better at finding it from nontraditional industry competitors and smaller prime contractors.
The stakes are high, and with the nation's technological dominance being seriously challenged and threats growing more complex, the Defense Department is more serious about innovation.
Underscoring threat complexity, the battlespace is now far broader — from the heights of space to the bottom of the oceans, in the cyber domain as well as the physical — a further blurring of military and non-military realms, and increasingly overt political and public opinion battlegrounds.
The department is determined to better engage industry to help deliver better results. Achieving these improvements requires commitment and investment by industry, deeper collaboration and a different framework of performance-driven financial incentive. Those contractors who are willing to transform their businesses to meet new demands will be the winners — regardless of their size.
While traditional prime contractors will and must protect revenue streams on legacy platforms, they must leverage the profits to invest and prepare for market disruption. Industry consolidation and strategic mergers and acquisitions can help support the mission but only with effective execution, a dramatic change in industry and government's view of research and development, and innovation in business models.
Large primes must find new and better ways to work with smaller industry primes and nontraditional industry players to deliver better solutions — trying to maximize workshare with use of in-house suppliers exclusively will not be as successful a strategy as it has been in the past as the threat of being out-innovated is real.
The demands and complexity of today's defense challenges are technology and innovation-driven and require very different business models to successfully execute. Adding to the challenge is the aerospace and defense industry's risk aversion and historical reluctance to invest in research and development. While government business models have limited research, there are more opportunities to do so now. And the defense industry lags far behind nearly all other industries in R&D investment by a significant margin. With the department opening up to nontraditional firms, this gap will hurt primes. Industry must develop a culture of intelligent risk-taking in research as the Pentagon has made it easier for companies to leverage innovation into higher returns.
The future of defense innovation will be profoundly different. Large, leading-edge companies and venture-backed startups in the private sector are solving complex problems through massive-scale big data, artificial intelligence, blockchain, machine-human learning, adaptive learning, augmented reality, cybersecurity, supply chain resiliency, robotics, autonomy, sensor technologies, advanced electronics and additive manufacturing.
"The department is working to improve the incentives for industry to reward innovation."
These massive investments — and the ruthless value assessment of different offerings by commercial clients — are creating strong, high-value capabilities that the Defense Department is and will increasingly leverage. New offices continue to be stood up across the department with descriptors like rapid, development, innovation, experimental and future. These terms underscore that the department's innovation focus is not going away.
Back to mergers and acquisitions, we are seeing signs that this time is different, and firms are appreciating the need to adapt to deliver on innovation demands. Whereas the consolidation of the 1990s was dominated by full integration of acquired firms into a "one firm" approach, we are now seeing more tailored approaches. Some acquired groups are fully integrated to achieve efficiencies, while others are seen as critical sources of innovation and are allowed to operate more autonomously so as not to disrupt the culture and mindset.
Of course, mergers and acquisitions are driven by an insatiable demand from shareholders for growth and profitability. Unless firms can see a clear expedited path to profitable revenue streams and long-term government contracts, it will be difficult to justify and sustain increased R&D investment. Shareholders demand profit growth and use of free cash to buy back stock, pay dividends, or both. Industry needs business leaders with the skill and vision to focus these accounts effectively into disruptive new capabilities that can deliver high value, long-running programs.
Although industry will continue to use mergers and acquisitions as an important part of their growth strategies, that alone cannot deliver results. Prices are high and the opportunities for economies of scale are reduced. Few acquisition targets remain, and capital markets are likely to tighten. Thus, the primary industry strategy must be focused on improving innovation for the Defense Department, achieved through a mix of acquisitions — typically smaller and more differentiated — and internal investments in development programs and innovative capabilities.
And the classic challenges remain: good capability synergies between entities; excellent change management and post-merger integration; aligned leadership and vision; disciplined review and shaping of the business portfolio and divesting capabilities; and businesses that are not aligned with the strategy.
The department is working to improve the incentives for industry to reward innovation. But there is much more to do to convince companies and shareholders that the prize is real. Incentives for industry can be enhanced by clearly defined and jointly developed requirements; a more efficient and effective acquisition process with shorter award cycles; collaborative planning and execution across the entire lifecycle between industry — broadly defined — and government; an environment of experimentation and joint development; smarter use of performance-based contracts; and, of course, financial rewards that are aligned with stakeholders' expectations.
All of this is needed to ensure that industry will devote more investment in research and development, and that shareholders ensure that corporate leaders are capable of leading the investment to innovation to profit journey. The path to innovation success will depend on government's ability to shorten requirements to award cycles, embrace new and creative business models, reward intelligent risk-taking, and a willingness to think differently and embrace paying an incentive-based premium for performance and results.
More efficient development programs and optimized lifecycle costs will surely more than offset the profit premium for innovators, and the premium is essential to incent industry to deliver.
Aerospace and defense industry consolidations and strategic mergers and acquisitions are not new, but this most recent round comes at a time when industry is adapting to a change in the defense business model. Delivering on the next generation of big bets and speeding technology to warfighters requires a different mindset and strategy that requires traditional prime defense contractors to consider nontraditional companies, technology startups and innovation leaders as a sustained part of the department's ecosystem.
The race is on and the stakes are even higher. Successful execution of the mission will require the best thinking and the best execution from both industry and government. The nature of our threats is evolving. The Defense Department recognizes this, and if traditional contractors fail to evolve they will be left behind.

James B. Marceau is an aerospace and defense expert at PA Aerospace and Defense, a subsidiary of PA Consulting Group.

Topics: Defense Contracting, Defense Department, Industrial Base