Three Defense Department Tactical Comms Challenges for 2019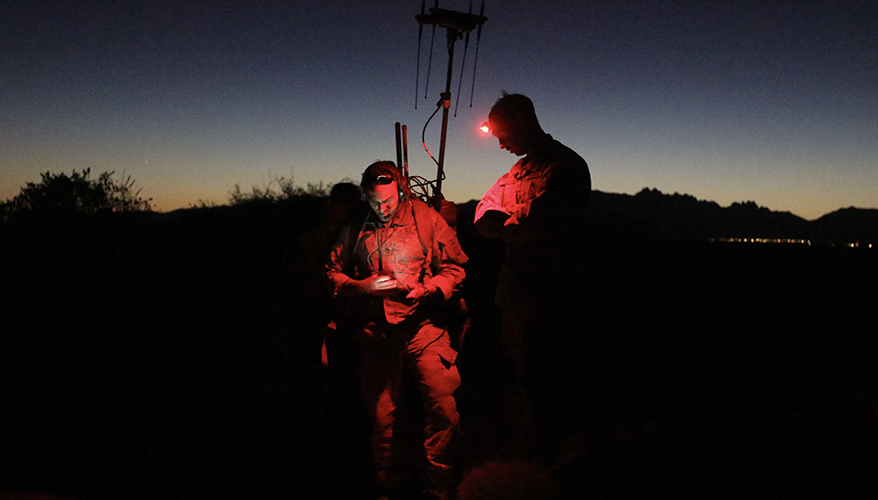 Photo: Defense Dept.
At a December hearing of the House Armed Services emerging threats and capabilities subcommittee, Defense Department Chief Information Officer Dana Deasy noted that an enterprise cloud capability would enable DoD to handle unlimited compute capacity and storage — as well as to leverage emerging technologies such as artificial intelligence.
Rather than "a centralized single, depository" the department is shifting to a "decentralized world" where the warfighter at the tactical edge can "work in a compromised, degraded mode ... a cloud that can handle the edge all the way to clouds that can handle the central," he said.
Enabling cloud/storage, AI and analytics applications at the edge of the network is just one tactical communication challenge the Defense Department will likely face in 2019. U.S. forces seek to advance tactical network capabilities to counter emerging threats, enable new forms of maneuver, and maintain integration with military enterprise services — all while taking advantage of rapid innovation from the commercial IT Industry. This means that warfighters must be able to extend secure battlefield communications to cover greater distances and improve tactical mobility.
Below are three challenges the DoD and warfighters will face in modernizing their tactical networks in 2019 to establish reliable and secure communications in tactical environments.
The first is extending computing and storage to the network edge. When warfighters are deployed to environments with disconnected, intermittent and limited access to high performance computing and storage, situational awareness is compromised and mission success becomes more elusive. The threat is amplified as adversaries attempt to disrupt communications through coordinated cyber and electronic warfare attacks, as those computer and storage resources may only be available if deployed at the edge of the network
High performance computing and storage at the tactical edge is also vital to the Internet of Battlefield Things (IoBT). From wearables on the troops themselves to connected tanks, helicopters and drones, interconnectivity through a robust IT system is needed to support IoBT, and ensure it remains secure, trusted and available.
Beyond IoBT, networks need data center-like computer, networking and storage capabilities at the edge to support additional applications including: Situational awareness, mission command and C2 applications; signal and image data gathering and analytics workloads and: cybersecurity and virtual desktop infrastructure solutions.
The department will be able to address the challenge of high performance computing and storage at the network edge in 2019 by leveraging an emerging class of modular, tactical data centers available for tactical and expeditionary programs. Using ultra small form factor modules for compute, storage and networking functions reducing size, weight and power, these systems — which are capable of hosting cloud/storage, AI, and analytics applications — can be deployed dismounted, in forward operating bases, command posts, ground vehicles and aircraft, as well as in upper echelons. As a result, the department can support a diverse array of use cases in disconnected, intermittent and limited environments.
The second challenge in 2019 will be command post mobility. Mobile command posts as they currently exist are deployed in tent-based infrastructures which requires hours of setup and breakdown upon moving locations, involving thousands of feet of copper wiring that delay network availability, resulting in a dangerous lack of situational awareness for commanders.
Thus troops who jump from one location to another typically do so in phases, with tents, generators, network servers and satellite links going up first, followed by the running of cables to provide the local-area-network command post support. This process translates into long delays in availability of critical information services, which can in turn lead to increased vulnerability of people and their systems. Entering a dynamic tactical environment "blind" puts warfighters at a significant disadvantage that can lead to loss of life and mission failure.
This is why defense forces necessitate networking on-the-move capabilities. In other words, situational awareness cannot wait until troops establish an at-the-halt position. True mobility demands innovation and modernization designed to reduce size, weight, and power requirements. All else being equal, communications equipment can never be too small, too light, or too power-efficient.
And the third challenge for 2019 will be transmitting classified information over greater distances. Situational awareness suffers relative to adversaries when warfighters lack the confidence to share classified data securely over wireless networks. This challenge will continue to play out in 2019 as the Defense Department continues its shift from wired to wireless battlefield and in-theater communications.
While warfighters already possess the ability to securely transmit classified information using mobile devices at Wi-Fi distances — typically a few hundred feet — around the command post, there is a need to extended this capability over LTE-enabled commercial smartphones and tablets.
In 2019 expect the department to enhance its focus on providing secure warfighter mobility at much greater distances, measured in thousands of feet or several miles from the cellular base station. This will help unlock more widespread use of mobile phone and tablet applications in the tactical communities, improving situational awareness for the warfighter.
Charlie Kawasaki is chief technical officer at PacStar.

Topics: Battlefield Communications, Infotech, Cyber, Cybersecurity