Company Offers Exoskeleton With Upgraded Power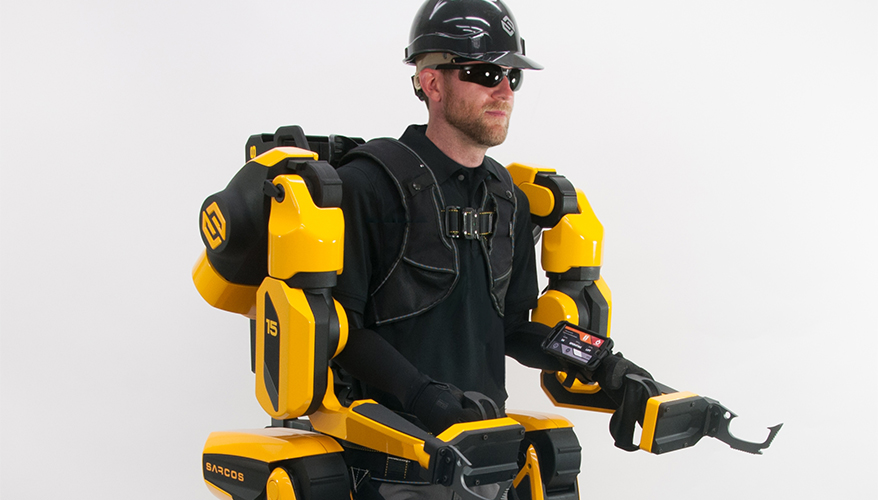 Photo: Sarcos
Sarcos Robotics announced a new battery-powered robotic suit that can operate using lithium-ion batteries and enable the wearer to lift up to 200 pounds for several hours.
The Salt Lake City-based company, which has spent 17 years and invested more than $175 million in exoskeleton research and development, is touting the system for its reduction in power consumption.
"We are seeing 400 watts of power being used instead of 3,500 or 6,800, which now allows us to use fairly traditional lithium-ion batteries to get up to eight hours of usage," Ben Wolff, chairman and CEO of Sarcos Robotics, said in an interview.
There are three batteries mounted on the back of the machine, each of which weighs between 10 and 15 pounds, Wolff said.
"We've designed the suit so you can hot swap the batteries in the field so that you can continue the mission," he noted.
It should take a user anywhere from 30 to 60 seconds to suit up. Once on, the equipment is fully mobile, able to traverse smooth or challenging terrain, he said.
"Our machine is intended not only to enhance endurance, but also strength and dexterity," he added. "Inclement weather, mud, snow — those kinds of challenging environmental conditions are what this machine was intended to be able to work in."
While the company is pushing to get the suit out to commercial customers by the end of 2019, it continues to develop systems for the Defense Department.
Sarcos is working with the Air Force to modify its exoskeleton to fit the military's needs. It has two contracts with the service so far.
"We are working with the Air Force on a logistics version of our suit," Wolff said.
The company is also working with U.S. Special Operations Command to help deliver a prototype of the highly-anticipated tactical assault light operator suit, Wolff confirmed.
The suit, also known as TALOS, has been in development since 2013. The exoskeleton is intended to protect special operators during raids. It is expected to thwart small arms fire or bomb blasts. It would also provide support for physically exhausting activities such as climbing multiple flights of stairs or carrying heavy loads.
A TALOS prototype is slated to be demonstrated in 2019, SOCOM leaders said last year.
Wolff declined to provide further details on the company's work with the command.
Topics: Defense Contracting, Emerging Technologies, Land Forces, Robotics