SHOT SHOW NEWS: New Tactical Headset Adjusts to Noise Depending on Mission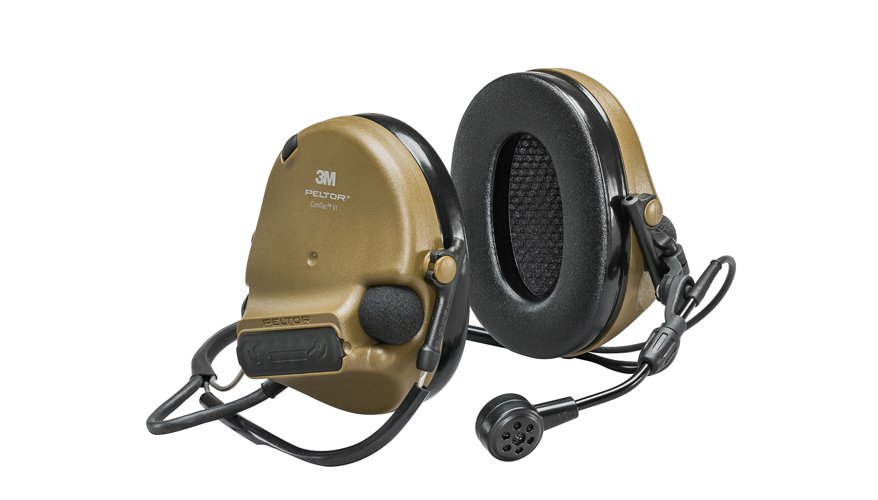 ComTac VI Natural Interaction Behavior headset
Photo: 3M Peltor
LAS VEGAS — 3M Peltor introduced a headset at the SHOT Show this week that can enhance or dampen noise depending on the mission.

The ComTac VI Natural Interaction Behavior headset has six different modes that users in either the military or law enforcement can choose from, Doug Moses, U.S. product marketer at Peltor, a subsidiary of 3M, said Jan. 23 in an interview.

"In the older versions of these headsets you could go volume up, volume down, and that was your only ability to control your environment of sounds. In this one, you still have that [classic mode] ... but it also has ... advanced modes based on the mission profile," he said.

There are four missions sets in advanced mode, he said. "Comfort Mode" is designed for typical noisy environments where headsets are needed to protect hearing such as riding in a helicopter or military vehicle.

"Conversation Mode" would be for members of a squad or police tactical unit who want to speak amongst themselves via their radios in natural conversation. It reduces background noise to bring the conversation forward, Moses said.

"Patrol Mode" can both enhance situational awareness for units outdoors while at the same time dampening the sound of footsteps. "You can still hear those environmental sounds that are important to you but not drive yourself crazy hearing rocks under your feet," Moses said.

"Observation Mode" is for quiet environments where the user wants to enhance noises. One example might be a sniper who is concentrating on a target but wants to be aware of any sounds around him, or someone on overwatch who wants to hear at a distance.

"Say you're on an overwatch position and you want to hear a dog bark on a ridge, or a motorized vehicle coming at you, ... it is designed to help you hear that at a distance," he added.

The final setting and the most revolutionary feature, according to Moses, is the "Natural Interactive Behavior" mode. Its peer-to-peer link recognizes when a contact is within its bubble — which is about five meters — and allows up to four squad members to talk at a normal voice no matter how high the environmental sound level. It does this without having to switch to radio mode, he said.

"We have had these things up in really high noise levels and still have a conversation without tying up the radio," he said. Examples would be when walking next to a tank or getting on and off of a helicopter. The operator — as long as he or she is in this mode — doesn't have to push any buttons. The headset connects automatically.

It looks like a typical headset "because the form factor and fit has proven to work so we didn't want to mess with that," Moses said.

Meanwhile, the system does have some new physical features that aren't obvious. For example, the headband can rapidly change from helmet to non-helmet use. The telescoping microphone picks up on speech easier for better communications, and the gel cushions on the earphones provide better comfort, he said.
Topics: Land Forces