SHOT SHOW NEWS: FLIR Introduces Smaller, Lighter Rangefinder for Scouts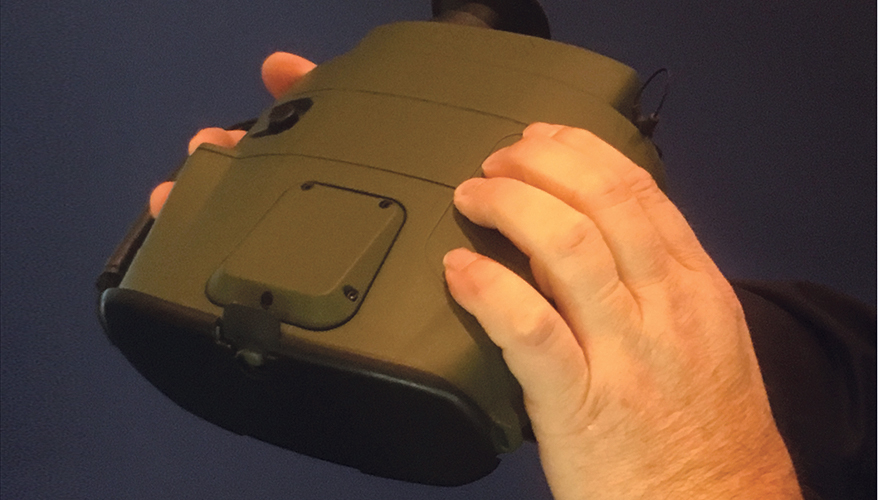 Photo: Stew Magnuson
LAS VEGAS
— Sensor manufacturer FLIR debuted a new lighter weight rangefinder designed for dismounted troops here at the SHOT Show.
The RECON V Ultra Lite multi-spectral imager achieves its light weight by going from a cooled to an uncooled sensor, John E. Hodge, business development director at FLIR, said in an interview. That does mean a tradeoff of about 50 percent in the distances it can target, he said.
The cooled sensors in FLIR's other rangefinders weigh nine pounds. The RECON V — with a high definition camera and thermal sensors — weighs about three pounds, he said. It can be used day or night.
"It's for the guys who don't necessarily have to see 10 kilometers," Hodge said. That might include snipers who don't carry weapons that reach great distances.
The imager's GPS tells the user where he or she is standing, the compass provides declination and the laser rangefinder will automatically calculate target location. Bluetooth technology allows it to connect with radios so data can be shared.
The system is intended for scouts, forward observers, reconnaissance personnel, convoy commanders and other applications where a lighter device is needed, Hodge said. It can run for fours hours on four AA lithium batteries, which are widely available. It is also less expensive and more durable than FLIR's legacy rangefinders, he noted.
The company did not develop the imager for any particular program, although the Army has tried it out during exercises at Fort Benning, Georgia, he said. The Marine Corps has expressed interest in borrowing some of the imagers to experiment with as well, he added.
There are currently no requests for information or programs seeking lighter rangefinders, Hodge said. "If you build it, they will come. So we decided to build it and see if they will come," he said.
Topics: Land Forces