NEWS FROM SHOT SHOW: Two Military Gunmakers Endorse Composite-Cased Ammo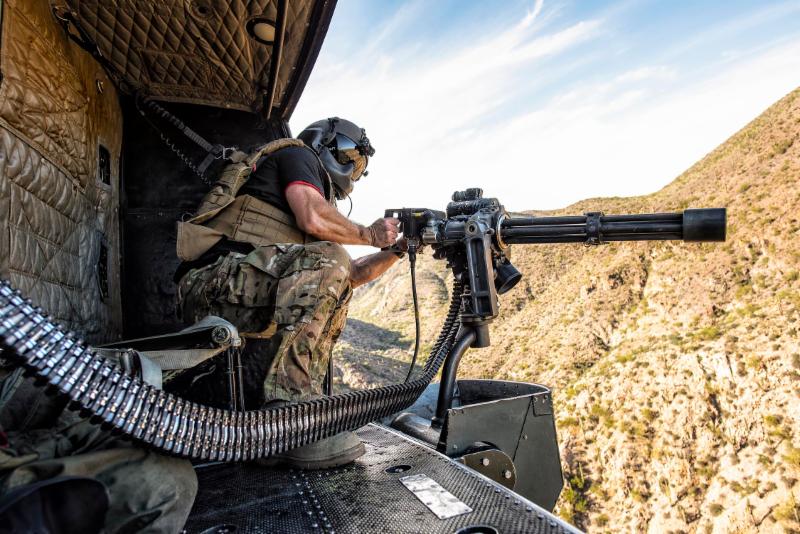 LAS VEGAS —
Two military gun suppliers — including one competing to replace the Army's primary squad rifle — have chosen the maker of composite ammunition casing for their weapon systems.
True Velocity announced Jan. 22 a partnership with General Dynamics Ordnance and Tactical Systems (GD-OTS) to develop the Next-Generation Squad Weapon systems to replace the M4 and M249 platforms, according to a statement released during the SHOT Show in Las Vegas.
GD-OTS was one of five companies awarded contracts by the U.S. Army in July 2018 to develop prototypes of the Next-Generation Squad Automatic Rifle. Patrick Hogan, the company's chief marketing and sales officer, said General Dynamics chose the composite-cased ammunition as its exclusive cartridge in the competition.
Depending on the caliber, the True Velocity cartridges are on average 30 percent lighter than traditional brass cartridges, he said in an interview. For a typical infantryman's load of seven 30-round magazines, that would amount to him being able to carry an additional 90 rounds, Hogan said.
They have also been proven in tests to be more accurate as well as reducing heat produced during the firing process. That in turn diminishes wear and tear on the gun, he added. The composite material is a heat insulator while brass is a conductor, he noted.
The new squad rifle is expected to improve upon the firepower and effective range of the M16 and M4 platforms, while simultaneously yielding capability enhancements in accuracy and lethality, according to the Army. The weapon should weigh less than its predecessor, fire lightweight ammunition and have reduced acoustic and flash signature, Army documents have stated.
Using the new ammunition will help GD-OTS "provide the U.S. Army with the right balance of lethality, weight reduction and overmatch capability," Steve Elgin, vice president and general manager of armament and platform systems at the company, said in a statement. "We are excited for this partnership as we build on our capabilities as a system integrator."
True Velocity has agreed to provide its cartridges only to General Dynamics for the Next-Generation Squad Weapon. Meanwhile, True Velocity is free to pursue other military programs. The Navy has tested the cartridges "extensively" and is continuing to do so, Hogan added.
True Velocity's composite-cased ammunition will also support Dillon Aero's M134D minigun, which is chambered in 7.62x51 mm NATO. The M134D is capable of a rate of fire in excess of 3,000 rounds per minute. Since its establishment, Dillon Aero has fielded more than 6,000 M134D weapons systems in 30 countries, the statement said.
A developmental partnership was also signed with Dillon Aero, the maker of helicopter-mounted machine guns, including its forthcoming M503D .50-caliber machine gun, which the company expects to field before the end of 2019. Designed for employment by air, land and sea, the new gun will have three barrels and shoot 1,500 rounds per minute. It will be lighter and faster than existing .50-caliber machine guns, according to a statement.
"Dillon Aero is excited about partnering with True Velocity," Dillon Aero's Nick Perfetto, vice president of business affairs, said in a separate statement released during the show. "Their advanced technology and weight reduction bring an advanced level of capability to today's warfighter."
Hogan said if one were to put the weight savings on a U.S. Special Operations Command Little Bird helicopter, which carries Dillon Aero's machine guns, it would amount to 124 fewer pounds.
The two companies' endorsements is the culmination of about a decade of development, Hogan said. The Defense Department first proposed the idea of composite ammunition to replace brass some 50 years ago, he said. Many tried and many failed to develop it over the years. True Velocity stuck with it and has some 200 patents and patents pending, he noted.
"We consider ourselves a technology company that happens to make ammunition," Hogan said.
Topics: Land Forces, Munitions Technology, Defense Department