NEWS FROM SHOT SHOW: Harris Corp. Announces Entry for Army's Night Vision Binocular Program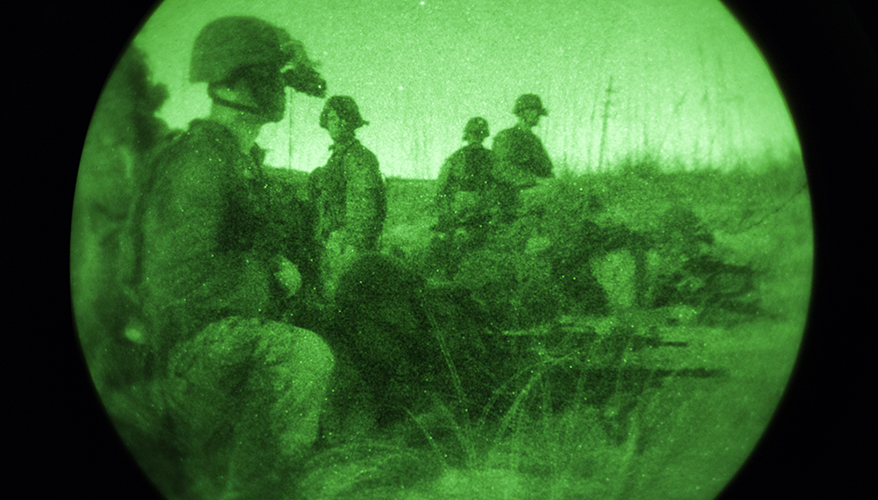 Photo: Army
LAS VEGAS — The Army is moving from monocular to binocular night vision goggles and will use the increasingly popular other transaction authority agreement to acquire them, an industry source said at the SHOT Show Jan. 22.

The new system will fuse traditional image-squared night vision with a thermal sensor, and overlay "augmented reality" in the form of data and other information, Darrell W. Hackler, senior director of global business development for night vision at Harris Corp., said in an interview.

The Enhanced Night Vision Goggle-Binocular is the fourth in a series of upgrades for the technology. The first three were monocular. Harris and ITT Exelis participated in the first two iterations and provided image tubes for the third. Harris acquired ITT Exelis in 2015 and inherited its night vision business.
Harris will debut its version of the ENVG-B at the Special Operations Forces Industry Conference, May 20 to 23, in Tampa, Florida, he said.

The Army contracted with L3 Technologies last year to produce night vision binoculars for limited user evaluations

Hackler expects the Army decision on further prototype awards to be "imminent." It will choose multiple goggles from different manufacturers and put them through their paces before choosing one. Other transaction authority allows military acquisition programs to move directly from the prototype phase to a production contract as long as they held a competition for the item. This is believed to be the first time an OTA agreement has been used by the Army to procure night vision technology.

"It is a new way of buying things," Hackler said, and from everything he has heard or seen coming out of the Army lately, rapid prototyping is the wave of the future. "We're all about that. That's what our life is," he added.

The Army wants a helmet-mounted binocular. The two image tubes will increase a soldier's field of view and depth perception. The service wants the binocular to weigh no more than 2.5 pounds and have battery power to last seven and a half to 15 hours, a specification sheet posted online stated.

"We finally made the move from giving soldiers night vision in one eye to night vision in both eyes," Hackler said.

The goggles will tie into a weapons sight and include augmented reality overlaid in color so the soldier doesn't have to look down for data. That information will include navigation waypoints, text messages, blue force tracking and sensor data from other platforms, he said.

The Army would like to do initial fielding of the ENVG-B by the fourth quarter of fiscal year 2019 and full fielding by the end of fiscal year 2021, the data sheet said.
Topics: Land Forces, Defense Department