New 6.8 mm Round a Game-Changer for Ground Troops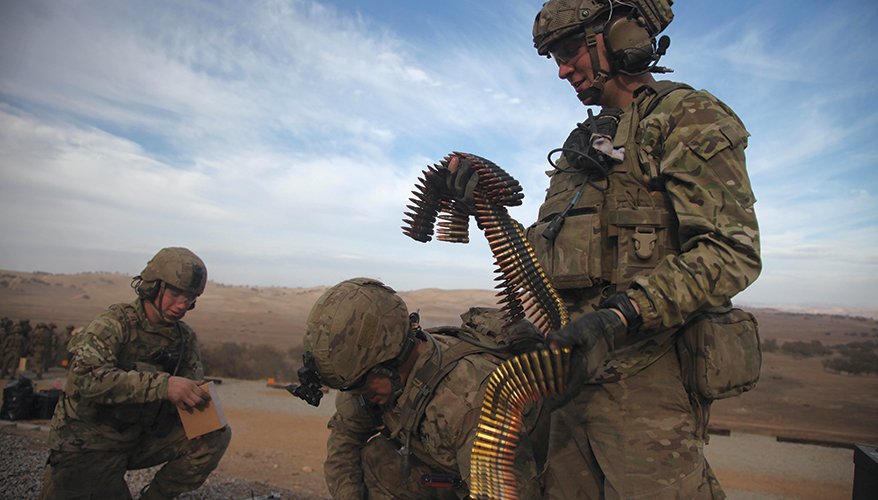 Photo: Defense Dept.
Army leadership is committed to moving toward the adoption of a 6.8 mm round for the Next-Generation Squad Weapon. However, its development hinges upon addressing two key concerns.
The round must be suitable for close- and medium-range conflicts, such as house-to-house urban engagements. Likewise, it must function properly in long-range environments, such as those found in the mountains of Afghanistan.
Additionally, the larger ammunition should not add to the weight — and ideally, would lessen the burden — soldiers now currently carry. Of equal importance, it must be lethal.
The Army team responsible for the project believes that while it will take some time to come to fruition, they are on the right track.
"We're looking at it holistically. We want our soldiers to never go into a fair fight, and always have an overmatch with their adversaries," said Col. Travis Thompson, chief of staff for the soldier lethality cross-functional team at Fort Benning, Georgia.
Under the holistic approach, the three components — ammunition, the weapon and fire control — all must function together, in any and all combat situations, Thompson said.
The ammunition and weapon must perform within 200 meters — where history shows most combat confrontations take place — and at distances, where present-day enemies are increasingly seeking to engage U.S. and allied soldiers, he said.
The decision to settle upon a 6.8 mm round resulted from extensive testing and research by Army laboratories, staffed by experts who closely examined factors such as threats, target sets, weight, performance and controllability, Thompson said.
The research entailed looking at a multitude of combinations of barrel and weapon lengths, weights and calibers of both commercial and military systems.
"A lot of effort was done by our labs in looking at what's the right caliber for the next-generation weapon," Thompson said. "The decision was not taken lightly."
Mark Cancian, a senior international security advisor with the Center for Strategic and International Studies and a retired Marine Corps officer, said the Army "is trying to fix a tension that has existed in small arms for a century."
Cancian noted the institutional desire on the Army's part to improve the lethality of small arms, with the focus on ammunition. When the service published a semi-formal request for ideas on FedBiz­Opps last October, it specifically mentioned the intent to move to the higher caliber from the current 5.56 NATO round now in use with the M4 carbine and M249 squad automatic weapon.
In the announcement, contractors were told to submit their ideas under an other transaction agreements authority, which is used specifically to solicit prototype ideas. The service would then review the proposals after 27 months, and then award a follow-on production contract.
The plan to adopt the higher caliber represents a "compromise" on the Army's part, Cancian said, but not one without inherent challenges.
"It's very expensive and very hard to change calibers," he said. "Improving the ammunition is by far an easier way to improve lethality."
The "tension" exists between proponents of ammunition suitable for short-range and longer-range fights. This, he said, is what the lethality team is coming to terms with today as it seeks to develop the new round and its corresponding weapon.
"The marksmen in the services would like to optimize long-range precision fire, and they point to engagements where that is important. These people say that in Afghanistan, particularly, there are opportunities to take long-range shots," Cancian said.
Even though the history of infantry conflict shows that most engagements happen at close ranges, he said, shooters who want to hit a target at ranges of 500 meters or greater would need larger rounds with heavy bullets.
"But if you're going to be fighting close in — at 100 meters or under 50 meters — you want something that can fire rapidly and then quickly," Cancian said. "The 5.56 is very good for that."
The compromise to which Cancian refers would entail development of a bullet that would fit in a relatively small weapon like the 5.56 does, but also could reach out to long ranges and still hit targets.
"That is what the Army is trying to do," Cancian said. He believes the service is taking the right approach.
"If you don't do anything, you're more optimized for close-in. If you adopt a heavier caliber, you have to replace everything in the inventory. That gets very expensive," he noted.
Moreover, once the U.S military makes such a change, allies and partner nations would feel compelled to follow suit, he said.
"It's hugely problematic, and it's not clear that you're going to improve your performance close-in. You might get better at the long shot, but worse at the shots that are more common," Cancian said.
Army Chief of Staff Gen. Mark Milley, a strong proponent of the round and new rifle, believes the weapon system will prove to exceed any military rifle in existence, and penetrate any body armor in use now and in the next 25 years.
"This weapon has an accurate range far in excess of any known existing military rifle today," Milley said during a speech at the Association of the United States Army's annual meeting in October in Washington, D.C.
The lethality branch team also is well aware of the issue of compatibility with the NATO round.
"We're not ignoring it," said Daryl Easlick, the branch's small arms deputy. "First of all, the U.S. Army is going to have 5.56 and 7.62 weapons systems for the foreseeable future."
Easlick and his team are in continuous contact with NATO allies. "They know what we're looking for and why we [want] different calibers. They understand it's threat-based, and that we're trying to improve our capabilities," Easlick said.
Also, NATO countries do not have the research-and-development capabilities inherent in the U.S. military, he noted.
"They sit back and watch what we do. Once we get the [research and development] out of the way they will … see about piggy-backing," Easlick said.
Likewise, the team is aware of the concerns about efficacy at divergent distances. "Finding that balance in an acceptable way is the entire intent of the program," Easlick said. "An infantryman's engagement range is not fixed. Nor is it very predictable. He has to be proficient in that entire engagement band that he is subjected to."
Easlick noted that commercial, off-the-shelf products exist that can provide long-range fires. Such ammunition, he said, may not necessarily be suitable for other scenarios. These products tend to be specific in what they are designed to do, he said. That specificity may prove of little use under the stress and duration of combat.
Thompson said that comparisons of military-grade 6.8 and 5.56 ammunition with civilian ammunition of the same ilk are irrelevant. Commercial manufacturers make good products for consumers, but "they're not in the business of making bullets that kill our enemies," he said.
Adaptation of the new round and weapon will follow guidelines set forth by the Close Combat Lethality Task Force, the group of experts Defense Secretary James Mattis established last March to respond to what he sees as an erosion of close-combat capability as it relates to threats U.S. forces now face.
Improvement in training and equipment is one key element among many, Mattis believes, that is necessary to counter threats from adversaries that are becoming more capable at a pace the United States may not be able to match unless changes are made.
Mattis specifically ordered the task force to "identify or develop options for investment that include more lethal and discriminating individual weapons systems, while recognizing the imperative to lighten load for infantry squads."
Individual soldiers are carrying too much weight, Mattis' directive stated. The result is a negative impact on an infantry squad's ability to move, survive and destroy the enemy.
"This is all about the ballistics of a heavier bullet, moving at a high velocity," Easlick said. "We did look at multiple calibers, and determined that we [wanted] something somewhere between the 5.56 and the 7.62. That landed us in the realm of 6.5 to 6.8."
Based on that understanding, the team wants to emerge from the project with the right capability, and something that soldiers accept and use, and are able to do what they can do today with their automatic rifles, Easlick said.
With testing likely to take place at Aberdeen Proving Ground, Maryland, Picatinny Arsenal, New Jersey, and other sites, Easlick and his team want to see how prototype weapons and ammunition fare as soldiers carry and use it on load effect assessment program courses, which are designed to assess the effects equipment and clothing have on performance.
"It's a measure to see if soldiers can do the same tasks in the same amount of time, or maybe a little less, based on what their load is," Easlick said.
The lethality branch performs such tests frequently, to conduct proof-of-concept assessments and ensure they are moving projects in the right direction. The 6.8 mm round will undergo such tests, Easlick said, but the Army is choosing to keep the testing schedule close to the vest.
All of this is evolving, Thompson said, with a mindful effort to minimize costs and maximize value for the taxpayer. Hence, the initial focus is to deliver the new ammunition and weapon to the 100,000 soldiers who do 90 percent of the fighting.
"We need to have an overmatch for the soldiers who look into the eyes of the enemy," Thompson said. "The 6.8, and the Next-Generation Squad Weapon, will do just that."
Topics: Defense Department, Land Forces