'New Era' of Missile Defense Could Be Boon for Contractors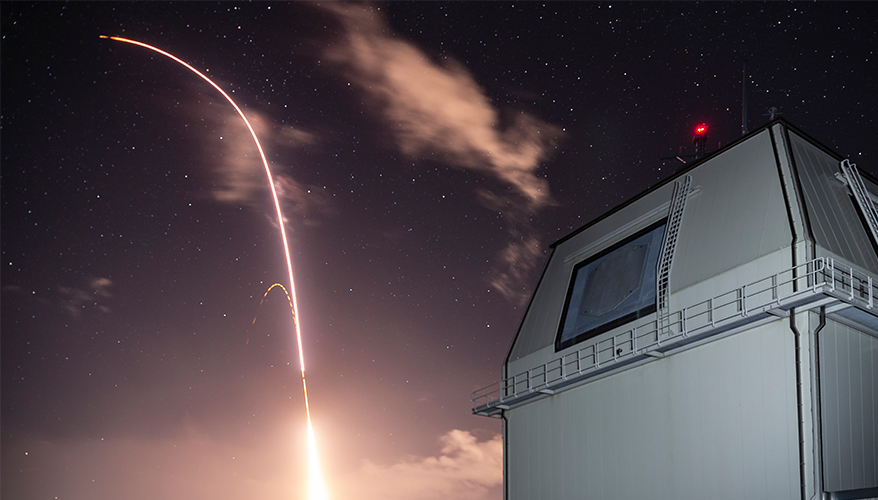 Photo: Raytheon
The Trump administration's new missile defense review lays out a vision for expanding U.S. and allied capabilities, which could prove lucrative for companies that develop and produce the technology.
The study, which President Donald Trump ordered after he came into office, looks at existing and emerging threats and suggests ways to counter them. It is the first such review conducted in nearly a decade. Trump and other VIPs unveiled the results at the Pentagon Jan. 17
"This is the start of a new era in missile defense," Undersecretary of Defense for Policy John Rood said during a briefing with reporters.
The document describes an evolving threat environment that the United States must contend with, to include threats by regional powers like North Korea and Iran as well as peer competitors such as Russia and China.
"Potential adversaries are … increasing the capabilities of existing missile systems, adding new and unprecedented types of missile capabilities to their arsenals, and integrating offensive missiles ever more thoroughly … into war planning," the review said.
The department must not only focus on defeating ballistic missiles, but also cruise missiles and hypersonic weapons that are being developed by advanced adversaries such as Russia and China, it noted.
"Our goal is simple: to ensure that we can detect and destroy any missile launched against the United States anywhere, anytime, anyplace," Trump said during his remarks.
A number of new capabilities are under consideration, including space-based interceptors. The idea was famously floated by then-President Ronald Reagan in the 1980s and dubbed "Star Wars" by its critics.
The department will initiate a new study to look at the technology, Undersecretary of Defense for Research and Engineering Mike Griffin said.
It will examine "what are the costs … what is the effectiveness, what are the deployment modes, what are the considerations that would go into such a capability," he said. "It's different than anything we have now or have on the books, but we're going to take another look at it."
Rood said the department will examine the potential for fielding space-based kinetic interceptors as well as directed energy weapons, a move which would certainly be controversial. The study is expecting to be completed in the next few months, he said.
"If it makes sense [to field them] then a recommendation will emerge, and if it doesn't make sense … we'll have a different outcome," a senior administration official told reporters on condition of anonymity during a teleconference Jan. 16 to preview the missile defense review.
Independent analysts have said such a system would likely come with a high price tag, perhaps tens of billions of dollars or more depending on its scope and capability requirements.
Another set of technologies of interest to the Pentagon is a more robust space-based sensor layer to detect and track enemy missiles. It currently relies on the Space-Based Infrared System, a series of satellites that can detect missiles in the boost phase.
"My upcoming [fiscal year 2020] budget will invest in a space-based missile defense layer. It's new technology. It's ultimately going to be a very, very big part of our defense," Trump said.
A major concern for U.S. military officials is China and Russia's development of new hypersonic weapons that can travel at speeds of Mach 5 or faster, are highly maneuverable and would pose a challenge to existing defensive systems.
Rood said the department would pursue a "robust, fulsome capability" to include tracking technology to thwart hypersonics. Griffin said experimental space-based sensors could be on orbit in 2021 or 2022, and operational systems could be deployed as early as the mid-2020s.
The review looks at other advanced concepts, such as equipping aircraft like the F-35 joint strike fighter with a new or modified interceptors to shoot down adversary missiles in the boost phase.
The missile defense review noted ongoing efforts and plans to increase the capacity and capability of existing systems, including terminal high-altitude area defense, Patriot, Aegis and SM-3 and SM-6 missiles.
The Pentagon is moving forward with plans to deploy 20 additional ground-based interceptors for homeland defense at Fort Greely, Alaska. The department has looked at options for a third GBI site to complement the one at Fort Greely and Vandenberg Air Force Base, California.
"We completed the environmental impact statement work for the four candidate locations and as the threats develop, the department will review the situation and then make that decision as to whether or not to proceed with that [new site]," Air Force Lt. Gen. Samuel Greaves, director of the Missile Defense Agency, told reporters.
Defense officials declined to say how much funding for missile defense will be included in the president's 2020 budget request and the future years defense program, which is expected to be released in February.
Trump noted that he expects allies to buy more U.S.-manufactured systems.
"They can well afford to," he said. "Our plan directs the Department of Defense to prioritize the sale of American missile defense [systems] and technology to our allies and to our partners. We want them to be able to defend [themselves]. And they're willing to pay for the finest missiles in the world."
Members of industry are taking note of the administration's new missile defense plans.
"The newly released missile defense review highlights the importance of missile defense for the protection of America and its allies," Raytheon CEO and Chairman Tom Kennedy said in a statement. "In particular, the MDR calls for new technologies to outpace the rapidly evolving threat. Raytheon is fully committed to working closely with the DoD to continue developing and delivering the advanced technologies that help ensure a safer world today, and into the future."
However, House Armed Services Committee Chairman Rep. Adam Smith, D-Wash., expressed concerns about the Trump administration's plans.
"It is essential that we ensure we are spending money on programs that are reliable and rigorously tested before they are deployed," Smith said in a statement. "We need to know that we are putting scarce taxpayer dollars to good use, for example improving reliability of the current system, rather than rushing to buy and deploy unproven missile defense systems."
The United Sates should also avoid missile defense policies that could fuel a nuclear arms race with countries like Russia or China, he added.
"While it is essential that we continue investing in proven missile defense efforts, I am concerned that this missile defense review could lead to greater investment in areas that do not follow these principles, such as a space-based interceptor layer that has been studied repeatedly and found to be technologically challenging and prohibitively expensive," he said.
Topics: Missile Defense, Defense Contracting