Navy Mulling Ways to Improve Health of Industrial Base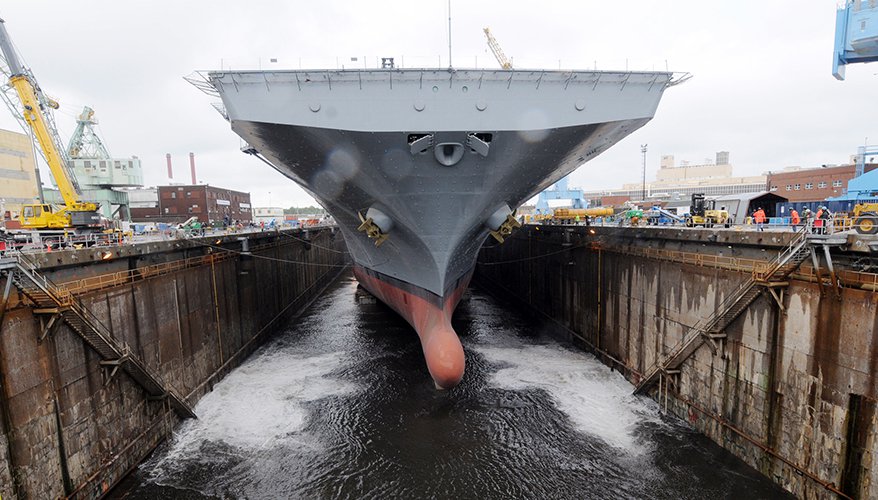 Photo: Defense Dept.
In order to reach its goal of 355 ships, the Navy will have to bolster the health of the industrial base, the commander of U.S. Fleet Forces Command said Jan. 17.
"We aim to both build and sustain a lethal force through balanced investments across capability and capacity — a balance between future readiness and current readiness. A balance between modernization and maintenance," said Adm. Christopher Grady.
That means that conversations about the health of the industrial base will have to go beyond just building vessels, he said during remarks at the Surface Navy Association's annual conference in Arlington, Virginia.
"While we tend to get excited about newer more capable platforms, and rightfully so, we must also remember that about 75 percent of our fighting force today is what we will fight with in 2030," he said. "We must sustain what we have now to defend our interests in the future."
The growth rate of demand for maintenance is outpacing the rate at which the industrial base is growing, he said. The reason is because the industrial base is optimized for cost efficiency.
"Make no mistake, cost efficiency is an appropriate optimization necessary for survival during downturns, but going forward, we must reconsider how we are posturing ourselves in light of the current environment," he said. That includes great power competition with countries such as Russia and China.
The United States must grow the base's capacity for both maintenance and modernization, including an ability to surge when necessary without becoming cost ineffective or exposing the base to excessive risk, he added.
Grady noted that the United States is no longer the world's largest manufacturer. In 2010, China surpassed it and now has the world's largest share of manufacturing output at 26 percent, he added.
That extends to shipyards, he said. "We now have significantly less capacity in warship construction than our principle competitors," he said. "We may be able to engage other industries to assist, but the cost and the time required to realize such potential is daunting."
All that adds up to the need to be able to fight with the current fleet, Grady said.
Over the past few years, the Navy has leveraged increased budgets to make readiness investments across a number of key areas, he said.
"We're attempting to squeeze every ounce of readiness out of every dollar provided by Congress by improving our analytical rigor, data-driven assessments and how we assess our current procedures and what our outcomes are," he said. It has also implemented an initiative aimed at getting ships out of depot maintenance on time more frequently.
The service is also considering innovative ways to better partner with the industrial base when it comes to maintenance and expanding capacity in a sustainable way, he said. "[We are] rethinking things like our contracting strategy," he said.
Another area for better collaboration is discovering ways to increase the skilled workforce capacity for maintenance.
"We have a nationwide shortage of highly qualified welders, pipe fitters, marine engineers and other skilled artisans," Grady said. "To address this, I'm working with my team to elevate the sense of importance, the gravitas even, with which we associate these types of critical professions."
The service is also looking at ways to remove barriers that may stop those in private industry from competing in repair work, he added.
"What if we built a floating dry dock, which we would somehow lease to industry to utilize in conjunction with maintenance availabilities?" he said.
The Navy knows that it must have a good relationship with industry as it moves forward, he said."The ideal relationship is one where we can get to the table, we can compare notes, we can understand the different perspectives that each of bring," he said. "It has to be an open and transparent dialogue and I do think it has to be one that's built and recognizes that competition is important."
It also must be more of a partnership rather than a relationship, he added.
Topics: Defense Department, Industrial Base, Navy News