Missile Defense Review to Call for Studies of Space-Based Interceptors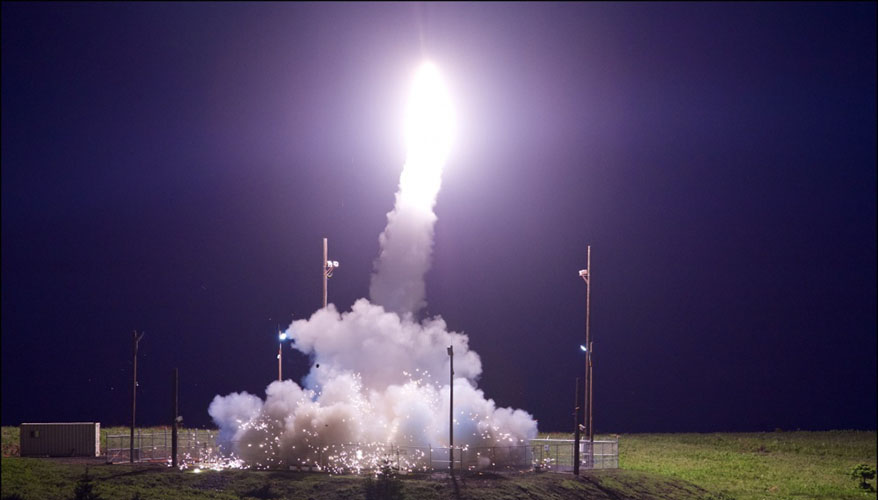 A Terminal High Altitude Area Defense (THAAD) interceptor is launched from the Pacific Spaceport Complex Alaska in Kodiak, Alaska, during Flight Test THAAD in 2017.
Photo: Missile Defense Agency
A highly anticipated Pentagon report will call for further studies of space-based missile defense systems, but does not commit to deploying them, a senior Trump administration official said Jan. 16.
President Donald Trump will visit the Pentagon Jan. 17 for the release of the U.S. missile defense review, according to administration officials. He is scheduled to deliver remarks at 11 a.m. eastern time. He is expected to be flanked by Vice President Mike Pence, National Security Adviser John Bolton, Acting Secretary of Defense Pat Shanahan, military brass and other VIPs. The long-awaited review was completed months ago but is only now being made public and delivered to Congress.

The study, which Trump ordered after he came into office, looks at existing and emerging threats and suggests ways to counter them, a senior administration official told reporters on condition of anonymity during a conference call.
A space-based layer of sensors for early warning, tracking and discrimination of enemy weapons post-launch is an area of keen interest, the official noted. "We see space as an area that's very important as far as advanced next-level capabilities."

The review also focuses on directed energy systems — a technology that Pentagon leaders and the military services are ramping up investment in — and where they could be deployed, according to the official.

Additionally, it calls for further study of the potential for space-based kinetic interceptors and lasers, an idea which was floated by then-President Ronald Reagan in the 1980s and dubbed "Star Wars" by its critics. However, the review does not insist on fielding space-based weapons. No decision has been made to deploy those types of systems, the official said. The administration will first study the feasibility, operational effectiveness, cost-effectiveness and strategic implications of taking that step.

"If it makes sense [to field them] then a recommendation will emerge, and if it doesn't make sense … we'll have a different outcome," the official added.

The previous missile defense review was released in 2010 during the Obama administration, when it was known as the ballistic missile defense review. The word "ballistic" was dropped from the new study because it also addresses other types of threats such as advanced cruise missiles and hypersonic weapons, the official noted.
"In the time in between [the two reviews], we've seen a really significant change to the threat environment," the official said. "The missile defense review responds to an environment in which our potential adversaries have been rapidly developing and fielding a much more expanded range of new advanced offensive missiles." Some of the missiles are capable of threatening the homeland, the official noted.

The document, which presents a new strategy for countering enemy capabilities, will be of high interest to members of industry who want to know what types of systems the Pentagon plans to buy.
The review will "set the path to strengthen our current missile defense capabilities, and … make the case for urgent investments into new and advanced missile defense concepts and capabilities that will help us meet this expanding offensive missile threat to our homeland, our forces abroad and our allies and partners," the official said.


The Defense Department isn't just looking to buy new missile defense systems. The study also proposes ways to beef up the current architecture to protect the homeland, deployed troops and the United States' regional interests.

The review discusses "where we think we could add more to certain existing programs [and] where we can make incremental improvements to the existing capabilities," the official said.
The study examines the possibility of establishing a third site in the United States to base ground-launched interceptors that could potentially shoot down an incoming Iranian missile, the official said. Interceptors designed to destroy intercontinental ballistic missiles from North Korea are currently deployed at Fort Greely, Alaska, and Vandenberg Air Force Base in California.
The review will be far-reaching and take a deep dive into all aspects missile defense, the official suggested.
"This is really a comprehensive look at our missile defense capabilities and programs and posture, both what we have today, what we would like to make improvements to, and then what are the next-generation programs we would like to invest in to get ahead and stay ahead of the threat," the official added.
Topics: Defense Department, Missile Defense