Navy to Industry: 'It's Not Your Data, It's Ours'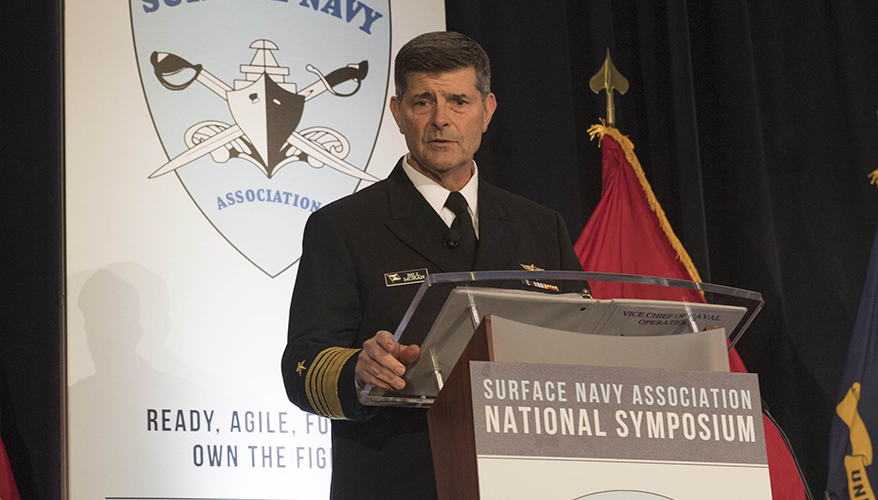 Vice Chief of Naval Operations Adm. Bill Moran at the Surface Navy Association's 31st National Symposium.
Photo: Navy
The Navy is on a long journey to move from an analog to an all-digital force, but if it's to see this goal through, it must own the operations and maintenance data its platforms collect, one of its senior leaders said Jan. 15.

The ongoing issue of who owns technical data is "frustrating to me," Adm. Bill Moran, vice chief of naval operations, said in a speech at the Surface Navy Association's annual conference in Arlington, Virginia. The service is being left behind in emerging technologies such as artificial intelligence and machine learning, he said. Not having access to its own data is one reason why, he added.

For example, the Naval Safety Center is trying to digitize its data so AI can give it better insight as to when mishaps might occur, he said.

It is on a "six year journey to digitize that data because people who have that data think they own that data.
My message to them — if they are listening — is 'you don't own that data. The Navy owns that data.' Contractors work with us. That data is our data."

Going digital is a difficult task, he said. "Our data is old. It's written in Fortran," he added.

"AI tools are everywhere. Machine learning is rapidly accelerating all around us. 4G, 5G. I don't even know what that means. All I know is that it's fast. And I want it. … We can't do any of that until we get the data right. It's go to be clean. It's got to be authoritative and it's got to be employed correctly. It's not as easy as it sounds," he said.

That data and the ability to mine it will unleash innovation in the Navy that has never been seen, he said. But the data needs to come back to the service for it to use.

Moran later told reporters that the Navy needs the data that comes off its platforms, particularly its aircraft, and other sophisticated weapon systems.

"We understand proprietary," he said. But for the Navy to be able to maintain these very sophisticated weapons systems better and use tools such as AI, it needs access to the data. It wants to predict when a part is going to fail, or ascertain when a system is not operating at optimum performance, so maintainers can "make tweaks" long before it becomes a problem, he said.

The issue is usually resolved through strong partnerships with industry, he said. But the Navy doesn't want to have these discussions in the future, he added.

"My not-so-subtle message is: as we design new things, our position is going to be that that is our data," Moran said.
Topics: Cyber, Cyber-augmented Operations, Cybersecurity, Infotech, Navy News, Robotics and Autonomous Systems, Robotics