Air Force Accepts KC-46A Tanker from Boeing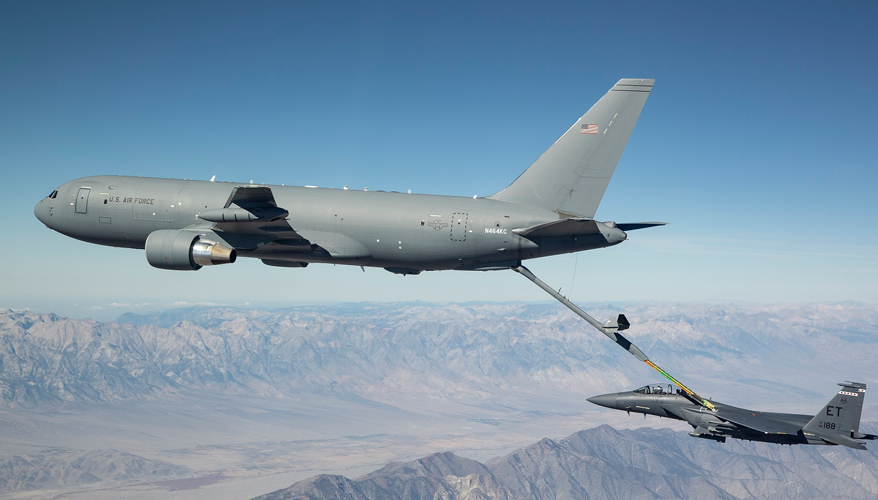 Photo: Boeing
After years of delays, the Air Force announced Jan. 10 that it has accepted for delivery the first of its new KC-46A Pegasus aerial refueling tankers.
"This is a major milestone for our next-generation tanker and will allow our airmen to begin operational testing and flight training," the Air Force said in a statement. The formal delivery ceremony at McConnell Air Force Base, Kansas, will occur as early as late January.
The acceptance comes with a hitch, though. "We have identified, and Boeing has agreed to fix at its expense, deficiencies discovered in developmental testing of the remote vision system. The Air Force has mechanisms in place to ensure Boeing meets its contractual obligations while we continue with initial operational testing and evaluation," the statement continued.
Air Force Lt .Col. Mike Andrews, a Defense Department spokesman said: "The Department of Defense is in complete agreement regarding moving forward with delivery of KC-46 tankers. The department remains committed to providing the most cost-effective platforms for the U.S. taxpayer, while still delivering the best capabilities to our men and women serving in uniform."
The announcement comes some 17 years after the service announced plans to replace its Cold War-era KC-135E Stratotankers. An initial plan to lease tankers from Boeing fell under investigation and resulted in one of its executives serving jail time for corruption.
A contract award in February 2008 to an Northrop Grumman/EADS team resulted in a protest that was eventually upheld. Boeing was awarded the contract three years later in 2011. It called for the first delivery of 18 aircraft in September 2017, part of a planned 179 aircraft buy. The firm-fixed price contract was for $4.9 billion, with Boeing on the hook for any cost overruns.
The company has paid $1.5 billion in cost overruns to date as it ran into a series of technical challenges, but analysts have said in the long term, the company will come out ahead.
Mike Hafer, KC-46 global sales and marketing manager at Boeing, told National Defense last year that delivering tankers to the Air Force is the company's top priority. All 34 of the program's low-rate initial production aircraft were in the build phase, he said.
Todd Harrison, director of defense budget analysis and the director of the aerospace security project at the Center for Strategic and International Studies, a Washington, D.C.-based think tank, said last year that "from the Air Force's perspective, it didn't go over budget. Not one penny. All of the overruns were eaten by Boeing," he said. "The program was structured as a firm-fixed price contract, meaning that the requirements and price were set in stone at the start."
The news follows a series of contract wins for Boeing aviation programs.
In August, the Navy announced that the company had been selected for its MQ-25 Stingray aircraft carrier-based unmanned aerial refueling tanker program. The $805 million contract for prototypes is part of an effort that is estimated to cost about $13 billion.
Then in September, the Air Force revealed that it had awarded Boeing-Leonardo a $2.4 billion contract to replace its aging fleet of UH-1N Huey helicopters. Days later, the Air Force disclosed that a Boeing-Saab team won the T-X jet trainer program. The contract could be worth up to $9.2 billion if all options are exercised.
Topics: Air Force News, Air Power