ALGORITHMIC WARFARE INFOTECH
U.S. Winning Supercomputer Race, For Now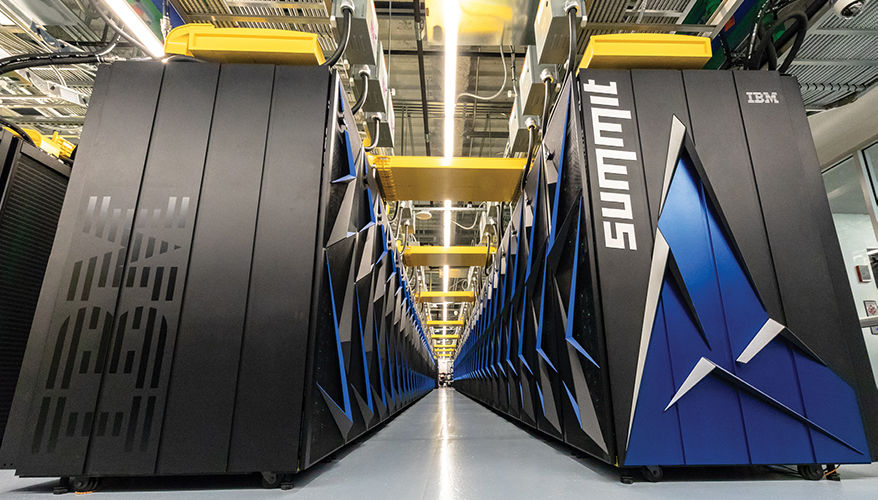 The Summit supercomputer
Photo: Oak Ridge National Laboratory
With the unveiling of Summit — which has a peak performance of 200 petaflops, or 200,000 trillion calculations per second — the United States is once again in possession of the world's speediest supercomputer.
The system — which was built for the Department of Energy's Oak Ridge National Laboratory — surpassed China's Sunway TaihuLight in capability, according to the TOP500, an organization that ranks the top 500 supercomputers around the globe and releases new lists twice a year. The TaihuLight, which held the top position for two years, was developed by the country's National Research Center of Parallel Computer Engineering and Technology, and installed at the National Supercomputing Center in Wuxi, the TOP500 said in a news release.
Summit — which was built by IBM and includes six Tesla V100 graphics processing unit accelerators manufactured by NVIDIA, a Santa Clara, California-based technology company — can be used to perform a variety of applications, said Paresh Kharya, director of accelerated computing at NVIDIA.
"The most exciting thing about Summit is … the promise that it holds for the scientists and the researchers who are working to solve grand challenges using this instrument," he said during a call with reporters in June when the system was unveiled. "It delivers giant leaps in application performance."
It has eight times more performance than the United States' previous fastest supercomputer, Titan, Kharya said. Summit — which weighs as much as a commercial jet and fills two tennis courts worth of space — is also highly efficient in terms of power consumption, he added.
But while the United States may have the fastest computer for now, China is fast on its heels.
Additionally, the United States still lags behind the Asian nation in terms of the number of most advanced supercomputers it owns, according to the TOP500.
"Despite the ascendance of the U.S. at the top of the rankings, the country now claims only 124 systems on the list, a new low," the organization said. "Just six months ago, the U.S. had 145 systems. Meanwhile, China improved its representation to 206 total systems, compared to 202 on the last list."
Other supercomputer leaders include Japan, the United Kingdom, Germany and France, it added.
Elsa Kania, an adjunct fellow at the Center for a New American Security's technology and national security program, said it's difficult to measure which country is winning the supercomputer race simply by noting which has the fastest system or how many they own.
"I question whether … the most powerful or total number is the best metric," she told National Defense. A better indicator is how the systems are being employed, she noted.
"Chinese supercomputers may have been the most powerful but it's another question entirely of how effectively these researchers … are using them and whether they're almost more of a status symbol," she said.
Supercomputers can enable advanced modeling and simulation to propel research in a variety of industries including national security and health.
Nick Nystrom, interim director of the Pittsburgh Supercomputing Center, a joint effort between Carnegie Mellon University and the University of Pittsburgh, also questioned whether China is employing the systems to their full potential.
"Are they being used to solve the largest possible problems where basically one application uses the whole machine … to do something that could not be done any other way?" he said. "Or are they being carved up to different constituencies and not really being used together? That doesn't push the envelope on science and technology at the extreme edge as far."
Kania said Beijing's pursuit of supercomputer supremacy is part of the country's national science and technology plans.
"It is something that the Chinese government has emphasized in terms of pushing forward, both in the context of a concentration on advancing indigenous innovation and to some degree … in which [Chinese president] Xi Jinping is openly declaring that China is going to become a science and technology superpower," she said.
It is likely that China will work to employ the systems more effectively going forward and that the country will try to retake its place as the global leader of the pack in supercomputing, she said.
Systems built in the United States by and large are more usable than machines like the TaihuLight, Nystrom said.
"They run a broader class of applications and they run them more effectively," he said. "That's absolutely true of Summit as well. It's a very versatile system."
While the United States may have the speediest supercomputer for now, it is critical that scientists and researchers consider the importance of having a variety of systems that can be used for a wide range of applications.
"That's one thing that we need to pay attention to here — is not to worry exactly about that No. 1 for bragging rights," he said. "It's great PR. Everyone can rally around it and say, 'Look at what we built.' But it doesn't necessarily get more done. … You need that ecosystem of a lot of mid-range systems as well, because the fact is that's where most science happens."
The Pennsylvania Supercomputer Center operates the Bridges supercomputer which is considered a mid-range system, he said. It focuses on high-performance artificial intelligence. While not included in the TOP500 list, it is used by thousands of people for science and economic purposes.
"These are people that have never used a supercomputer before," he said. However, they don't necessarily require the capability that top supercomputers offer, he added.
"Very few people need the very biggest systems," he said. "Having that whole spread from something that lets you do the biggest simulations like a TaihuLight or a Summit and then having a lot in the mid-range … that really gives you the capacity to do a lot of magnificent science and engineering."





Topics: Cyber, Cybersecurity, Infotech, Information Technology