Release of Major Defense Industrial Base Report Imminent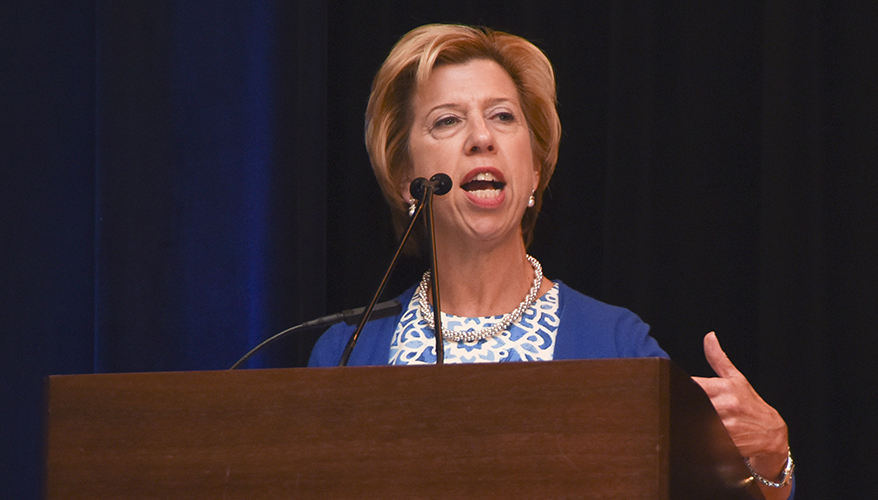 Ellen Lord
Photo: Defense Dept.
A long-awaited assessment of the defense industrial base is expected to be released in the coming days, the Pentagon's top weapons buyer said Sept. 5.
In July 2017, President Donald Trump issued an executive order calling on the Defense Department to conduct a study to look at the strengths and weaknesses of the Pentagon's supply chains. The findings will likely be released early next week, Undersecretary of Defense for Acquisition and Sustainment Ellen Lord said at a conference in Arlington, Virginia, hosted by the media outlet Defense News.
The unclassified report, which will come with a classified annex, is expected to identify: the military and civilian materiel, raw materials and other goods that are essential to national security; the manufacturing capabilities essential to producing those goods; and contingencies that may disrupt, strain, compromise or eliminate the supply chains for those goods.
It is also expected to: assess the capacity of the manufacturing and defense industrial base to mitigate supply disruptions; identify the causes of any aspect of the defense industrial base or supply chains that are deficient; and recommend legislative, regulatory and policy changes.
The study "looks at the fragility of some of our supply chains [and] our dependence on foreign supply," Lord said.
Rare-Earth metals, which are critical for a variety of U.S. military systems, are one area where the United States is vulnerable, she noted.
"China is buying up a lot of the supply in Africa and other places," she said. "We need to understand what alternate sources are."
The Defense Department needs to have multiple sources for everything it buys, she added.
The assessment takes a comprehensive look at the military's supply chain, Lord noted.
"What we need to do is to make sure that we understand the entire industrial base," she said. "This report actually segments it very nicely. That's never been done before."
The study offers insights that could help the U.S. government decide when to take steps to promote domestic production of critical items, Lord said.
"In some situations we don't even have a value proposition for critical components to have a regular business make a reasonable profit," she said. In those situations, the government should step in, she added.
Congress has given the administration authorities to make investments aimed at standing up critical manufacturing capabilities, she noted.
Communicating and sharing information among the services, allies and partners is critical for gaining insights into potential supply chain issues, Lord said.
"I'm driving those conversations with the service acquisition executives at the A&S level, so hopefully we won't get surprised," she said. "This report that's coming out provides a wonderful baseline for that data. Now it's our job to make sure we keep the data up [to date] and that we're very vigilant with all those [bilateral meetings] we have to compare our notes on where there might be constraints."
Topics: Defense Department, Budget, Industrial Base