Air Force to Roll Out New S&T Strategy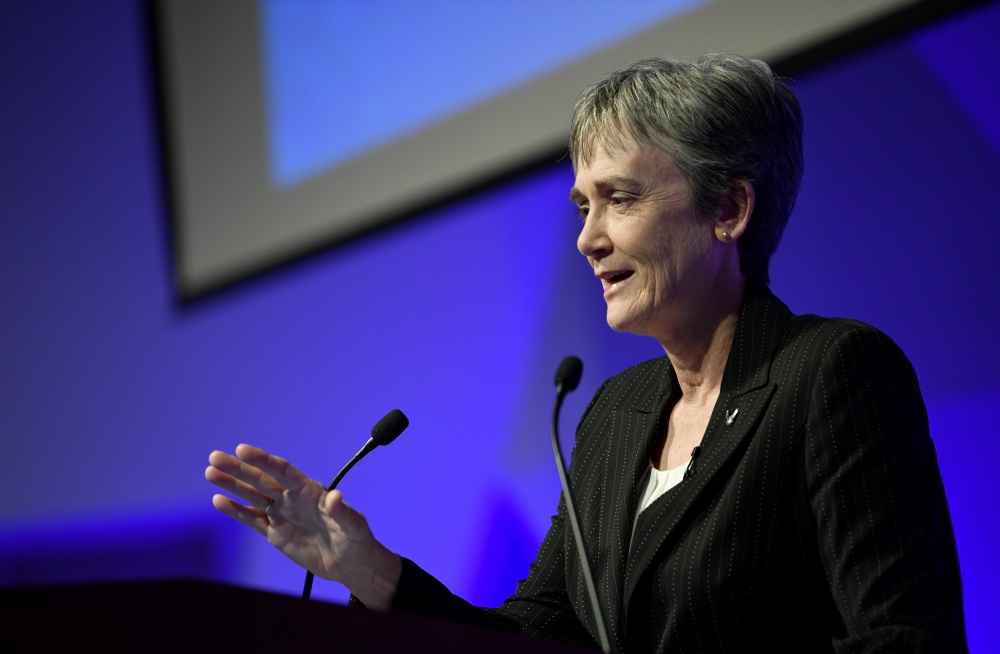 Heather Wilson
The Air Force is preparing to release a new science and technology strategy that will guide the service through the 2030s, Secretary Heather Wilson said Sept. 5.

The Air Force launched the review after Wilson took the helm last year.

The strategy is not only looking at what the service is investing in, but how it is conducting research, she noted during remarks in Arlington, Virginia, at a conference hosted by the media outlet Defense News.
The research and development blueprint, which will identify specific areas of emphasis, is expected to be rolled out this fall, she said.
The service needs to partner with the broader S&T community in order stay on the leading edge of capability development and remain dominant in the future, Wilson said.

"One of the most important things to me about this is going to be thinking differently about how we conduct research, particularly in partnerships with American universities which is where the basic and applied research is really being done in America," she said. That's "where the next generation of scientists and engineers that we want to be engaged with are doing their work."

Sequester negatively affected the Air Force's science and technology investments, she noted.

There was "not only a reduction in … what we were doing — from the size of our research portfolio, particularly basic and early applied research — but a lot of it was kept in house," Wilson said. "There's more research and development being done outside of the national security space than there is being done inside it."

Meanwhile, the Air Force is preparing a proposal for creating the Space Force that President Donald Trump has called for, she noted.

Wilson, who has in the past been critical of the establishment of a separate branch of the military focused on space, said: "If we are going to do this, we should do it right."

"The proposal will be fulsome, and there will also be a piece of the budget that is attached to it so that the Congress can then" consider it, Wilson said. Lawmakers must authorize the creation of a new branch of the military.
"Let's have this debate, support the president's proposal and put it forward, and make sure that we don't do this with half measures," she said.
Wilson said there was "absolute, complete alignment" between her and Trump when it comes to the Space Force.

"I completely support that and I would expect that that department would have a full array of authorities and responsibilities just as I have in the Air Force, and that would include the full authority for acquisition," she said.

Trump's idea for a Space Force is "very forward looking" and the service has an obligation to put together a proposal for Congress that supports his intent, she said.

Earlier during the conference, Rep. Adam Smith, D-Wash., ranking member of the House Armed Services Committee, said he is in favor of creating a new military force focused on space.

"The role of Congress here is to make sure that we implement it properly and that it works," he said. There needs to be a debate among lawmakers as to whether the Space Force should be its own dedicated service or perhaps nestled under the Department of the Air Force much like the Marine Corps is under the Department of the Navy, he added.

"We have a strong role to play," Smith said. "Details matter and that's where legislators come in. … There's pretty strong bipartisan support for this, so I think it's going to happen."
Topics: Air Force News, Research and Development, Science and Engineering Technology