NDIA PERSPECTIVE DEFENSE DEPARTMENT
Successes in a Time of Transition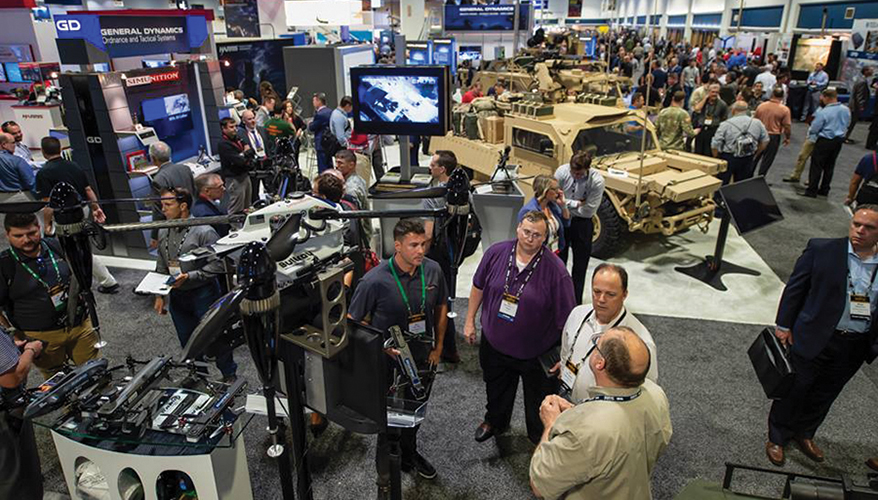 Photo: NDIA
As my tenure as chair of the board of directors for the National Defense Industrial Association comes to an end, I am pleased to share with you our 2018 successes.
I am confident that these actions will continue to position the nation's largest defense trade association for increasing influence. Under Hawk Carlisle's leadership, combined with the dedicated support of our members, I am convinced that NDIA will thrive as it renews its mission of championing ideas and issues that contribute to the strength, resiliency and capacity of the defense industrial base.
The association's role in facilitating a vigorous and collaborative community in support of defense and national security and convening legal and ethical forums for the exchange of ideas, information and viewpoints is well recognized and valued by our major stakeholders, administration officials and military leaders.
I am especially proud of NDIA's development of a strategic campaign plan, with goals, objectives and metrics to determine priorities, guide operations and measure success over the next five years.
Its six strategic priorities are: foster small business success; gain acquisition agility and regulatory efficiency; strengthen the defense industrial base and workforce; promote innovation in technology and process; expand international security cooperation and interoperability; and advance budget stability.
These priorities provide a solid foundation for the association, allowing it to rapidly adapt within an increasingly complex global environment. However, its core mission has not and will never change.
The association will continue to serve as the trusted leader in our industry, always working to ensure American warfighters operate with the best weapons systems and support.
Throughout 2018, NDIA enjoyed significant success championing issues within its strategic campaign plan. Most importantly, under Carlisle's guidance, the staff embarked on an ambitious path to solidify and expand the association's thought leadership. For example, it made significant contributions to the Section 809 Panel to streamline and codify defense acquisition regulations. We also began an exciting venture to develop an annual assessment of the health and readiness of the defense industrial base. We hosted invitation-only Senior Executive Series events on acquisition, artificial intelligence and other transaction authorities. Additionally, the communications staff leveraged senior staff expertise to get NDIA quotes and content in support of the defense industrial base into major media outlets across the country.
Carlisle has been an especially effective and credible spokesperson for the industry and the association. Finally, we invested in NDIA's magazine, National Defense, culminating in the editorial staff earning seven 2018 Defence Media Awards nominations for best defense reporting.
We also made strides building communities and convening forums to educate stakeholders and to collaborate on solutions. We established working relationships with the Pentagon's Strategic Capabilities Office, the Defense Advanced Research Projects Agency, the Defense Innovation Unit and other "speed-to-fleet" organizations.
We convened subject matter expert meetings to discuss critical changes to the Committee on Foreign Investment in the United States, driving reforms enacted in the Fiscal Year 2019 National Defense Authorization Act (NDAA) to protect U.S. technological innovation. We also supported congressional committees in examining solutions to guarantee intellectual property protection.
Finally, after the administration eliminated accelerated payments to their industry partners, the policy staff worked to educate Congress on the potential negative impacts to the defense supply chain, resulting in remedial action in the NDAA.
Of course, the association cannot effectively execute its strategy without a broad, engaged membership. Recognizing our diverse membership as a strategic center of gravity, the team developed numerous initiatives to grow and empower its greatest asset — our members. We began with an aggressive campaign to increase membership value while simultaneously embarking on a path to shape and grow corporate membership.
This thoughtful, opportunity-driven plan will grow NDIA equities in emerging technology areas, including artificial intelligence, hypersonics, cyber, virtual reality and big data. Targeting these will help broaden the membership base to include academia, laboratories, think tanks, Silicon Valley companies and other entities not traditionally part of the organization. We will also seek to add corporations whose defense revenues will increase based on NDAA-supported growth in shipbuilding, advanced weapons and emerging technologies.
Consistent with changing customer demographics and evolving defense priorities, we established additional NDIA chapters and divisions to meet growing member needs. We expanded our geographic footprint and put "boots on the ground" in key areas such as Jacksonville, Florida; Shreveport, Louisiana; Southern Nevada; and Hawaii.
We expanded our technical focus areas by adding three new divisions: Cyber Augmented Operations, Electronics and Industrial Security. Expanding geographic and functional reach aligns well with the membership growth strategy.
I am very excited about NDIA's successes, especially its strong thought leadership and the broad impact this will have on the U.S. industrial base well into the future.
With a final thanks and sincere gratitude to the 73 high-performing association professionals who plan and execute our strategy, meetings, conferences and events, I hand over the reins to Dick McConn and his incoming executive committee team as the organization embarks on its second century of delivering decisive advantages to American warfighters.
It has been an honor and a privilege to be associated with this organization.

Sid Ashworth is chair of the NDIA board of directors.

Topics: Industrial Base, Industrial Committees, Defense Department