Chem-Bio Office Cutting Acquisition Red Tape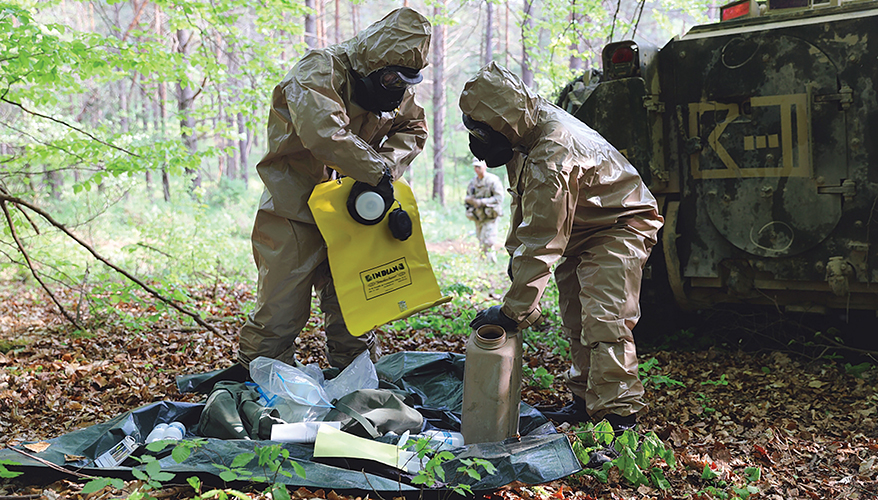 Photo: Defense Dept.
WILMINGTON, Del. — The head of the Joint Program Executive Office for Chemical, Biological, Radiological and Nuclear Defense wants little to do with today's acquisition regimes.
"We can't wait five, six, seven, eight years to develop stuff and then try to field it. We need to be at the pace of discovery," Douglas Bryce, said at the National Defense Industrial Association's CBRN Defense Conference and Exhibition.
As far as the so-called "acquisition bibles" and their processes, "Forget that stuff," he said. "Let's do what we're supposed to do for the folks that defend our country."
The JPO is charged with defending warfighters against an array of different threats. Protecting them against nuclear weapon fallout is different from a biological agent, and that is different from all the various chemical gasses that can be employed on a battlefield.
The gas used by President Bashar Assad's forces in Syria, for example, is different from that allegedly used by Russia against a former spy in England, he noted.
"Those are two very different agents and they react very differently. Yet they were designed to either kill people or at least put them down for a period of time," he said.
To keep pace with the threats, the JPO must forget about processes and worry more about the outcomes, he said. Too much time is spent following guidance on how to get things across the finish line.
"That's how you spend eight or 10 years developing something. … We're trying to break through that process."
The DoD 5000 Defense Acquisition Guidebook "is a document that I read and I understand. That's it," Bryce said. But it mostly addresses acquisition category (ACAT) one programs: those that have large budgets. The JPO develops almost none of those, he noted.
Every couple of years, the office should be spinning out a next generation of technology.
"We must make sure we only do what we need to do to get it to the warfighter as quickly as possible. Not designing in more stuff. Not making it more complex," Bryce said.
"What we are after is advanced technology that we can prototype quickly into the form factor that we are after and give it to a warfighter and tell them to go play with and tell us if it's good. If it is we will go buy it. We're done," he said.
Bryce said he was not out to break any rules. Congress is on board with these ideas and wants speed and agility in acquisitions, he added.
The ultimate goal is not to field "85 percent solutions," he said. If the JPO were to develop a vaccine that only was 85 percent effective, that would be a "bad requirement," he said. Rather, the overall objective is to have an integrated layered defense that allows the force to be 85 percent effective operating in an environment tainted by chemical, biological or radiological threats.
That falls in line with the Army's desire to be more lethal, he added.
As for new opportunities, the JPO is working toward a day when protective gear is not a separate set of equipment but integrated into everyday uniforms.
"Getting the hunks of rubber off of the face is extremely important," he said. If regular boots could also double as protective boots, that would be taking two items away from the soldier and giving back one, he said.
"Our problems are not that complex. We're not rocket scientists. We should be able to do these things a lot faster," Bryce said.
Topics: Chem Bio Protection, CBRN, Budget